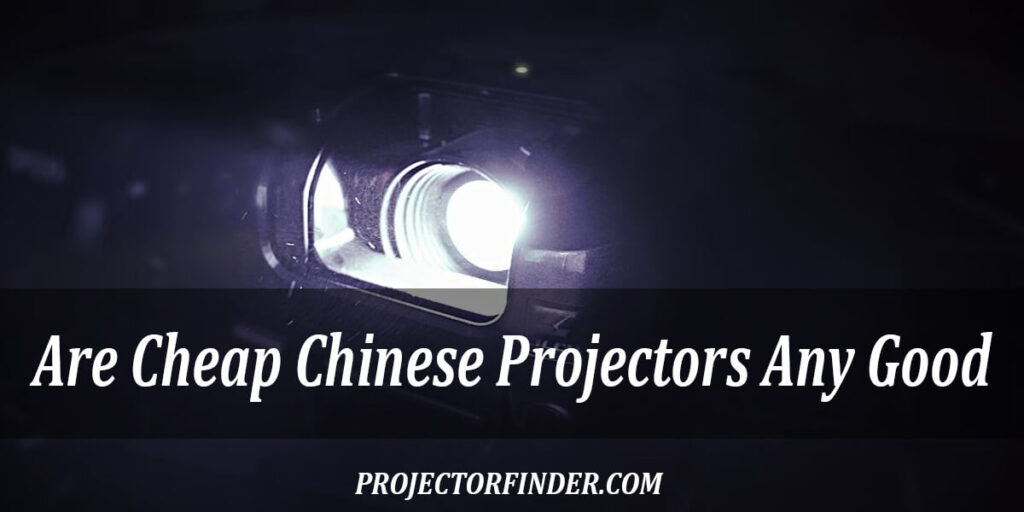 Inspired by the high-end home theatre system? Cheap Chinese projectors can help you live this experience.
Projectors are no longer just a tool for efficient business meetings or commercial entertainment. It has introduced the high-end home theatre system- allowing you to enjoy your favorite shows on big screens without dominating your home space.
With the increasingly popular benefits of the projector, a large number of people are considering buying it. However, coming across a projector that well meets one's needs and budget is a challenging task. As such, Chinese budget projectors come as a great aid. It perfectly fits in one's definition of a good projector and as well as the budget-friendly.
Here in this article about "Are cheap Chinese projectors any good?" we have busted all the myths that say quality cannot be achieved at low cost. Read below to find the reasons.
Chinese Projectors – Cheap and Good
Most of the models of Chinese budget projectors undoubtedly stretch the definition of cheap but never fail to offer a sizeable collection of features that make them pop up in the list of high-performance or convenient projectors.
So following are the things which we consider when looking for a projector. Fortunately, they are also well-considered by Chinese projectors manufacturers. Therefore, each of the following characteristics is well adopted in low-cost best Chinese projectors.
1. Good Optics Projection
It is the set of mirrors, lenses, and filters that sends the image from within the projector to its big display screen. Projectors with poor optics can result in blurry or dull images- making sharp edges indistinct and rough or displaying straight lines as curves.
Hence, good optics in projectors is highly needed. Most of the Chinese cheap projectors have good optics that delivers clear and crisp images. It can be tested quickly by projecting a grid of lines and noticing if they look straight and sharp. The majority of Chinese projectors of low cost get through this test well.
2. Resolution
Resolution refers to how clear a projected image will be based on the number of pixels that can be displayed in a given space. A projector with good resolution will make images and videos appear sharper and clearer-giving you the realistic theatre feel. However, it is crucially important to choose a projector resolution that matches the required screen resolution on the computer monitor.
High-quality resolution is considered to range from 320-1080p. Impressively, a major class of cheap Chinese projectors falls perfectly in this range. Therefore, one gets to enjoy the high image and video display quality.
3. Portability
With life getting busier, the need of travelling almost every day has grown more common. This demands the portability of the products we use; either it's our phone, laptop, or projector. Luckily, Chinese projectors also offer cheap mini projectors under 100 which make life easy. They are compact and lightweight, ready to travel with you anywhere without taking too much space of your storage. This is an important selling point of the inexpensive Chinese mini projectors.
4. Brightness
The idea of a projector is based on converting a small image into a larger image. This takes a certain amount of light to activate the sensors in the human eye. So, projector brightness depends on the lumen level- the higher it is the brighter the images will be. Using it indoors or outdoors also affects its brightness performance level.
The brightness levels of various cheap Chinese projectors range from 1500-5000 Lumens. Hence, they can both serve a home theatre projector by operating at 1500 Lumens and a commercial projector for employing in business meetings, classrooms, conference rooms, or bright rooms with windows, which requires a minimum of 2500 Lumen.
5. The Bonus Package
Most middle to high-end projectors has the similar image quality and almost the same brightness levels. Therefore, the decision of making a selection is mostly guided by some bonus characteristics and accessories offered by the projector. In this, Chinese cheap projectors succeed to stand out with splendidly amazing additional characteristics.
For enhanced ease of controlling the projector, they offer a handheld remote. It gives you the choice to decide if you want a ceiling-mounted fixed projector or a portable desk projector. Also, many of them have extra USB ports and audio jacks. All in all, if you know what you need out of a projector, various Chinese projectors with various distinct features available at low prices are tailored well to meet your needs.
Now, below is an inexpensive Chinese projector. It has additional interesting characteristics. This is also helpful in concluding: Are cheap Chinese projectors any good?
Resolution: 1080p
Brightness: 5500 lumens
LED Lamp: 50000 hours
Portable: Highly
Body: Metal on top and plastic on sides
HDMI ports: 2
USB ports: 2 (with one SD card slot)
The smart selection of ports in the Vankyo V600 projector enables one to easily hook up a Chromecast, a computer, a USB flash drive, and an SD card at the same time. It also offers built-in speakers and you can also use your home theatre system by connecting it through the source.
Moreover, a handheld remote for controlling the projector comes with the deal. The remote works no matter if you are in front or at the back of the projector as it has two infrared receivers. In addition to being highly portable, it also has an internal power supply. The installation is very easy and you can also put it on a flat surface if you don't have a projector setup.
Most importantly, the Chinese projector price is under $200. Other projectors with similar features cost double their price. This makes possible the idea of experiencing high-end features at a cheap cost.
Final Verdict
Cheap Chinese projectors are a wise choice to make. For someone seeking efficiency and performance at a low cost, it is a perfect fit. They are one of the highly-rated cheap Chinese projectors on Amazon.