Projector Finder » Projectors by Use »
A digital artist uses several digital tools for creating a true masterpiece and the projector is one of them. Agree?
A projector not only simplifies the work on a bigger screen but increase productivity especially when working on large painting or murals. Now, why a digital artist needs a projector is a different story, but if you already know you need one, then you are in the right place.
Either you are beginner or expert in buying a projector for artists, you can make a quick decision after reading this informative article. I have covered different aspects like display technology, keystone correction, throw distance, resolution, and brightness to make it easier for you to choose the right device for you.
From this list of top 5 best projectors for artists, you can choose the one that suits your budget and requirements. You can find more information later in this article about the process of buying or you can skip if you already know that.
Without further ado, let's take a look at the best projectors for artists.
5 Best Projectors For Artists 2022
| # | Best Projectors For Artists | Price |
| --- | --- | --- |
| 1 | ViewSonic PX700HD Mini Projector | Check Price |
| 2 | iDGLAX iDG-787W Review (Best Projector For Artists) | Check Price |
| 3 | iDGLAX iDG-787 Mini Portable Projector | Check Price |
| 4 | Upgraded DBPOWER T20 (Best LED Projector For Artists) | Check Price |
| 5 | DBPOWER Upgraded Mini Projector | Check Price |
All of these projects are explained with pros, cons, and features to help you identify the right one for yourself.
1: ViewSonic PX700HD (Best Digital Projector For Artists)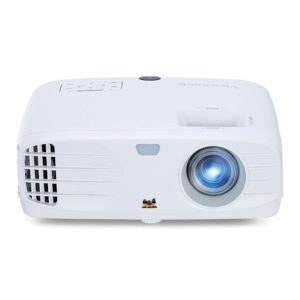 Here we have ViewSonic PX700HD another compact projector that offers great resolution and other handfuls of features making it a great pick for our list of best projectors for artists.
The ViewSonic PX700HD is a perfect choice for digital artists as it offers Full HD 1920 x 1080p on a screen of size about 300-inches is 3500 lumens. What makes this projector great is the wide colour gamut that is responsible for the best image production regardless of the environment.
If you are planning to use the projector for gaming purposes then ViewSonic PX700HD is a serious choice for you. Unlike other projectors, this mini projector doesn't face any input latency allowing you to watch your desired graphics, play fast-speed games, or watch movies without noticing a minor input lag.
The lamp life of ViewSonic PX700HD is about 15,000 hours which is a generous time compared to other projectors of the same price. This time is not exact but there can be plus-minus so don't count on this number for this projector.
What makes customers trust this product is the 3-years parts warranty and 1-year lamp warranty. Plus, the customer care team is responsive and ready anytime to help you either get started with the projector or to resolve any technical problem that most of the time newbies face while setting the projector up.
Regarding connectivity, the ViewSonic PX700HD offers a handful of connection options and allows you to connect different devices like smartphones, PCs, Macs, mobile devices, and gaming consoles like PS3, PS4, Xbox One, and so on. You can connect either USB or devices using an HDMI cable to display your contents.
Overall, the ViewSonic PX700HD is a wonderful small projector that offers all bells and whistles that you expect from a projector without breaking the bank. The ViewSonic PX700HD offers FULL HD resolution, great image clarity, and tons of connectivity options making this projector a versatile and worthwhile investment of your money.
Pros
Full HD resolution.
Several connectivity options.
Cons
No cons for this product.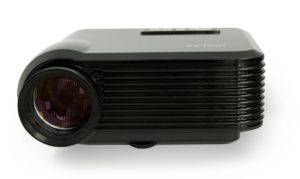 The iDGLAX iDG-787W is a multimedia mini portable projector that allows you to experience videos on a large screen without having to carry a TV with you. Plus, it can be daunting to carry along your TV while going for an outing.
To enjoy camping and vacation with your friends and family, you can take iDGLAX iDG-787W multimedia mini projector with you to enjoy the seamless big-screen experience.
Projectors are expensive but technology is getting cheaper, so the iDGLAX iDG-787W is an affordable option that offers pretty much everything that you expect from a projector but without breaking your bank. Let's look at the specifications of this projector to see if it suits your requirements or not.
Talking of resolution the iDGLAX iDG-787W offers 800 x 480 resolution with an aspect ratio of 16:9/4:3 and 1000:1 contrast that makes it an ideal option for business presentation as well.
Moving on, the iDGLAX iDG-787W is compatible with almost every gaming console including PS2, PS3, Xbox, Wii etc giving you a real home theater and gaming experience. You can connect your smartphone with this projector as well using an HDMI cable.
The image size iDGLAX iDG-787W offers is 30″-100″ and from a distance of 9 feet you can get the image size of 70″-90″ to get best watching experience.
Now the best part is the design and size of iDGLAX iDG-787W. This mini projector as the name suggests is a highly compact and lightweight projector measuring 8.19 x 6.62 x 3.07 inches and weighs around 2 pounds. Moreover, the unit comes with a free HDMI cable that makes it easy to travel along with it. Furthermore, it's a great option to gift someone to show your love.
Last but not least, the iDGLAX iDG-787W comes with a 3-years warranty tag and the manufacturer offers the best customer service as well as technical support to help you get going with the projector if you are a beginner.
Overall, the iDGLAX iDG-787W is a great projector for artists that offers higher resolution and a bigger screen size. Regarding compatibility, usability, the iDGLAX iDG-787W is a great pick and also comes in a reasonable price tag with all bells and whistles making it a worthwhile investment of your money.
Pros
Affordable.
Lightweight.
Large screen size ideal for artists.
Cons
Some users faced difficulty with the focus knob.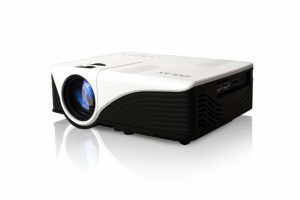 Times have changed, today unlike traditional projectors the technology has revolutionized projectors and you can enjoy the same watching experience as big projectors in small compact devices called mini projectors.
The iDGLAX iDG-787 is one of them as it offers pretty much everything that you expect from a projector. Plus, don't underestimate the smaller size of this projector as this little device offers great quality picture and a better watching experience along with portability allowing you to take it with you while camping or on vacations.
Let's talk about the features to see if iDGLAX iDG-787 is worth spending your money on or not.
First and foremost, the iDGLAX iDG-787 mini projector is a product of a well-known brand in the market. Now, this mini projector is not limited to be used only with one or two devices, as mentioned earlier it may be smaller in size but offers pretty much everything that you expect from a standard big projector.
So, the iDGLAX iDG-787 can be paired with your smartphone, tablet, as well as all gaming consoles including PS2, PS3, PS4, Xbox one and so on. It doesn't face any compatibility issue making it a worthwhile investment of your money.
Moving on, the mini projector offers a native resolution of 640×480 and has no compatibility problem with 1080P. The aspect ratio is 16:9/4:3 and the contrast ratio is 800:1 and has 1200 lumens.
As projectors are meant to last for a specific duration, the iDGLAX iDG-787 with LED lamp is meant to last for more than 20,000 hours which is a generous life for such a small device and that doesn't cost you a dime.
Regarding energy consumption, the iDGLAX iDG-787 is a high-quality projector that uses a slight amount of energy to showcase its real features. Plus, you don't need to shit it down to get it cool down unlike standard projectors.
You can enjoy built-in speakers which is a great option especially when you are travelling with your stuff and without having an extra speaker, you can take advantage of this built-in speaker.
That best part? It comes with a remote control that allows you to play with settings while sitting comfortably.
Overall, the iDGLAX iDG-787 is an excellent mini projector that offers a handful of features without breaking the bank. Unlike standard projectors, the iDGLAX iDG-787 is a perfect mini projector regarding performance, convenience, and usability making this projector a worthwhile investment of your money.
Pros
Affordable price tag.
Built-in speakers.
Great for outdoors.
Cons
Speakers are not of high quality.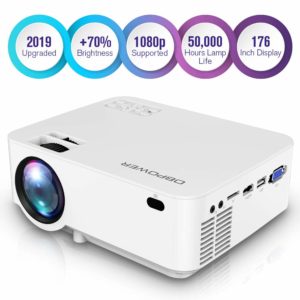 The DBPOWER T20 mini projector is another great compact projector on our list that can be used to watch your favorite movie or football match on a big screen without breaking the bank. Rather than buying the latest, greatest biggest TV that can cost you thousands of dollars, try getting an Upgraded DBPOWER T20 mini projector to enjoy the same big-screen experience at your comfort.
Projectors are not only portable but versatile because they can be used for a range of scenarios. But all mini projectors are also not created equally. When it comes to choosing the best mini projector there are several problems to face like which brand to pick, what features to look for, and how much to invest in it.
Therefore, the Upgraded DBPOWER T20 is chosen as a budget-friendly mini projector for our list and it offers 1080p HD resolution. Let's see what more this small but powerful projector has got for you.
The package contains a manual, accessories set, remote, HDMI cable, AUX to RCA adapter, and the projector itself. Right out of the box, the Upgraded DBPOWER T20 looks small, compact and lightweight at only 2 lbs and measures 7 x 6 x 3. The top of the model contains focus and keystone adjustment plus a range of setting buttons.
The back contains a VGA input, and few other connectivity ports like HDMI, AV, Aux, USB-in, and a memory card reader port which you can use to see memory card contents without connecting it with your computer or smartphone. The right side contains power input. The front features the lens and IR remote sensors. Similarly, the projector contains ventilation holes on the left side to maintain the internal temperature especially when you are using the projector for longer durations.
To set up the Upgraded DBPOWER T20, you need to first make yourself a black white wall or say it a projector screen where there are no lights to see. Without lights, you will be able to get image clarity. Once this is done, it's time to adjust the focus on the projector on the screen to get the best result. The focus and keystone located at the front can be used to make the image quality better according to your distance.
The Upgraded DBPOWER T20 is a plug and play projector. You only need to connect a source form where the files will be loaded into the projector. The best part about this projector is that it offers a handful of connections like SD card, HDMI, and RCA allowing you to connect your desired sources. A slightly problematic thing is smartphone connectivity but with an AudioCast adapter that can be easy.
Pros
Lightweight.
High resolution.
Highly portable.
Cons
Connecting smartphone is not easy.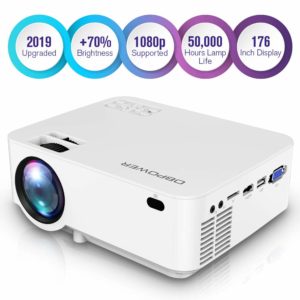 You want to present the business report, a planned roadmap to an investor, or desire to make a Mini theater at home. For any purpose, a Mini projector is the one that proved itself to be the best bet for almost every user. Specifically, DBPOWER Mini Projector can be the best option for turning your room into a theater.
The construction of this projector was done with the consideration of longevity. Hence, you are not going to find it damaged soon. Even the sturdy construction makes it capable to survive in a harsh situation as well. Whereas, during manufacturing, the appearance of the projector was also taken into consideration. So that the users or guests do not feel it as an eyesore of the room.
Being an upgraded version, the projector can render the object on the screen with improved brightness, and sharpness. Technically, DBPOWER is equipped with 3000 lumens.
There are tons of mini projectors available in the market, but very few of them could compete with the sharpness and brightness of this projector. Even though, all of those projectors can also be beaten by DBPOWER projector, when it comes to the price tag.
Either you have a smaller room or the larger one, the DBPOWER projector can turn you into a loyal customer. As the preferred distance of this projector is suitable enough for almost every sized room. It supports 1080p, which reflects that the projection on the screen can be adjusted between 32-176 inches, by setting it in a suitable position.
The expected screen size is enough larger to give you a sense of cinema in your tiny room. However, to get the mentioned projection, you will have to adjust the projector at the distance of 5-16 ft. Now the choice is yours, check the variations and set it at the place from where you get the best viewing experience.
Alike other mini projectors, it is lighter in weight and becomes handy, whenever you want to take it along with you outside. Either you are planning to watch a match at a friend's home, or have to take it to your small office. DBPOWER projector is the best solution for you.
The weight is not the only thing which has made it the best portable unit, the connectivity of the projector has an equal contribution. Name the connectivity port you want, the projector will already be equipped with it. Every port ranges from USB drive to WiFi display dongle has been included in this unit for making your experience much better.
50,000 hours of Lamp life, is another interesting feature of this mini projector, which saves you a lot of money in the longer run. After using the projector for at least 50,000 hours, you will be required to replace the lamp. But don't worry, this time is not going to come soon. Moreover, the technical support team also working day and night to bring peace of mind to you.
Pros
Sleek designed.
Long-lasting.
Better viewing experience.
Portability.
Lighter in weight.
50,000 hours of lamp life.
Cons
Bluetooth feature is not included.
Without an adapter, you can't connect it with a smartphone.
The power cable is relatively smaller.
Final Words:
Overall, DBPOWER is the most powerful Projector, which is a perfect solution for you to turn the room into a cinema without putting in too much effort. The quitter Cooling fan, LCD lens of six-layer, better sound quality, long-lasting construction along improved brightness for a better viewing experience, all are setting it apart from the crowd.
Don't forget to read: Top Rated Projectors Under 100 Dollars
CONCLUSION:
Now that you have all the information regarding the best projectors for artists, it's time to make a decision according to your own preferences. We have done our job of providing you with a list of top products, it's time for you to make an informed decision. I hope you will be able to choose the right product for your needs.