Projector Finder » Projectors by Brand »
Projectors are the ultimate source of winning some beautiful moments at home with your kids and family. You can grab some amazing movies and can sit with your kids to enjoy the best family time.
You can also grab it inside a workspace or any other remote space to showcase your hard work and creativity.
A projector is also a fun way of watching a ceremony's pictures while sitting with your whole family. The device is one and the possibilities are endless.
There're a lot of manufacturer's making projectors of different types and qualities and from years, BenQ has a unique reputation when it comes to launching the best projectors one after one. Though every model has its unique properties, you may confuse some of them.
To help you out here's an honest comparison between two finest models by BenQ; BenQ TK800 vs TK800M. Let's see what they are offering, but before jumping straight to the comparison, here is quick detail of both these goodies;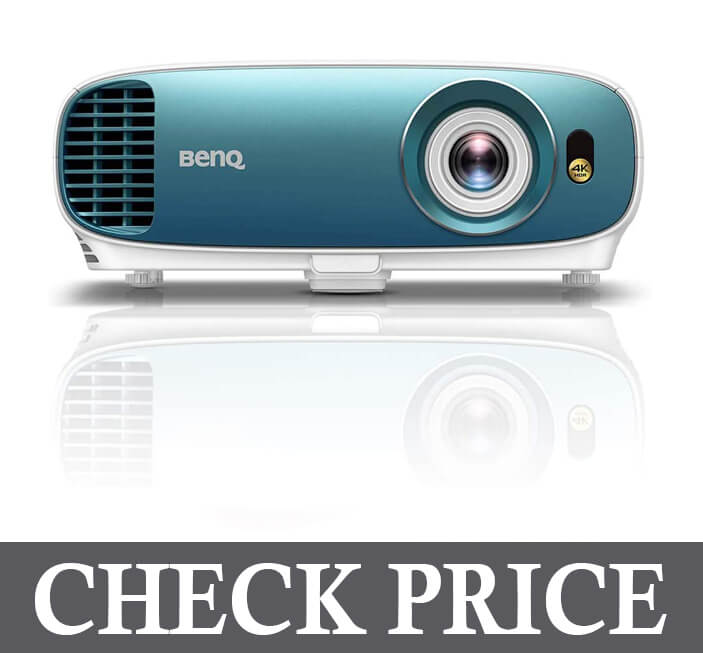 We can never say no to entertainment and when it's about viewing the films of choice on a large screen with full family and a great friend's reunion, or a party, there's can't be anything as exciting as a big yet vivid projector screen.
For the purpose, the BenQ TK800 is the best home projector for various entertainment purposes like sports, movies, picture show, and gaming.
This one is considered the best for sports watching and other Sport within the facility of your home but a stadium-like experience.
Features:
BenQ TK800 Projector is truly a dream projector that can display almost anything with perfection. The colours are vivid, bright, and sharp ensuring great on-screen quality even in well-lit ambient rooms.
This projector comes with 4K UHD screen featuring whopping 8.3m pixels fand HDR colour quality for any lighting. And that, no projector can beat for sure.
The projector features Football & Sport modes yielding crispiest sounds that'll surely life-like action giving you a feel like you're sitting in the stadium.
By Producing 3840 x 2160 resolution and featuring XPR technology and single-DMD DLP technology, TK800 ensures the best of the best screen experiences like none other.
This projector is famous for providing the best clarity and crispiness that again counterpart to ensure a life-like screen experience.
It can easily be fitted to any home and any wall as the design is kept sleek and compact. The BenQ TK800 gives the best display, especially when played at the football mode. You can listen to the crispiest sounds of the ball kick and the catch and the gasp between commenters to enjoy the real feel of sitting in the stadium.
It gives superior and immaculate image quality by avoiding inherent alignment issues up to the perfection that you won't notice any blurriness, shaking, glitch, or freeze. That's because the optical system of this projector uses premium quality glass to provide realistic-looking images.
Precision 7-element and low-dispersion lens coating help in minimizing the chromatic aberration ensuring brilliant clarity and in-depth detail.
Thanks to its Audio-Enhancing Technology, it offers matchless EQ algorithms that deliver pure clarity and richest sound quality mimicking Hollywood studios.
BenQ TK800 can be so economical and energy saving. It's Smart Eco technology can adjust lamp brightnesses to project richer black and higher contrast accordingly so you won't see the black as whitish due to high brightness.
Pros
Energy-saving and portable.
High-resolution image quality.
Clearer crispy sound quality.
Efficient yet affordable.
2x Zoom for picture flexibility.
The sports mode and Cinema Master.
Quite Deep Resonant Bass.
Cons
Need comparatively large space.
The lens is hard to clean.
No lens shift limits placement flexibility.
Unimpressive black levels.
Verdict:
BenQ TK800 projector is undoubtedly the best option for home theatre as it features a Sports Mode, too. This is the best choice to be entertained at home either by gaming or watching movies. It's economical and efficient too, so just don't delay your entertainments and get the best today.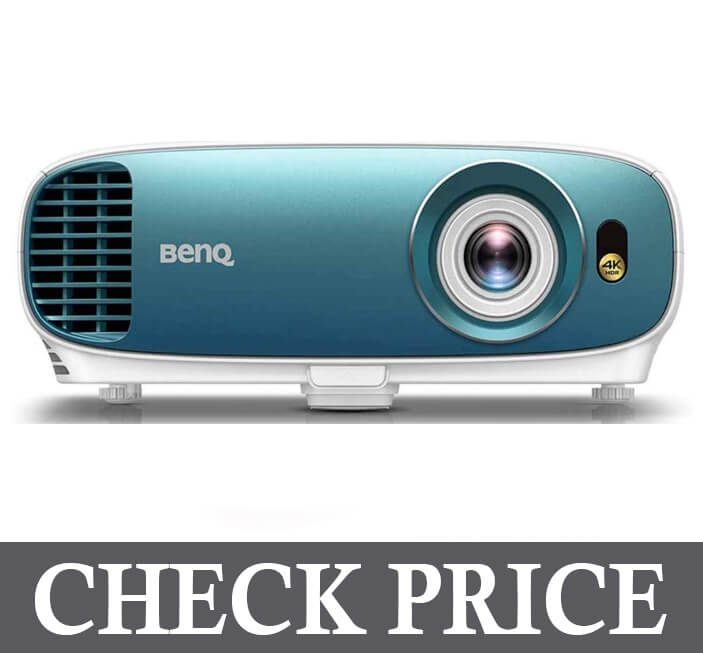 The BenQ Tk800M is almost as same as the TK800 but with minor upgrades. Zooming Pixel Performance and Adjustable Sounds are some of its best features. Just like the other one, it produces amazing 4K images on the screen. The colours are vivid, bright, and sharp ensuring great on-screen quality even in well-lit ambient rooms.
Features:
Just like the above, this BenQ TK800M features amazing 4K projection Technology that works to deliver about 8.3 million pixels for an awe-inspiring and jaw-dropping 4K UHD performances.
You can witness un-matched clarity and crispy voice-quality that let you get the best of the details so you won't miss any beat ever.
The BenQ TK800M delivers just as it claims and with its DLP Technology, it ensures to provide an image resolution that let precision be your best buddy during the game.
The best thing is, you can now play your favourite games in 4K without missing any beat. The ultra-sharp screen quality, the razor-sharp images, and glitch-free performance, all counterpart to give you the best experience.
Adding on, it features a high-contrast ratio that produces sharpest image quality along with the richest black that put you in an owe situation.
Although black is richest the brightness is still outstanding. It features brightest images at whooping 3000 Lumens, which means it will be working efficiently even in brightly lit rooms and outdoor.
Pros
Brightest display and decent contrast ratio.
Very reasonably priced and better images.
Football and Sports Mode for gameplay.
Cons
Black levels could be better.
Price isn't for everyone.
Verdict:
Just like the above one, this BenQ TK800M is exceptionally smart in its performance and features richest colours, brightest screen quality, and greater compatibility with any type of room light. With a little modification comparatively, it's a good choice to go with.
Related: BenQ TK850 Projector Review
What Is the Difference Between Tk800 and Tk800m?
As you have read the details of both the BenQ TK800 and TK800M, you may have concluded that there isn't any dominant change or improvement in the specifications of both models.
The BenQ TK800M is a little better than the other one considering the specifications. Both look quite the same but the TK800M  needs more room to show and throw the best of its performance.
Adding on, there's an extra-added light bulb on the inside that keeps the projector economical due to its light saving mode. A little more is always better and if you have worries about the budget, it's obvious that the BenQ TK800 would be the best choice.
If you still want to know more, let's see how they both differ in different specs.
Design
Although the design of the projector doesn't matter a lot as after all, it has to be like a small box with little modifications, the compactness and smartness matters.
Adding on, another important thing to keep in consideration is how well the design blends with your room's aesthetics. Keeping the design in mind, both these designs are fine and okay.
There isn't anything 'wow' in the design and both look as fine as any other projector in the market. They are designed with a whitish plastic having round edges with some teal blue details on the front.
The designs aren't bulky at all and that's why fit quite nicely in any room, nook, or space. Summing up, the design of the projector doesn't matter much while choosing any of them as the design doesn't have to do anything with the performance.
Image Quality and Projection
As mentioned above, both these models perform well and feature inspiring 4K HDR image quality so you can enjoy the best of the gaming performances within the ease of your home.
For the finest gaming performances, you can also get the benefit of customisable Football and Sports modes that let you visualize immense 4K UHD images without missing a beat.
The 4k UHD images at 3840×2160p resolution and 8.3 million pixels mean that you can have a screen performance way better than your classic 1080p HD screens. Both these projectors feature optimize colours which means you can experience the richest black and the richest bright at the same time at an even contrast ratio.
As far as the daylight performance is concerned, both these minions are well-trained and well-managed meaning they won't fail miserably even where other expensive models do.
BenQ TK800 and BenQ TK800M, both feature a brightness at 3000 lumens with 10000:1 a contrast ratio.
The best thing about both these projectors is their Football Mode that amazingly let you taste all the outdoor games within the comfort of the indoors. You can witness glitch-free video streaming with the clearest video play and the richest colours even better than what you see online.
On the other hand, the Sports Mode is best known for amazing indoor gameplay as it is designed to provide the richest tones for the players and the wooden courts. The Football mode features the cooler tones, whereas the Sport Mode dominates the Red to offer unmatched compatibility with outdoor and indoor games.
Throw-ranges
Throw range defines the picture quality from a certain distance and this is where both the models vary a little. The TK800 features about 1.2x zoom whereas the other one features 1.1x zoom.
These specs define and confirm the distance between the projector and the screen. For the TK800, you can opt for a distance of around 3.25m for a 100" widescreen whereas, for the TK800M, the ideal distance is somewhat 3.3m with a 100" widescreen.
Also read: The Best Short Throw Projectors for 2022: Reviews and Buyer's Guide
Light Source Life
The life of the light source of any projector directly affects its longevity. That's why its crucial to keep in mind while selecting a model for your home and entertainment. You won't want to spend on the light source more often.
Just like other light bulbs, the light source of the projector will ultimately wear out some time and you'll have to replace it. On a typical note, a light source should ensure about 2000hrs lifetime.
Considering this, the lightbulb of TK800 features normally a 4000hrs of usage which is quite smart. Not only this, but you can also increase the longevity to whooping 8000hrs  if you use your projector on SmartEco Mode.
Even better, on the Economic Mode, you can achieve 10,000hrs of usage time. On the expense of some extra bucks, you can get even improved longevity with TK800M of around 15000hrs which is a great deal to go with.
Speakers
Speaker hols the great importance when it comes to listening to every move of your favourite play. Luckily, both TK800 and TK800M feature amazing 5W speakers embellished with BenQ's CinemaMaster Audio+ 2 technology for the richest sound experience.
Not every movie demands the same audio quality and for this, BenQ provides you with plenty of the sound modes so you can choose the best according to your needs. There's a lot to choose from; Sports mode for indoor games, Football mode for outdoor sports, Cinema Mode for enthusiastic movie experience, Music Mode with polished tune and bass, and a Game Mode for the overall amazing gaming experience.
Also, you can opt for the User Mode that let you preferably adjust the EQ algorithms just as you prefer.
BenQ TK800 vs BenQ Tk800M – Our Takeaway
As it has been sharp and clear that both BenQ TK800 and BenQ Tk800M are made just the same with a little modification in the latter one. TK800M requires bit extra room space and some extra bucks of course, other than that, both are almost same in performance.
The extra bucks also ensure better longevity of source light and better reliability to some extent. Also, the colour patterns and saturations of TK800M are better than the former one.
Conclusively, if you're tight on budget, TK800 will immensely serve you the best but if it's not the case, a little extra is always better making TK800M the best deal to grab this time.