Projector Finder » Blog »
This isn't your ordinary movie night that occurs each night you turn on the tv! This movie night is a special occasion that feels like it's taken hours of planning. When, in reality, it only took a few minutes, the perfect snacks, and some friends or your significant other to make it a party.
Below, you'll find details on how to turn a regular movie night into one that you'll never forget!
1. What movie is worth watching?
Choosing the movie is one of the most important aspects. It sets the tone for the whole movie party. You may be tempted to pick your favorite movie, but choosing an option everyone will enjoy is key. For example, if you're planning a romantic evening, you'll want to enjoy a romance or a romantic comedy. Perhaps a fun animated movie is the best choice for a family event.
It's important to carefully consider what atmosphere you want to create during this evening event. The good news is that there are plenty of genres to choose from that will help perfectly set the scene for your special movie night. Horror, sci-fi, romance, drama, you'll have plenty of options available.
Having streaming services has made choosing a movie much easier, as you're presented with more options within each genre. Some of the most popular streaming services you may choose from include:
Netflix
Amazon Prime/Prime Video
HBO Max
Hulu
Disney Plus
Sling TV
2. Projector or TV?
Sure, you could watch TV like every other night. Or, you could purchase a projector to make your movie nights even more magical. While purchasing a projector may strike fear into your heart, or at least worry into your wallet, it's worth noting that more budget projector options have become available in recent years.
Regardless of your budget, you'll have plenty of options available.
Projectors not only create an experience closer to the movie theater, but many of them are also easily portable so that you can take your movie night to the backyard, rooftop, etc. Whereas TVs can't be shifted to these additional locations. Plus, projectors offer a larger big screen to watch a movie on, so you'll be more immersed in the experience.
Additionally, you may not need an actual screen. Many people hang up white sheets to use as a movie screen. It will work just as well when you stream from your mobile device to the projector and your homemade screen.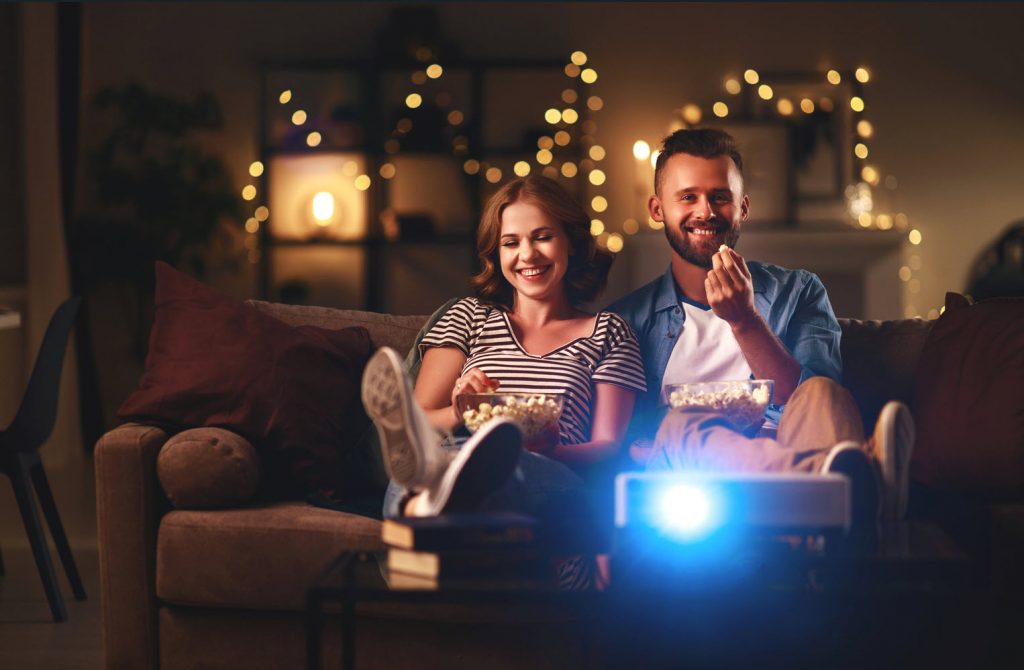 3. Snack Time!
You can't have the perfect movie night without snacks! Of course, the first snack that pops into mind is popcorn. While you can throw a bag into the microwave and call it a day, having snacks that correlate with the theme can take movie night to the next level.
You may even want to consider cooking the popcorn on the stove and creating different versions like herbed popcorn or kettle corn for a fun twist on this classic movie night snack.
One of the best options for a romantic night is creating a charcuterie board or a cheese board that pairs well with your favorite type of wine. Try making a fruit platter for a girls' night and pairing it with tasty cocktails.
You can also make the food fancier for a date night or girls' night. Creating a DIY taco station is a great way to do so. As a tip, using Knives Academy options will help you create the perfect slices of meat for the tacos, and slice your cheese properly.
Use the atmosphere you've created with the movie choice and viewing area to inspire your snack options. Watching a French film? Try serving croissants and hot chocolate.
4. Location, location, location
A huge part of crafting a movie night is choosing the perfect location. For a romantic night, you may want to set up a portable projector and a Bluetooth speaker in the bedroom for the optimal cuddling spot.
Or, maybe you can have a backyard movie night in your own backyard. This outdoor movie night can be turned into a romantic picnic with string lights and a blanket. It's cozier than heading to an outdoor movie theater. Each location helps reinforce the theme for the occasion.
Below are some options to choose from to help set the mood:
Couch for a more relaxed vibe
Bedroom/mattress for a romantic evening
Backyard for a get-together, family movie night, or romantic evening
Kitchen so you can create food while watching a food-centric movie
Makeshift fort for a dreamy or child-friendly movie night.
5. Dress Code
If you're cozying up with your significant other or your kids, pajamas are typically the best dress code options. However, if you're hosting a larger movie night, you might want to consider dressing according to the movie choice and atmosphere.
For example, if you're watching a romantic movie, wearing a dress or nicer jeans and top will make you feel more like you're on a date.
Using the above tips, you'll be prepped to have one of the best movie nights! A little forethought and planning make a huge difference in creating the appropriate mood. Put together your outfit, the snacks, set up your projector, and you're already on your way to a special movie night that you and your loved ones won't soon forget.
Check out our guide on How To Make A Homemade Projector With A Mirror