Projector Finder »
Are you planning to upgrade your projector? When it comes to debating whether you need a larger smart TV or a more advanced PC setup to watch all your movies, there's always this unique space for a projector to fit in the debate and take over all the compliments by offering you more of a cinematic view and a large screen for viewing comfort.
It's like, no matter how advanced the technologies get, you can't let go of the old vintage techs that once robed your heart and entertainment needs on a first-come, first-serve basis. Yes, it's not just you, but all of us too. We all love the view, comfort, ease, and cinematic view that a projector creates. And if it's your favorite show or a horror movie being played on a friend's sleepover night – what more do you need? Oh yes, the popcorns and drinks!
But wait! Is it enough to just praise a projector and blindly go invest in one to upgrade your last projector with a more modern device? We prefer not! Besides, with the new and advanced technologies being introduced now and then, it's never a smart decision to randomly pick a projector without exploring more on what's trending and hot in the market.
With that being said, we're here to help you explore that the most in-demand projectors that are only present to meet your budget demands. Yes, you heard that right – and this includes the new inn Optoma HD28HDR as well as the hot Benq HT2050A. Now, if you're confused among these top options, here's a detailed overview of each of their features and what makes both different from one another!
Features Comparison:
One of the important things that help decide which machine is ideal for your technical and smart life demands is the features it offers. While some features, also known as the basic features, are more ideally known to be common in every similar device. Speaking of that, it's not hard to predict that both the Benq HT2050A and Optoma HD28HDR have some things in common.
Yet, if you're not familiar with these standard and basic features, here's what Benq HT2050A and Optoma HD28HDR offer as a must-have:
| Basic Specs | BenQ HT2050A | Optoma HD28HDR |
| --- | --- | --- |
| Native resolution | 1080p | 1920 by 1080 |
| HDR-compatible | No | Yes |
| 4K-compatible | No | Yes |
| 3D-compatible | Yes | Yes |
| Lumens spec | 2,200 | 3,600 ANSI lumens |
| Zoom | Manual (1.3) | Yes (Limited) |
| Lens shift | Manual | No |
| Lamp life (Normal mode) | 3,500 hours | 6,000 hours |
| Engine Type | DLP | DLP |
| Inputs and Interfaces | HDMI, USB, and PC ports | HDMI |
| Dimensions (HWD) | 15 x 11 x 5 inches | 4.3 x 12.4 x 9.7 inches |
| Weight | 8 lbs | 6.2 lbs |
Additional Specs:
Apart from all of the basic features, what makes an intelligent tech different from one another is the brand, performance, model, and the additional features that it offers. Speaking of which, we're sure you're excited to explore what more does Benq HT2050A and Optoma HD28HDR have to offer. Isn't that right?
Well, without further ado, let's dive into the additional features and performance details that both the Benq HT2050A and Optoma HD28HDR offer us.
BenQ HT2050A: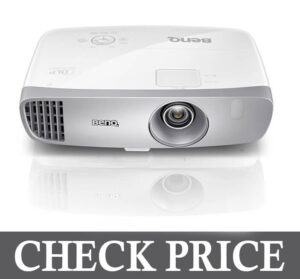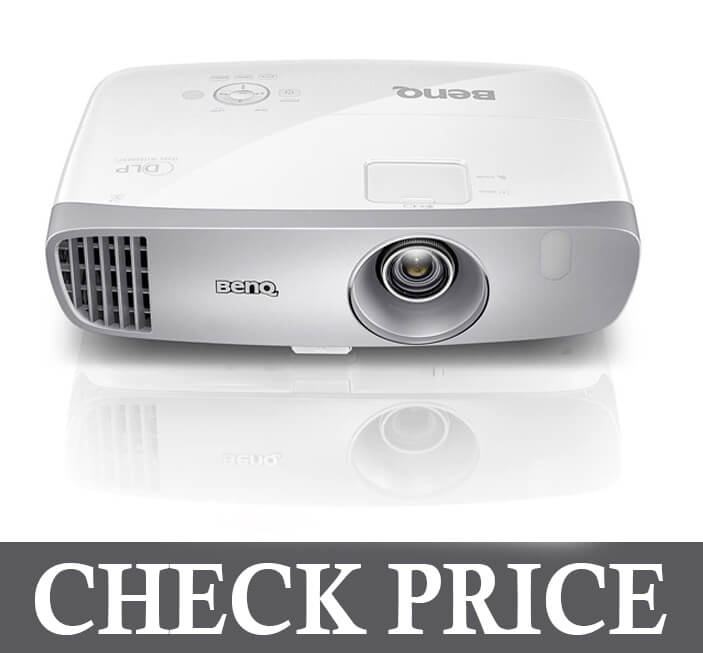 Starting with the additional performance advancement and convenience offered by BenQ HT2050A, there's certainly a lot that comes along with this small and compact-looking projector device. With the presence of its two HDMI inputs having HDCP 1.4, you can conveniently send video sources to each of these inputs easily. You know what this means, right? Yes, double fun and more convenient high-quality movie watching experience with each of the HDMI having HDCP 1.4; which is a feature that not many relevant projectors offer.
In addition, we can't just miss the USB connection present in the HT2050A that is claimed to have a 1.5-amp output. With this feature, you can conveniently power a streaming stick without the need of having any external power adapters attached to the device for instant usage.
Apart from the essential new additions, the HT2050A also offers multiple legacy analog video inputs that are something you may not find any many other similar range projectors today – giving you a combination of component video as well as composite. Isn't that a powerful combination that can be used to conveniently connect other devices like a Nintendo Wii or any music/video player, all without the need for extra adapters? It's almost like one device serves all your multiple connectivities and device usage demands in a compact case, with each connection offering RCA analog audio inputs.
Now, if all this isn't enough to make you consider HT2050A as your ideal projector device, then here's more of what this intelligent projector has to offer you. It includes:
A 3.5mm audio input and output ports (with the output ports being ideal for connection with an external speaker or soundbar).
An RS-232 and 12-volt trigger help you connect with more smart devices and easily create an elaborated home theatre system without going broke.
A backlit remote that has a dimmer orange light because smart tech isn't complete without cool designs. And when the light is automatically dimmer, you can easily enjoy dark movie nights and make changes in the settings without feeling like an additional bright light gets turned on with the remote; yes, it's that much dim and smooth. So there's no inconvenience at all.
In addition to all these extra features, some more advantages that come along with the powerful features of the HT2050A include:
Its 1.3x zoom lens offers flexibility in the throw distance, which makes it an easy-to-setup device.

The outstanding contrast and a 1920×1080 native resolution offer bright and detailed picture viewing.

Its effective motion handling eliminates blurry images even in fast motion

The Benq HT2050A offers low input lag for effective gaming

It also has quiet working fans that eliminate excessive noise production while the projector works.
OPTOMA HD28HDR: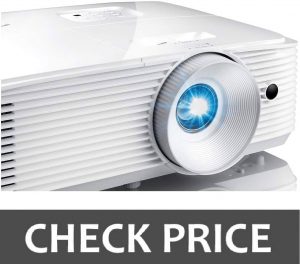 Now that we've mentioned all the additional features that the HT2050A has to offer let's move to the next smart, hot, and desirable projector device that has been the talk of the town for in-budget projectors for a while now. Yes, we're talking about the OPTOMA HD28HDR.
What's exceptionally unique and special about the OPTOMA HD28HDR is its manufacturing around a 920-by-1080-pixel DLP chip. In addition, it also has a six-segment RYGCWB (red, yellow, green, cyan, white, blue) color wheel, among which the white segment offers you extra brightness, and the yellow a cyan one helps minimalize the white segment's effects for offering extreme color accuracy on the screen.
Apart from these smart features, the size of this projector makes it evident that this compact device is easy to handle and convenient to use. All you have to do is point it on the screen, adjust the 1.1x zoom, and then focus on the ideal position to enjoy a brilliant and high-quality movie-watching experience on the projector screen. What adds more to the smart viewing experience and convenience is the +/- 40-degree keystone adjustment feature of this projector that lets you tilt the screen up or down as per your viewing needs. Not to mention the two HDMI ports, with one being HDMI 2.0, you can easily enjoy 4K 60Hz resolution through it. In contrast, the other HDMI port is 1.4b, which is more suitable for screen usage having a resolution of up to 4K 30Hz.
What adds more to this feature is the feature of these HDMI ports that support HDCP 2.2. the HDCP 2.2 is a copy protection scheme that is now found in almost all 4K HDR discs today, making the OPTOMA HD28HDR an influential participant in the race. With all this, the maximum zoon feature allows you to enjoy media viewing with even the shortest distance for image size screen, you can easily enjoy its zooming ability that a 9 feet 6 inches' distance from the screen. Now, if that's not smart, then what is?
Some more specific advantages of the OPTOMA HD28HDR that make it an ideal projector option includes feature like:
It accepts 4K HDR input while down-converting the quality to the native 1080p

It supports HDR10

It has an effective brightens rating of up to

3,600–ANSI lumens

The

HD28HDR also comprises low input lag, which is ideal for gaming

It also supports full HD 3D viewing
Final Verdict: What to Buy?
If we look into the basics and the additional features offered by both of these projectors, it's evident that the Benq HT2050A and Optoma HD28HDR both offer uniquely different features that make them a standout projector option for all the peeps looking for outstanding devices that fall in their budget.
However, there are specific limitations that one has as compared to the other, making both the Benq HT2050A and Optoma HD28HDR being remarkable and exceptional in different features. Speaking of which, while both these projectors are spectacularly a good fit for anyone in need of modern and excitingly compact projectors, the best way to make the ideal choice is to evaluate the projector and screen demands you have. With that being said, user preferences help make better purchase decisions.
In a nutshell, there's no doubt that both the Benq HT2050A and Optoma HD28HDR have a lot to offer to anyone looking for attractive, innovative, and multiple features offering projectors with a high-quality screen viewing experience – especially as compared to many other projectors falling in the same price range! Yet, for specific qualitative analysis, the Optoma HD28HDR can fulfill your usage demands as the perfect gaming and theatre projector for all types of indoor and outdoor settings. In contrast, the Benq HT2050A may serve as a good projector that offers a cinematic experience for indoor and at-home setups for viewing sports, movies, and 3d games.
FAQs
Does Benq HT2050A and Optoma HD28HDR have built-in speakers?
With these portable devices being exceptional in specific features, there's one thing you will enjoy in both of them – yes, it's their built-in speakers feature that both offer. A powerful speaker present in both the Benq HT2050A and Optoma HD28HDR makes them more convenient for large movie setups and get-togethers with friends and family members.
Which offers better picture quality: Benq HT2050A and Optoma HD28HDR?
In comparison between the Benq HT2050A and Optoma HD28HDR, both of them offer 3D support and a full HD quality viewing experience at 1080p. In addition to that, if you're looking for a projector that serves exceptionally well in dark rooms with its black level, then Benq is the quality projector you would want to invest in for better picture viewing results in extremely dark rooms too.
Which among Benq HT2050A and Optoma HD28HDR is compatible for usage with larger screen sizes?
While the Benq HT2050A is compatible with screen sizes of up to 30-300, the Optoma HD28HDR is more ideally suitable for usage with screens sized from 28-305.5. hence, Optoma HD28HDR offers you more choices and convenience of usage compatibility with smaller as well as larger screen sizes, especially as compared to the Benq HT2050A's screen size compatibility.