Projector Finder » Blog »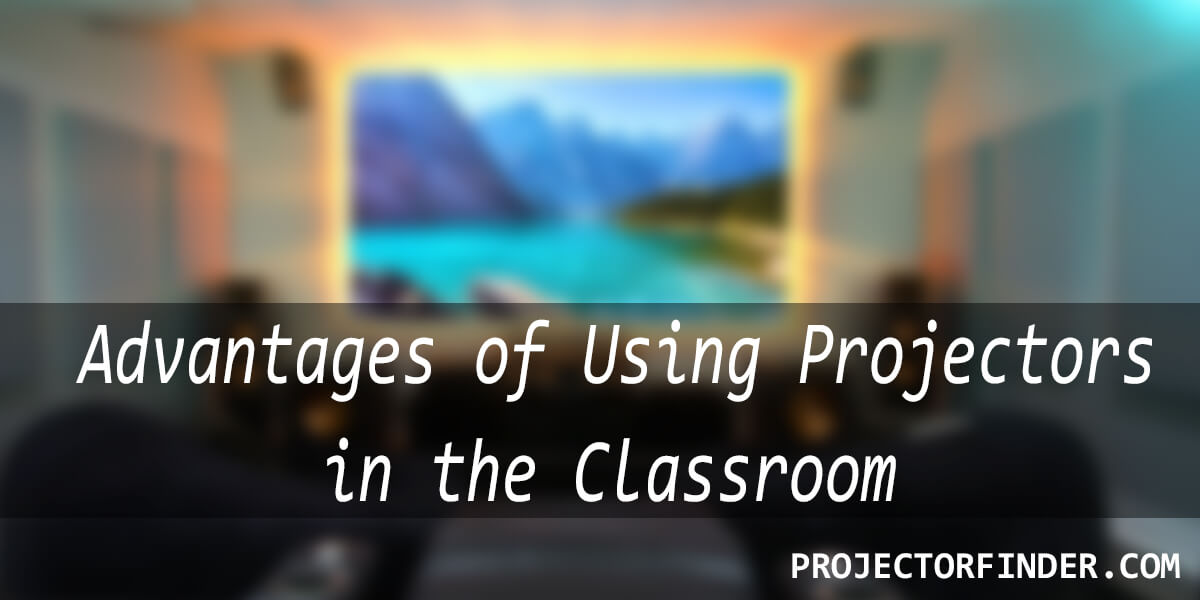 Advancement in technology has changed the teaching and learning ways immensely. The days of handwritten notes and blackboards are gone and from preschool to post-graduate, the use of multimedia and visual learning is getting common.
With new multimedia gadgets classrooms are more fun and students tend to learn more quickly and effectively. Also with a huge number of awaiting students for admissions multimedia classrooms are a great solution to accommodate more pupils in a single classroom.
A projector is a cheap and efficient gadget to give the audiovisual effect to your school or classroom without any huge funds available. These multimedia classrooms have played a great role in continuing the learning process even in the current lockdown and social distancing era.
Writing on blackboards or copying notes from the back of the class is a huge hassle and usually, the main cause that students don't get the proper understanding of the topic. Digital media is a big help in changing the classroom environment and students can easily focus on learning and conceptual study rather than just copying and memorizing only.
Here are some key advantages of using projectors in classrooms due to which the use of multimedia is getting common and revolutionizing the teaching mannerism.
Interactive sessions:
Teaching with a projector is more interactive as compared to the boring blackboards. With recorded presentations or using a projector as a monitor for your laptop or pc, you can easily teach using pie charts, images, and colorful and pictorial presentations. In this manner, the students who usually get confused and are unable to imagine the picture of the text in mind can learn and understand better.
It is found by research that small kids who are in playgroups or nursery learn better with the visuals and pictorial representations, and with the projector, you can easily interact with them and make them understand better the things. The drawings onboard or carrying the huge posters are not feasible and effective normally so presenting the real images, videos and music can make the classroom time fun and interesting for them and the concepts will be kept in mind forever through this way. Also, the backbenchers won't feel left out and everyone can easily view and participate in class.
Better time management:
Most of the time the first 10 to 15 minutes are wasted while the teacher copies the notes of drawing on the board and some in students doing so, with a digital presentation and multimedia this time is saved. Teachers can prepare pointers or presentations of their class lecture beforehand and students can either copy them later or can have pdf or PowerPoint presentation shared. This way classroom time is saved and can be used for more discussion, question answers, and concept building.
At the university level with so many topics to cover and discuss, blackboard culture is outdated, and with projectors, the topics are covered quickly and also the students don't have to copy the notes from toppers and during class and miss the points that the teacher is telling during lecture.
Not only it saves time while the class but also with multimedia with double students in class teachers can teach more students in less time without any compromise on the topic of understanding and learning.
Efficient notes copying:
Usually with blackboard lectures sometimes the students at the back can't see the board clearly or misspell the written words due to messy writing or illegibility. The notes may get wrong and may result in causing you to lose marks in exams. With multimedia lectures, there is no issue with the points explained and you can copy easily from the slides without any mistakes.
Also during the lecture, if you focus on continuously writing what the teacher is saying then the understanding of the topic may get affected and you may get lost in between. Copying from other students is also a task because everyone's notes are good for them and you may not understand completely what the idea is. With digital notes, you have clear important points given and don't have to figure out the concept from unnecessary writings in notes.
Usage of a variety of mediums for teaching:
With only blackboard and chalk or paper, you only have a single medium of teaching to convey the information or idea to your students. Using a projector allows you to share the information in multiple mediums, to make them understand better.
As a monitor screen for your laptop, you can make your students view a short clip or video of the industrial machines, a research paper available on the internet, or images of historical places, tools, or anything you want to via projector. many students who are unable to afford personal computers or laptops can benefit from multimedia classrooms, as with viewing the webpages on the projector, or any latest technology video they can have an understanding and knowledge about the web browsing, software usage, and how to operate a pc or laptop.
For far, areas and countryside villages where teachers can't reach projectors are a big aid for learning and from viewing the recorder lecture the children can continue their education without any trouble.
Also Read: The Best Daylight Projector for This Year
Student engagement and participation:
The visual medium is more attractive and interesting and due to this, the student engagement is kept intact during the whole lecture. With real and colorful images and video, lecture pointers and explanation of facts and figure with the use of table and charts make the student engaged in the lecture throughout and they don't get bored.
With teachers' attention more towards students not board the students also participate in class to discuss and understand better. With the best projectors, students also can present their ideas better and explain them clearly with the help of infographics, videos, etc.
In this era of the digital world the interaction with multimedia has become a necessity, be it the newborns to the old age citizens everyone is exposed to technology, with so much digital medium and visual interaction teaching via blackboard may be boring and less understanding for the students. To benefit the pupils better and make them as much use of time to teach and accommodate a huge number of students, a projector for teaching in schools and colleges is a must.