Projector Finder » Projectors by Use »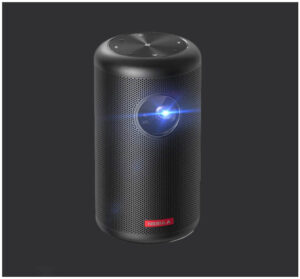 Portable projectors are great to use for outdoor activities. Camping is all about getting a fresh breath from hassle life. Sometimes, we get frustrated with the daily routine and busy schedule. It's human nature that he wants some change in his regime. At this time, going on a trip or camping with friends or family can be beneficial for mental health.
Most of us want home-like sensation on road trips as well. For this purpose, these outdoor projectors for camping can serve the purpose. You can watch your favourite movies while camping too. Just don't forget to bring some portable storage device filled with your favourite TV shows and movies. Like, USB flash drive. Mobile with a good internet connection can be a good idea.
8 Best Portable Projectors for Camping
For your convenience, here is a comparison of the best projectors for camping:
Not everyone like traditional style camping as we do in the past. It's a modern era with advanced technologies. Upgrade yourself by utilizing and taking benefits of the advanced equipment of the current century. Even a thirsty crow likes to do smart work instead of doing hard work.
You can make your camping more stylish and exquisite by selecting the best projector for camping. Enjoy movies and TV shows on camping with mini projectors with additional features like small screen, high-resolution videos with low noise, colour adjustment, and lightweight. Above these projectors are available at pocket-friendly prices as compared to the large LED displays.
For your assistance, here is a list of the eight best portable projectors that possess all the qualities we think a good projector should have. Without taking your time here, we go.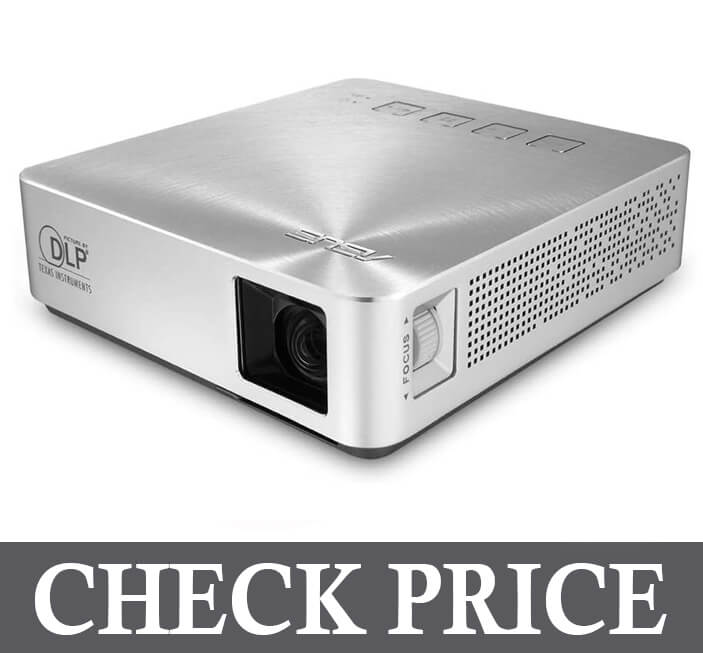 Here is ASUS S1 portable projector, which has a built-in long-lasting rechargeable battery with other additional features. The top pick projector in our list through which you can experience good high picture quality video and also able to charge other mobile devices when connected with it.
ASUS introduces the best projector with a display resolution of 854 x 480. It has an HDMI interface that possesses an MHL feature to support mobile devices and smartphones as well. Another way to use this projector is through a USB flash drive.
The video and image quality of these projectors are good, even with a short-throw but not excellent as it has a rainbow effect that is not adjustable and can lead to distraction while watching movies. Pale colours are also one of its drawbacks. Apart from it is not recommended to use it in light. You have to use it in complete darkness.
Another that should be considered here, its weight is 0.8 pounds, which means it is portable for outdoor activities. The small speakers are just right as you have to sit a little bit close to it if you want to hear the sound clearly. You can connect your headphones to it as well.
Overall ASUS S1 projector is available at a reasonable price with the best long-lasting battery. Picture quality can be good at night, and it is the best pick for camping trips with a warranty of two years at AMAZON.
Specifications:
Battery life: 3 hours (6000 mAh)
Brightness level: 200 lumen
Screen Resolution: 854 x 480
Pros
Powerful, long-lasting battery
Battery is rechargeable
Charge other mobile devices when connects with it.
Decent in price.
MHL feature that allows other android connectivity.
Cons
The picture display is not very impressive.
Best in darkness but not right in the light.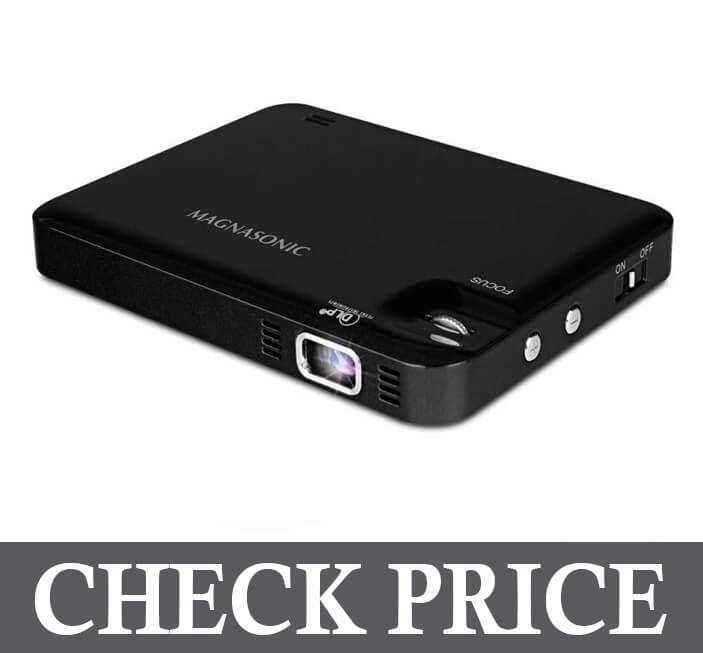 Presenting you with another best projector to make your camping trip more awesome. This projector is available at a reasonable price in the market as well as on online platforms. MAGASONIC LED Pocket Pico Video Projector is designed beautifully and thin in size even you can keep it in your pocket shirt. The black glossy colour looks eye-appealing as well.
Having both HDMI and MHL features, it supports HDML input as well. HDML connection enables other HDMI supported devices to connect with it. MHL allows connectivity of other android devices to connect with. Another way through which you can watch videos on it by inserting a USB with a micro-USB port. This projector supports multiple ways to input your videos and images in it.
Having a very low brightness of the screen. We might think that video quality is not very good, but it is surprisingly excellent. It displays each detail of the picture on the screen effectively. This projector shows minor details of light and dark pictures efficiently. In other words, it does its job well.
MAGASONIC has a built-in rechargeable battery of 2100 mAh that can last up to two hours. Another thing that should be discussed here is that the built-in speaker is not very good. You have to connect an external speaker with it, or headphones can serve the purpose.
On camping, this one is perfect as it is very lightweight and small in size. One more thing is that it supports multiple connectivities, which is an additional and recommended feature of projectors.
Specifications:
Weight: 0.28 lbs.
Battery life: 2 hours (2,100mAh)
Brightness level: 25 lumens
Screen Resolution: 640 x 360
Pros
Budget-friendly.
Glossy colour and stylish look are eyecatching.
Good quality video.
Cons
Brightness is very low.
The sound quality is as impressive as it should be.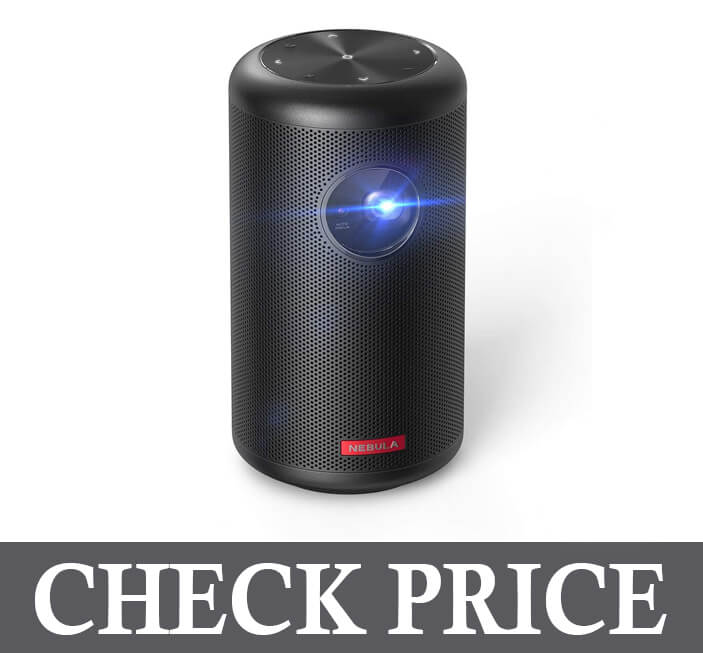 Another good projector on our list is pocket friendly and can be carried at camping and other road trips. Suitable for camping as well.
The ANKER NEBULA CAPSULE is easy to install. At first, it takes a few minutes and then asks to import wi-fi in it. After it suggests installing an app that is compatible with this device. A tin can shape projector offers a wide range of connectivity. It supports HDMI devices and also allows you to connect your devices via Bluetooth.
Taking about picture quality, it's not bad. You have to put your device at a suitable distance to watch your favourite movies on white display. Well, the best display depends upon the distance and place from where you are viewing it. Moreover, this projector through light nicely but be sure the place is dark so that you don't have any difficulty viewing it.
An additional feature of the ANKER projector is that it supports high-quality speakers. Audio can listen well from a distance. They are powerful enough to listen to music and sound at a half volume. While using a capsule, you will notice a noise that is not audible while watching movies or any TV shows on it.
One thing that is not good about this projector is that the battery life. On camping, you probably need a projector that lasts long enough to make your trip special. The battery charge seems to be dropped if you stream an HD YouTube video on it. However, this battery can last for 30 hours if you play just a piece of music on it.
A well-designed tin can projector is easy to carry. With a light and small in size, you can take on camping easily.
Specifications:
Weight: 24oz (680g)
Battery life: 3 hours (9700mAh)
Brightness level: 200 lumens
Screen Resolution: 1280 x 720
Pros
High-quality speakers
Light in weight
Elegant design
Decent in price.
Cons
Complete darkness is necessary for picture quality.
We are tired of testing and trying expensive projectors that do not support HD quality videos as well. Here is the next one that is slightly cheaper as compared to other projectors. This projector is not only cheap but also able to do its task well.
According to the price, M4 Mini Projector is an excellent choice. It's too small enough to fit in your hand. Moreover, its stylish look can make you crazy. However, its screen is so delicate, and you need a cloth to wrap around it. You can also put this device pocket for carrying purposes. But this projector entertains you enough to serve the purpose.
With a screen resolution of 800×480 and a luminous level of 50, you can get good picture quality for your favourite TV shows. A budget-friendly projector provides you with decent quality videos with a contrast ratio of 1000:1 in a dark room as well as in dim light. But the resolution is not as powerful as compared to the others. And probably this one is not a daytime projector.
Talking about battery life and charging, it can last up to long for 2 to 2:30 hours. Not pretty good. Moreover, it provides an HDMI port and also a micro USB port for connectivity. But the bad news is that you cannot connect a USB flash drive with it. Although, HDMI supportive devices are best to use with it.
Speaker and sound quality is pretty much good. You can hear the sound. Another thing that should be considered here is that this device does not possess additional software. When you switch on the device, just a logo appears. No settings and other additional features can be seen.
However, according to price and size, APEMAN M4 Mini Portable Projector is an excellent choice for those who want to carry it on camping. A mini projector is easy to carry on trips.
Specifications:
Weight: 7.04 ounces
Battery life: 3,400 mAh
Brightness level: 50 lumens
Screen Resolution: 800×480
Pros
Decent in price slightly cheaper as compared to others.
The battery takes a very long to be charged again.
Doesn't support wireless connectivity.
Cons
The picture quality is outstanding.
Lacks in most features.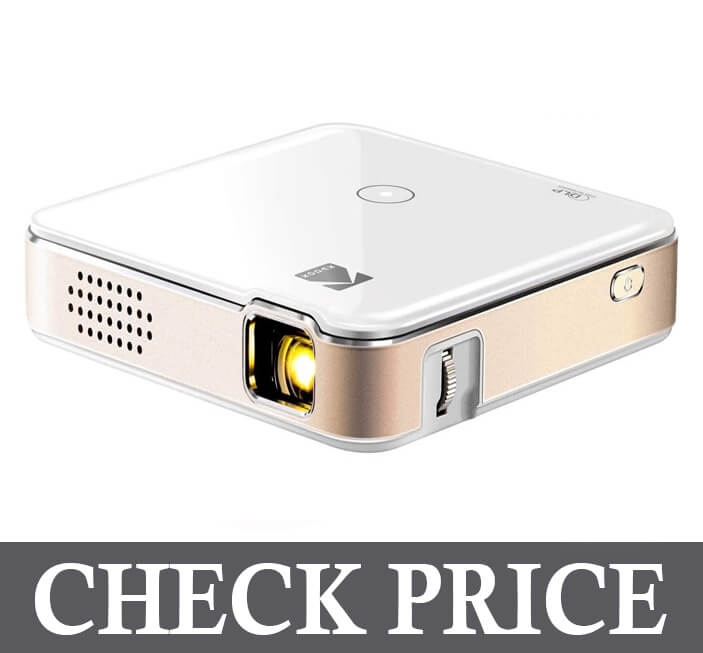 We are enlisting another affordable projector to provide you with a theatre-like experience on camping. A well designed, cute, and small projector is good to carry on trips. Kodak Luma 150 Pocket Projector can provide high-quality images with a micro memory card or mirror an android device via HDMI CABLE or wireless connectivity.
Most of the projectors in our targeted a specific audience, but this one is an all-rounder. This projector is excellent at showcasing movies as well as presenting presentations on it. It does not only support HD videos, but it can also 4k video quality with 1080p. In comparison, this projector can stand as the best quality image projector as it has a luminous level of 60 ANSI lumen, which is equivalent to 420 lumens.
Considering a built-in speaker, this is not as impressive as the picture quality of this device. You have to struggle a lot to hear sound clearly. But according to its size, it is overall good. Although, an additional speaker is recommended with it.
The battery life of this small pocket device is not much appreciable. It has a built-in rechargeable battery that can last up to 2.5 hours, not enough on camping. However, this one is good for home use.
Are you thinking about making your camping night awesome? Choose this one as its video quality is excellent. Talking about audio quality and battery life, these are not much appreciable.
Specifications:
Weight: 1.32 pounds
Battery life: 2.5 hours
Brightness level: 60 ANSI lumen
Screen Resolution: 854 x 480
Pros
Affordable projector at an attractive price.
Enable wireless connectivity.
HD and 4K video quality is its best aspect.
Cons
The battery timing is not right.
Sound clarity is quite tricky with the built-in speaker.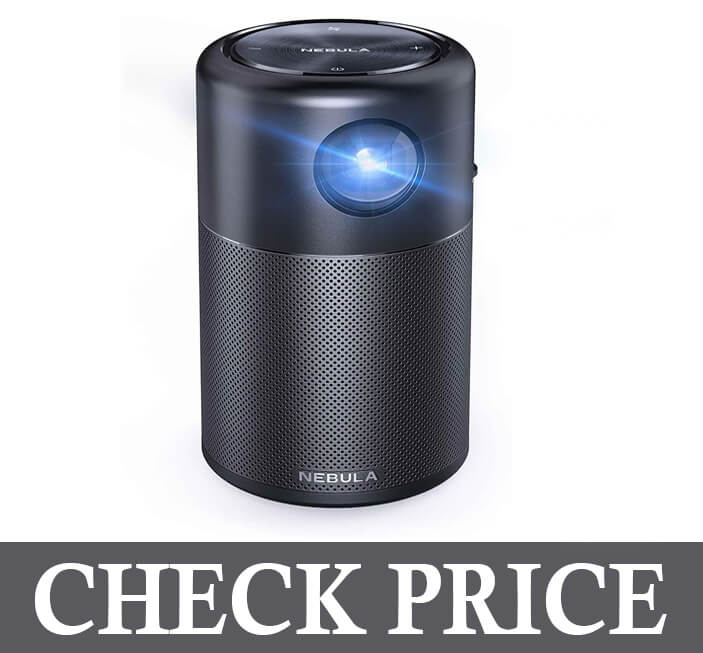 We are presenting you with another best quality projector to help you make your camping more special. So, you are thinking of buying a projector that can support the wi-fi feature as well? ANKER NEBULA CAPSULE can be a top pick for you.
Having a brightness level of 100 ANSI, it can get high-quality pictures with video streaming. Or enable mirroring on your smartphone screen to watch your favourite content on it. Talking about picture quality and image, this projector amazingly creates a detailed image of 100-inch on a screen that is best of all.
While this capsule's audio quality is appreciable, 360-degree speakers are good enough to provide you with sound clarity quickly. An additional feature is that it supports wireless connectivity through Bluetooth as well. However, you can connect wired devices with it with the help of HDMI support.
The battery timing of this projector is much enough to be used effectively at camping to watch movies. While watching movies, its battery can last up to 4 hours, which is excellent. Furthermore, this projector can be a great companion on roadside trips.
Specifications:
Weight: 15 oz
Battery life: 4 hours
Brightness level: 100 ANSI lumen
Screen Resolution: 1280×720
Pros
High-quality speakers
The image resolution is fair, after all.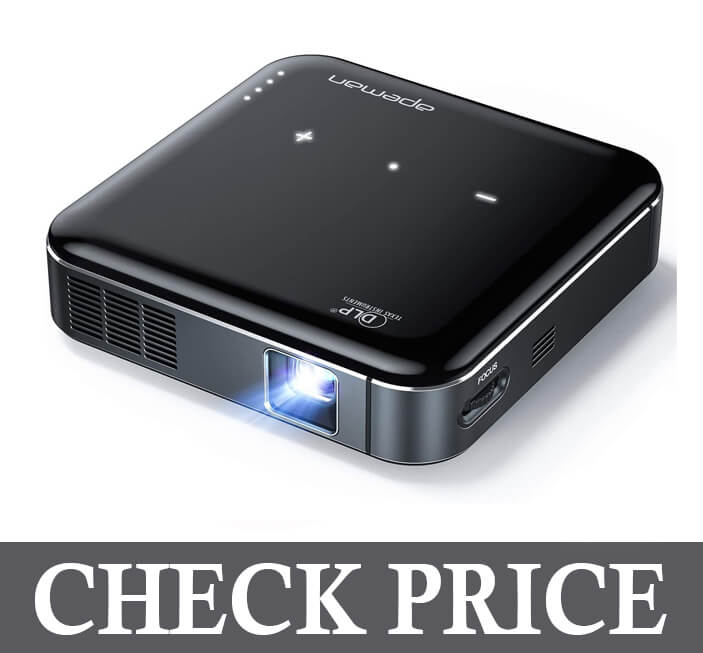 APEMAN presents another well and good quality projector with good specs and screen resolution. Small in size and cute as well. Considering the price, which is slightly competitive as compared to the other brands and projectors. But this projector is best for picking a top-quality projector for outdoor activities.
A portable projector that can provide you with cinematic movie experience from your comfort zone. It supports a new technology through which it displays the best quality images on the screen size of 30-100 inches that is quite impressive. New technology can support vivid colours and images as well.
Another aspect that should be highlighted here of this fantastic projector is that it possesses built-in audio speakers of 5000 mAh, which is more than enough. The battery time of this projector is 2.5 to 4 hours. That is why this a top-notch choice for outdoor activities. Just a blank white screen is needed to watch movies on it anywhere.
If we talk about speakers, a well-rounded 360-degree built-in speaker is quite good enough to provide you with the best quality audios. While bringing it outside, you don't need to attach an external speaker for a better experience.
Specifications:
Weight: 0.74 lbs
Battery life: 5000 mAh
Brightness level:  7000 lumens
Screen Resolution: 1920 x 1080
Pros
Display good quality images.
High sound quality.
Cons
We need support to mount it on the ceiling.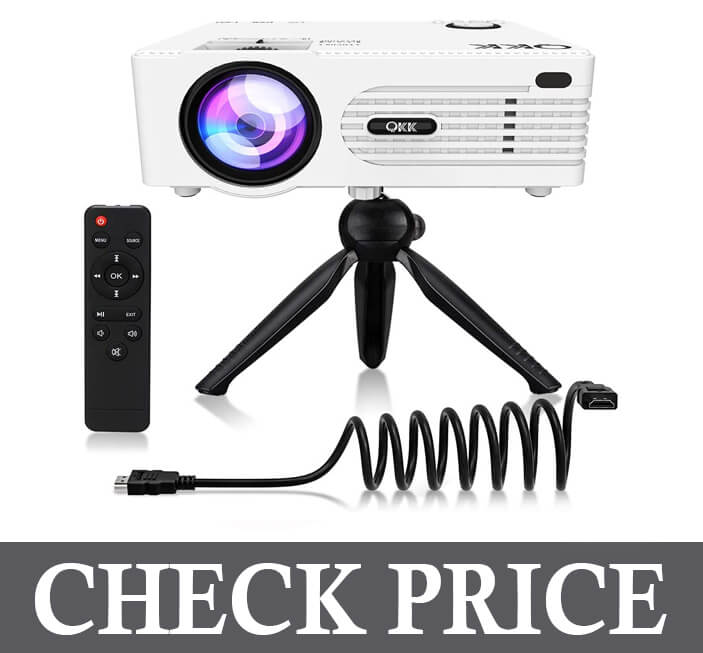 Last but not least. This projector can also give high-quality pictures with better sound quality. A small projector comes with a tripod stand best for camping and other outdoor activities. It supports HD quality videos and offers HDMI support to connect other devices with it as well.
This projector's lumen flux is 5000, which means its brightness level and display quality is exceptionally incredible compared to the other projectors on the list. A small projector can be easily mounted on the ceiling, and a tripod stands for the best experience. Battery timing is also rated as one of the best indeed.
Specifications:
Weight: 3.09 pounds
Battery life: 2 to 3 hours
Brightness level: 5000 Lumen
Screen Resolution: 1920 x 1080
Pros
Easily connect with other mobile devices.
Weightless projector.
Cons
The quality of the projector is not ranked as best for camping.
Best Projectors for Camping Buying Guide
You have already read about the best projectors for camping and outdoor activities. But still confused? Might be reading reviews on AMAZON and other online websites to pick the best one for yourself. No need to worry about it as a fuss-free buying guide is here to assist you in this way. There are some considerations that the best projector for camping should possess. Such qualities will make your cinematic experience from your home better.
Picture Quality
Whenever we talk about the picture, the first thing that clicks in our mind is its resolution. Pixels per inch determines the resolution of any screen. By exceeding the number of dots per inch, the resolution of the picture can be improved. While choosing any android device, we look at this aspect interestingly. Why do we not do the same with projectors?
The picture or video quality of the projector is fixed. You have to check it before buying. But the preferable resolution is 1920×1080, which supports HD and 4K videos. With these resolutions, you can get the best outdoor movie experience with your family.
Multiple Connectivity Choices
On camping, we just want to be relaxed. If children and other people are trying to watch a movie through the projector and it has a single connectivity option, and it may not work at that time, then your camping will be wasted. While choosing a projector for outdoor activities, it is always advised to choose a projector that has multiple connectivity options.
USB port and micro SD card almost every projector possess. But most projectors do not support HDMI connectivity or Bluetooth feature, which is not good. While buying the best projector for camping, make sure that it has all the possible connectivity options, and if they support wireless connectivity, it will be preferable.
Brightness Level
Luminous flux is considered as the brightness level. And mostly, it is measured in lumens. You have to look at this aspect carefully while choosing a projector. A higher brightness means more clear picture you will get. But unfortunately, a high brightness level can drain your battery percentage quickly.
The brightness level of the projector doesn't matter much if you plan to use it at night. Because at night time more brightness can cling to our eyes. But this aspect is strictly considered if you are planning to use your projector in the daytime. Another thing that should be discussed here is that the outdoor projectors specially made to use at night cannot be much bright to use in the daytime.
Portability of Projector
The portability of a projector is another that should be considered here during an outdoor projector. You are going camping, so you need less weight to be carried with you. A bulky and heavy-weight projector is not preferable as it may be burdensome for you as well.
Thin light weighs projectors are preferable for camping and other outdoor activities. They are easy to carry and at the same quick to be mounted anywhere. The installation process of these projectors is not complicated as compared to the large-sized bulky projectors. Consider this while buying the best projector for camping.
Built-in Speakers
Are you going camping? You probably do not like to carry a lot with you. It is not only hectic at camping but also burdensome to get them back with yourself as well. That's why it is always advised to buy such projectors that have powerful built-in sound quality speakers.
Many projectors in the market claim to have the best sound quality speaker, but most of them cannot prove this claim. Not every projector has a well-programmed sound quality speaker. The overhead projectors listed have the best quality audio output, and you don't need to carry an external device for this purpose.
Battery Timing
Finally, listening to this feature doesn't mean that it is not as important as others are. The battery life of any electronic device is essential to be considered before buying. Does this thing determine how this device can be used? 5000 mAh battery life is recommended for projectors that are used in camping.
Best Overhead projectors that are listed in this article have the right battery timing. Their batteries can last up to long for about 2 to 3 hours while watching videos. You should know that most of the projectors don't have a built-in rechargeable battery. On camping or outdoor trips, it is necessary to get a projector with a built-in battery that can be charged with a power bank as well.
Warranty And Repair Services
Thankfully, living in the era of modern technology where a damaged product can be replaced or repaired within a given period at no cost. Amazingly, most of them rely on e-commerce websites like AMAZON for warranty and repair services. Sometimes, in case of damaged or expired products, they also provide you with a refund policy.
Overhead projectors have warranty facilities and repair services. In case of any damage, you have to claim it, and your problem will be solved within days. But keep it in your mind that each company has some rules. You can't claim for each damage. Just read them carefully before buying that product.
Also read: The Best Portable Projector Screen of 2022
Frequently Asked Questions
Still, worry and confused between the projectors? Here are some frequently asked read them make and put yourself at ease.
Which projector is best for camping? Should I go for a commercial one or a home-based?
Projectors are mainly divided into two categories. One is commercial, typically used to project presentations and other office-based activities. Another one is a home-based projector designed according to your needs. On camping, you don't need a commercial projector. Just pick the one that matches your needs.
Should I buy a projector with a high lumen level?
Most of the time, we cannot find a dark room for ourselves to watch movies on a projector. At this time, we probably need a projector with a high brightness level. A luminous level of 3000 lumens can be preferable.
Does the size and weight of the projector matter for outdoor activities?
The short answer is yes because you will not like to carry heavy stuff with yourself when you are going on camping or on a trip. That's why the light-weight small projector is recommended.
Conclusion
Camping is the best option to get some fresh air and to regain your energy. But make it more memorable by getting the best quality projector for camping. The above-listed best projectors for camping here are the best in their performance and give you a cinematic experience in your comfort zones.
Before selecting the best one for yourself, tell us which one of them impresses you a lot? If you are already using anyone of them, share your experience with us.