Nowadays any professional institution is incomplete without a state of the art projector. Whether you are a working professional who has to deliver a precise pitch to your prospective clients, an administrator at a school or university where interactive learning has become the order of the day or simply wish to buy an affordable and reliable projector for your home theatre, finding the best projector under 1000 is tricky.
You have to consider aspects of the device such as image quality, brightness, battery life and mobility to name a few along with many other technicalities that may confuse a layman. That's where we come in to help you so read on for more information!
There are so many projectors out there in the market today and they come in all sorts of shapes, sizes and price ranges, however, this list will be for the best projectors under 1000 dollars so that your bank account does not suffer.
Don't forget to check: Best Projectors Under $500
Most of these are professional grade products so you do not have to worry about spending big bucks and not receiving superior quality.
If you're on the lookout for the best affordable item on our list we recommend the Optoma X304M that not only has excellent picture quality but is also affordable and portable.
If you are a newbie who doesn't know how projectors work out? You can read our guide about things you need to keep in mind before choosing a projector.
For those of you not yet convinced, there is a whole lot more so stay tuned!
Top 10 Best Projectors Under $1000 of 2020 – Updated List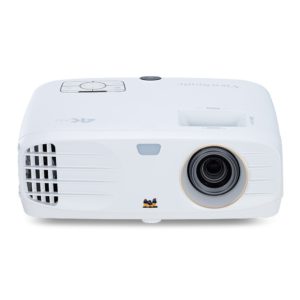 Starting off with the first product in today's list we're looking at the View Sonic Pro 8400 which the company states that its from their "Precision Series." This would mean that this device which has been exclusively marketed as a home based system would also provide a certain high end performance to your home based entertainment system.
The device itself reminds you more of a corporate product, however, we don't mind the contrast of the matte grey and glossy black body. The design is simplistic and that makes a product less daunting to the average user.
Now, let's move onto the features, shall we?
Great Optical Zoom– The 8400 hosts an impressive 1.5x optical zoom option that allows for great image quality, however, what sets it back in terms of ease is the fact that there is no vertical image shifting feature that enables the screen to appear with crisp and clean straight edges. This can be corrected but must be done manually.
HD DLP- This feature is quite nice as it offers the latest in digital light processing capabilities which is a newer type of image processing that employs fast pixel switching of its microscopic mirrors thus giving great image quality.
4500 Lumens- This feature is quite surprising since the brightness level on this device is outrageously bright which is great for a projector but makes one think about the contrast imaging which leaves the darker parts on the images more grey than clear.
Multiple USB Options- Along with the standard and low tech LAN port and two PC inputs, the 8400 also offers the option of an additional two v1.3 HDMI sockets which are perfect for your home entertainment system, the12V trigger port and the added feature of a USB port which allows you to play slideshows without the help of a PC.
Pros
Lots of USB Options.
Full HD DLP.
4500 brightness.
1.5x Optical Zoom.
2: Hitachi CP TW2505 (Best Full HD Projector Under 1000)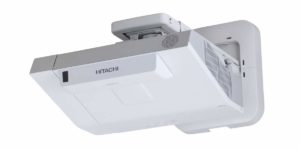 The Hitachi CP 2505 is next on our list because of its generally fantastic performance, long battery life and several more cool features such as finger or stylus interactivity. We picked this device because of its popularity online as a durable and easy to use device.
Let's dig straight into the features.
Fully Interactive- This is one of the greatest technological advancements in projection technology as it offers a fully immersive experience to the user whether it is for educational purposes or for entertainment. The included interactive pens can be used or you can simply use your finger to make commands.
High Powered Lamp- The expected operating time for this device is varied over three distinct modes, i.e. the normal mode which lasts up to 5000 hours, the eco mode 1 which gives you up to 8000 hours and the phenomenal eco-mode 2 which can give up to 10,000 hours of lamp life!
Multiple Output Choices- The CP 2505 offers not only the standard digital, analogue and audio-video output but also offers everything from a Wireless LAN, an RS-232C Control and both USB type A and B.
It also has an automatic digital keystone correction option which enables the projector to showcase a perfectly aligned image output every time. It also comes with these accessories included: a 5m computer cable, 2 AAA batteries, 2 interactive pens, a 4.5m power cable, a CD user manual, an adapter cover and an application DVD.
Pros
Interactive Display.
5000 Hours of Normal Use.
Multiple Output Options.
5000:1 Contrast.
3: View Sonic PX7474K (Best Projector For Home Theater Under 1000)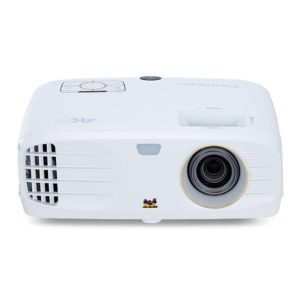 Herewith another wonderful product from the View Sonic range, the PX747 4K is a pretty powerful home entertainment projector that is both portable and compact. With tons of raving reviews online, this is the best and most affordable in the 4K range.
3500 Lumen- No matter where you place the PX747, within the confines of your home there can never be completely pitch black settings because there will be some background light seeping in from somewhere even if it is in your basement. With promises of 3500 lumens of brightness, the PX747 is designed to cut through even the brightest ambient light.
DLP/RGBW- This is a digital light processing projector that provides the clearest and sharpest image quality but what's even more exciting is the fact that it is equipped with an inbuilt RGBW colour wheel that essentially allows enough light to pass through that results in the brightest image by enhancing the number of white lumens the projector can output.
Best Black Contrast- Since it has a 12000:1 contrast ratio, the PX747 which enables the best black level performance including the amazing dark shadow detail feature that allows the user to view the darkest of scenes in the sharpest image.
Special Silence Mode– This product also features a special silence mode that allows the user to turn off pixel shifting if they are simply playing content at the 1080p option. This means the projector will be the quietest although the 4K option will turn off.
Pros
Extra Bright.
DLP and RGBW.
Best Dark Contrast.
Silence Mode.
4: BENQ Insta Show (Best BenQ Projector Under 1000)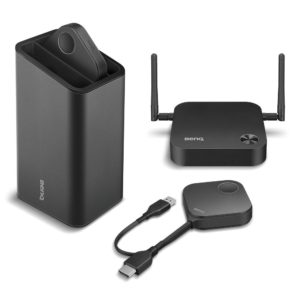 The trouble with business presentations and slideshows is the complicated adjustment of wires and having to disconnect your device so another person can use it next. However, this has become a problem of the past as the Insta show from BenQ makes this proves lag free and efficient using one main receiver that connects to multiple transmitters.
Multiple Presenter Option- Gone are the days when presenters had to have their device waiting for their turn during a presentation as the Insta Show allows for seamless operation with multiple transmissions at one time. The two insta show buttons also allow for a concise team effort.
Excellent design– The device is not only compact but it can also take on any journey without any scratches or wear as it is durable and sturdy.
Video Mode– Although the device is exclusively marketed for business experience, it also provides a handy video mode that allows you to stream videos via a wireless connection which allows for a lag free experience as there is no need to disconnect anything since there are no cables.
However, it's not all rainbows and sunshine with the Insta Show as it is quite pricey as compared to some other options and it also lacks a diverse output option range. If there is no USB port or full size HDMI cable, you will need extra attachment wires to get anything done.
Pros
Video Mode.
Multiple Connectivity.
Excellent Design.
BenQ InstaShow Video Review: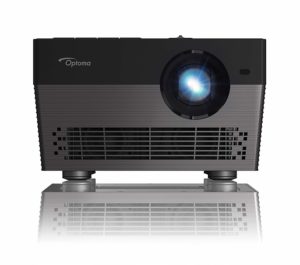 The next device we are going to give a quick over view of is the Optoma X304M which is one of the most portable projectors on our list today at a mere 2.8 by 7 inches. However its size isn't the only thing that has people excited and impressed. It comes with its travelling case and a handy pouch for all its cables and accessories.
It offers:
5x zoom which is not the most impressive but still gives the user some throw range.
It doesn't have a USB A ports option and is a bit limited in that department with just an HDMI, video ports and VGA. So that makes this product a bit low tech and outdated.
3000 Lumens of brightness.
It has an amazing colour balance with mostly impressive colour quality. Well saturated and dark when needed, all modes featured great colour balance and quality.
It did however, have the issue of what is commonly referred to as rainbow artifacts where the lightest parts of the pixels start breaking up into flashes of green, red and blue which is a problem common in DLP projectors. However, the real let down was that in video mode, this was a consistent issue.
Pros
Bright.
Good optical Zoom.
Great Colour Balance.
Portable.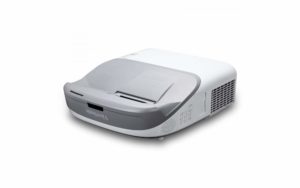 This device is perhaps the most advanced piece of technology we are about to review today with so many features that it becomes hard to keep track of all the user friendly and impressive capabilities it provides.
There is no wonder why this device is the most super popular projector for an educational setting as it is advertised especially for the classroom setting.
Let's look at a few of its best features.
Wireless sharing- Wireless dongle technology means there are next to no wires for this device. The user can then stream content via their own devices onto the projector with ease. It also allows for a certain kind of portability as you can access and view your content without having to worry about wires or the device disconnecting.
Keystone Correction– This device features 4 corner keystone adjustment including both vertical and horizontal correction thus getting rid of distortion or misalignment of pictures on the screen.
SuperColor™ Technology– the company's patented super colour technology enables the user to access a more diverse colour range as opposed to conventional DLP projectors. This eliminates the rainbow artifacts issue and allows for a much clearer dark contrast image to form.
Pros
Great Colour.
Wireless Sharing.
Eco-Friendly.
Bigger Speaker.
Keystone Correction.
Cons
Expensive as compared to the rest.
7: Optoma UHL55 (Best 4k Projector Under 1000)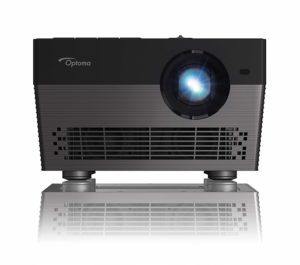 As the name suggest this is a purely 4K picture display projector with quite a host of unique features although it lacks in the sense that it isn't quite as good with other displays such as HD. However what it lacks in versatility, it makes up for in cool technology and a compact design.
Let's find out why this product has so many positive reviews from around the world.
Alexa enabled- This device is fully compatible with all smart home systems such as Alexa and Google Assistant as it has a built-in voice control feature
It also allows the user to view Android applications such as YouTube, Netflix, and YouTube, BBC News, Spotify and a browser for easy access to the internet.
Bluetooth speaker- It provides the dual feature of turning into a Bluetooth speaker for connection with any device that has Bluetooth enabled for the best sound quality.
Output Options- Along with optical audio, a 3.5mm jack, and two HDMI ports for gaming and built-in speakers. Added is the blue tooth option to connect easily to your mobile phone devices.
There are some let down however, such as the fact that since this is a 4K enabled machine, viewing any other display will cause image quality to deteriorate quite quickly.
Pros
Compact.
Smart System enabled.
Bluetooth option.
Cons
Doesn't work as well on HD.
8: BENQ MH760 (Best Office Projector Under 1000)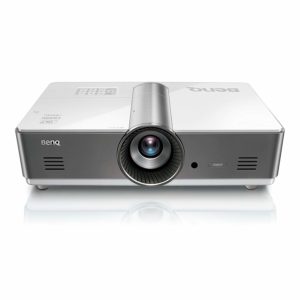 If you are looking for the best image quality, the best black contrast ratio and the best performance, the BENQ MH760 might just be the device for you. With Full HD imaging despite of whether the projector is in light or dark environment which is also in part due to its 5000 lumen of brightness, it is pretty popular online. Whether in the classroom or in the conference room, this device gives high quality performance every time.
Great Contrast- It provides what the company class the truest blacks meaning that no matter what the level of ambient light or brightness in the room, the contrast ratio of 3000:1 will ensure your dark area on the screen are well lit, sharp and clear. Reduction of eye strain, an increase in readability and clarity for both black and white content.
Eco- Friendly- The machine's EcoCycle System drastically reduces any electricity waste and automatically lowers the power-up time which reduces the need for overall maintenance.
Perfect for Bright Rooms- with 5,000 lumens of brightness, even the most well-lit conference rooms which seat many people will be able to clearly view content on the MH760 due to high brightness power, the vibrancy of colour and crisp colour quality.
20W Speakers- The ultra-strong 20W inbuilt speakers give the user crystal clear sound quality and also means that no extra sound system or device must be purchased.
Corner Fit Technology- Like the Keystone correction feature, this device has what it calls the Corner Fit system that automatically realigns and corrects picture dimensions from the four corners of the image onto the screen. So even if the projection is done on uneven surfaces, the quality won't be compromised.
Pros
5000 Lumens.
20W Speakers.
Corner Fit Technology.
Truest Blacks.
Eco Friendly.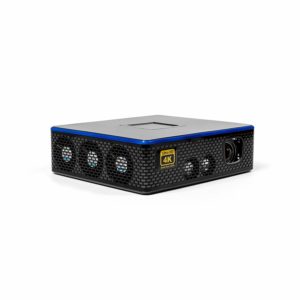 As far as size goes in the list we have gone through today, the AAXA 4K1 is by far the most compact and lightweight. It is what is called a "pocket" sized portable projector. Great price range, 1500 lumens of brightness and a good enough picture quality makes this a formidable home entertainment system but not the best for more corporate settings. It also holds the honour of being the tiniest 4K DLP projector which is certainly impressive if portability and compactness is what you want.
Brightness- With an LED light engine and a promise of around 1500 lumens of brightness, the 4K 1 definitely holds its own in a very brightly lit room ad that makes it perfect for small spaces even if the lights are on. It's certainly bright enough to handle conference rooms and small classrooms without difficulty. Although the optical zoom might not be the best which is why small rooms are recommended.
4K- It employs similar 4K basics that some of the more expensive digital light processing projectors have including the pixel shifting option. Which is impressive since it is providing the same heavy duty performance while being so cheap. Tiny but mighty should be this device's slogan as it is sturdy and durable as well.
Sound- The device's two tiny two watt front speakers surprisingly are loud enough on their own without needing any additional help although there is no treble or bass options. However, it comes with an audio headphone jack option that will allow you to stream content at much higher volumes.
Although this is marketed as a home based entertainment system, it doesn't have the same power that many home systems have especially in the picture quality and sound department but nevertheless at the price range it's on, the features this device provides are exceptional. Along with the audio headphone jack, it also comes with a USB port for an inbuilt media player and two HDMI inputs.
Pros
Great Brightness.
4K Display.
Affordable.
Durable.
10: Optoma WU416 (Best 3D Projector Under 1000)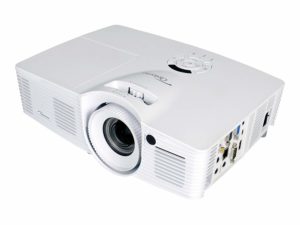 We are wrapping up this list with another product from Optomo's range called the WU416 which is ideal for professional settings and for educational institutions where there may be a number of background light sources to disrupt image quality.
However, the device will offer high resolution even if there is a lot of ambient light. This is the perfect printer for those who demand a portable projector that is both sturdy and lightweight with the best features.
So, let's find out why this model has such high ratings.
It consists of various output and input modes such as VGA, MHL, HDMI and other easy to connect apps such as Chromecast to project wirelessly via the USB Power. It also features a 10 W speaker.
Flexibility– The device hosts an optical zoom capability of 1.6x which is the highest we have seen today in any device and allows for easy flexibility via its vertical shift lens which allows for a range of placement options. Therefore you can position the projector anywhere you desire with multiple screen resolutions.
Great Colours– From presentations to installations to even classroom sessions, the Optoma uses sRGB technology that makes for clear, crisp and loud colours that give life to whatever content is on screen. From textual graphics to video modes, it gives the best colour balance and quality.
Contrast- One of the biggest problems with DLP projectors is the presence of rainbow artifacts due to a bad black colour contrast but the Optoma allows for greater depth and detail to your darker content making for sharp and clear images.
3D Technology- Compatible with all forms of gaming consoles, Blu Ray technology and 3D broadcasting systems means that this device can project 3D content from almost any source.
Eco- Friendly- This feature provides many energy saving features such as a better lamp maintenance which reduces your overall consumption and footprint. This means that the total consumption gets reduced down to 70 percent via the uniquely designed lamp modes. The modes also limit the effects on the lamp life.
Pros
3D enabled.
Eco-Friendly.
Colour Contrast.
Flexibility of Installation.
Cons
Not the most user friendly.
Read More: Best Projector Under 200 Dollars
Conclusion:
Now that you have all the information regarding best projectors under 1000 dollars, its time to make a decision according to your preferences. We have done our job of providing authentic information to help you make an informed decision, it's up to you to take action now. If you like this article, don't forget to share it with others.