Projector Finder » Budget Projectors »
Nowadays any professional institution is incomplete without a state-of-the-art projector. Whether you are a working professional who has to deliver a precise pitch to your prospective clients, an administrator at a school or university where interactive learning has become the order of the day, or simply wish to buy an affordable and reliable projector for your home theatre, finding the best projector under 1000 is tricky.
You have to consider aspects of the device such as image quality, brightness, battery life, and mobility to name a few along with many other technicalities that may confuse a layman. That's where we come in to help you so read on for more information!
There are so many projectors out there in the market today and they come in all sorts of shapes, sizes, and price ranges, however, this list will be for the best projectors under 1000 dollars so that your bank account does not suffer.
Most of these are professional-grade products so you do not have to worry about spending big bucks and not receiving superior quality.
If you're on the lookout for the best affordable item on our list we recommend the Optoma GT1080HDR that not only has excellent picture quality but is also affordable and portable.
If you are a newbie who doesn't know how projectors work out? You can read our guide about things you need to keep in mind before choosing a projector.
For those of you not yet convinced, there is a whole lot more so stay tuned!
Top 8 Best Projectors Under $1000 of 2022 – Updated List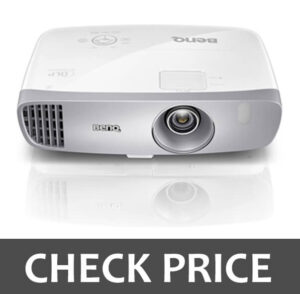 Coming right from the reputed and recognized projector brand, BenQ HT2050 that is known to be one of the best projectors under 1000 offers this exclusive sort of projector that fits well to become the perfect home theater and relish for superb game playing.
Provided with 2,200 lumens power that deals with increasing the brightness to the excellent level and equipped with the high native contrast ratio along with 96 percent Rec. 709 to confirm the color accuracy calibrated.
Highly responsive engineered for the lower input lag with 16ms (somewhat high) to play the games with ultra-smooth refresh rate, but we do not believe it is going to be one of the best gaming projectors as the lagging should be way too down for causing NO blur and breakage of pixels.
Backed by DL technology widely used in the modern world of projectors, you would easily find up to 90 percent of cinema and 100 percent of digital IMAX theaters that confirm to deliver the crisper, sharper, and brightened images.
HDTV-compatible allows different resolutions to easily switch and watch with the best of it and be 3D compatible and diversify your viewing experience to watch through a series of resolutions with compelling graphics.
Pros
Goes with a flexible setup.
DLP one.
Compatible with HDTV.
2. Hitachi CP TW2505 (Best Full HD Projector Under 1000)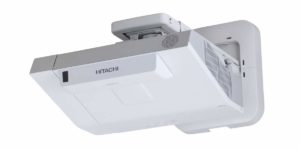 The Hitachi CP 2505 is next on our list because of its generally fantastic performance, long battery life, and several more cool features such as finger or stylus interactivity. We picked this device because of its popularity online as a durable and easy-to-use device.
Let's dig straight into the features.
Fully Interactive- This is one of the greatest technological advancements in projection technology as it offers a fully immersive experience to the user whether it is for educational purposes or entertainment. The included interactive pens can be used or you can simply use your finger to make commands.
High Powered Lamp- The expected operating time for this device is varied over three distinct modes, i.e. the normal mode which lasts up to 5000 hours, the eco mode 1 which gives you up to 8000 hours, and the phenomenal eco-mode 2 which can give up to 10,000 hours of lamp life!
Multiple Output Choices- The CP 2505 offers not only the standard digital, analog, and audio-video output but also offers everything from a Wireless LAN, an RS-232C Control, and both USB type A and B.
It also has an automatic digital keystone correction option which enables the projector to showcase a perfectly aligned image output every time. It also comes with these accessories included: a 5m computer cable, 2 AAA batteries, 2 interactive pens, a 4.5m power cable, a CD user manual, an adapter cover, and an application DVD.
Pros
Interactive Display.
5000 Hours of Normal Use.
Multiple Output Options.
5000:1 Contrast.
3. BENQ Insta Show (Best BenQ Projector Under 1000)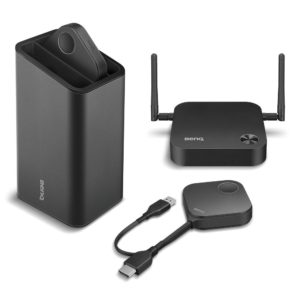 The trouble with business presentations and slideshows is the complicated adjustment of wires and having to disconnect your device so another person can use it next. However, this has become a problem of the past as the Insta show from BenQ makes this proves lag-free and efficient using one main receiver that connects to multiple transmitters.
Multiple Presenter Option- Gone are the days when presenters had to have their device waiting for their turn during a presentation as the Insta Show allows for seamless operation with multiple transmissions at one time. The two insta show buttons also allow for a concise team effort.
Excellent design– The device is not only compact but it can also take on any journey without any scratches or wear as it is durable and sturdy.
Video Mode– Although the device is exclusively marketed for business experience, it also provides a handy video mode that allows you to stream videos via a wireless connection which allows for a lag-free experience as there is no need to disconnect anything since there are no cables.
However, it's not all rainbows and sunshine with the Insta Show as it is quite pricey as compared to some other options and it also lacks a diverse output options range. If there is no USB port or full-size HDMI cable, you will need extra attachment wires to get anything done.
Pros
Video Mode.
Multiple Connectivity.
Excellent Design.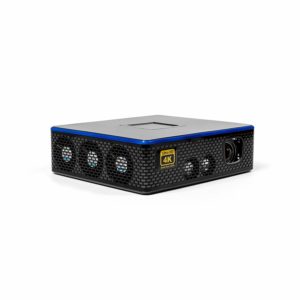 As far as size goes in the list we have gone through today, the AAXA 4K1 is by far the most compact and lightweight. It is what is called a "pocket" sized portable projector. Great price range, 1500 lumens of brightness, and a good enough picture quality makes this a formidable home entertainment system but not the best for more corporate settings. It also holds the honor of being the tiniest 4K DLP projector which is certainly impressive if portability and compactness are what you want.
Brightness- With an LED light engine and a promise of around 1500 lumens of brightness, the 4K 1 holds its own in a very brightly lit room ad that makes it perfect for small spaces even if the lights are on. It's certainly bright enough to handle conference rooms and small classrooms without difficulty. Although the optical zoom might not be the best which is why small rooms are recommended.
4K- It employs similar 4K basics that some of the more expensive digital light processing projectors have including the pixel shifting option. This is impressive since it is providing the same heavy-duty performance while being so cheap. Tiny but mighty should be this device's slogan as it is sturdy and durable as well.
Sound- The device's two tiny two-watt front speakers surprisingly are loud enough on their own without needing any additional help although there is no treble or bass options. However, it comes with an audio headphone jack option that will allow you to stream content at much higher volumes.
Although this is marketed as a home-based entertainment system, it doesn't have the same power that many home systems have especially in the picture quality and sound department but at the price range it's on, the features this device provides are exceptional. Along with the audio headphone jack, it also comes with a USB port for an inbuilt media player and two HDMI inputs.
Pros
Great Brightness.
4K Display.
Affordable.
Durable.
5. Optoma GT1080HDR – Best Short Throw Projector Under 1000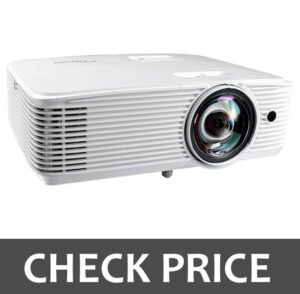 Just by the name, Optoma GT1080HDR comes with an impressive viewing. It comes compatible with throwing HR qualitative images with 4K input to deliver the image with brighter whites and enough deeper black levels.
And not just that, but it got the finest six-segment color wheel (RYGCWB) that guarantees to produce the more-than-accurate colors mixed with sRGB and REC. 709 profile.
Take the brightness to another level, comes equipped with 3,800 lumens, and the widest contrast ratio of 50,000:1. It portrays it over the full HD 1080p screen compatible to deliver the highest resolution to 1920 x 1080 to enjoy highly-diversified crispy and the clearest image.
A faster response time of 4ms along with a 120Hz refresh rate turns out to react as the lightning-fast gaming mode to change the frames swiftly without blurring the images AND breaking the pixels to give the perfect and uninterrupted gaming session all day long.
Guaranteed to offer a longer lamp life of up to 15,000 hours takes the projector to last for over 10+ years, having it projecting for complete four hours, resulting in saving you from running into frequent maintenance.
Integrated with 10-watt dual speakers that emit the best sound quality to fill in the family rooms, gaming rooms, home theater rooms, tailgating, camping, and the backyards without having you bring in the external speakers ready all the time.
3D-ready and gains the screen to hit over 120″ in no time by just placing the projector 4 feet away, made possible with a shorter throw lens to get fitted into the tiny room without much of the trouble.
Pros
Impressive contrast ratio.
Full HD display.
Longer lamp life.
4K HDR input.
Cons
Somewhat louder to emit the noise.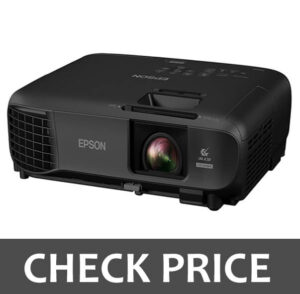 More accurate, more vivid, and enough brighter than the most available in the market; Epson Pro EX920 serves the best quality images having equipped with 3,600 lumens dealing with the equality of colors and the white brightness to enlighten the well-lit rooms even with the natural sunshine piercing through the different angles.
Top of the class pro-quality projector supporting 1080p and the screen technology of WUXGA having the resolution of 1920 x 1200 that brings 4.5x more of the resolution than SVGA-backed projectors to emit out the content on full HD 1080p.
Equipped with wireless screen mirroring that mirrors most of the devices to project the photos, videos, and apps using Miracast software (compatible with Android, Windows, and iOS devices.)
With that, the wireless connection brings the added convenience that allows it to quickly hook up with tablets, smartphones, and laptops without plugging them right into the projector so that you do not have to place your favorite devices closer to the projector all the time.
Setup without hitting a problem, the image adjustments with the convenient control take beyond the limit requiring just a little bit of play to better screen quality.
Charge and mirror using the MHL-enabled devices to watch through your favorite content without fear of running out of charge as it would keep going on for hours-long operation.
Pros
Best projector for streaming using Miracast.
WUXGA screen type.
Compatible with MHL.
Cons
No HDMI output.
No Bluetooth functionality.
7. BenQ TH671ST – Best Projector for Xbox One and PS4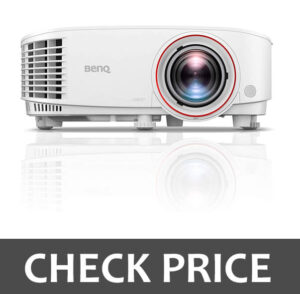 KNOWN to be the best amongst the gaming projector, which you could not generally find off the market under the price range; BenQ TH671ST tops in the list of being into the best project under 1000 by many aspects.
Portable and lightweight; this projector weighs just around 5.9 pounds and is compact, which ensures it does not have to be large enough, which overkills the purpose of being portable and lightweight.
Enjoy the unparalleled and unsurpassed picture quality that offers the native full HD 1080p viewing quality with having the resolution of 1920 x 1080p and having the contrast ratio of 10,000:1 along with the finest technology used to assure the best and accurate color deliverability using 92% Rec. 709 and the lumens power of up to 3,000 which works best under the darkened room providing the immersive cinematic and the gaming experience.
Adapted for the best gaming experience, the low input lag synced up with ultra-fast refresh rate matches the maximum output to play the uninterrupted games using Xbox One X, PS4, and other top-of-the-line gaming devices without the motion blurring and fading pixels.
Go projecting the bigger screen of up to 100 inches with a throw of mere 5 feet, but that is not just it; go for over 300 inches as the maximum gain for projecting your best content to accommodate the larger gathering without an issue. Just raise the throwing area and get your desired projection screen size in no time.
Pros
Best projector for gaming.
High-end lumen power.
Entitled to 3-years of the limited warranty.
Cons
The fan emits louder noise.
Related: Comparison of BenQ TH671ST vs HT2150ST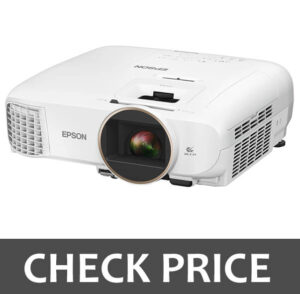 Looking for something impressive to add to your home cinema, Epson Home 2150 would be the nicest decision of all to bring in your home and upscale you are viewing together with the whole family.
Assured to be providing the widescreen-compatible screen with full HD 1080p displaying backed by 3LCD technology that fights off the rainbow effect and delivers the correct form of the color emitting out of the screen.
Compatible to stream your favorite content through the latest stream devices such as Chromecast, Apple TV, Amazon Fire TV, Roku, and more to never find the alternative to hook in to make the streaming device enabled with Epson Home 2150.
Projection-perfected viewing quality on the bigger screen, the fun just begins the sooner the projector turns on.
Throughout the mirrored content on the devices' projector using Miracast, which does the Android and Windows-enabled devices to throw out photos, videos, and the apps without hitting any discrimination.
Supports MHL-enabled devices to either mirror the HD TV, movies, and games that require nothing external to purchase to enable such a feature.
Mount on front, rear, or ceiling per your preferences. Still, the lightweight construction allows you to take it along with you to power it on even in the backyard or the outdoor locations being on the picnic or elsewhere.
Pros
Wireless projector.
Equipped with 3LCD technology.
Related Topic: Top Rated Epson 1060 vs 2150
Buying Guide: Best Projectors Under 1000 for This Year
It is not just the buying guide, but a whole lot of professional advice to follow and get the best projector in your possession.
Let's get unveiled with that! 🙂
Do not go with the brands
Reasons to get the projector for
Screen sizes
DLP or LCD?
What core projector technologies to look for?
The sort of connectivities
Mounting options
1. Do not go with the brands
As much as I eventually hate to say anything about it, I would suggest that not go with the brands but go with the experiences.
Picking the projector out of the brand, the users often compromise upon what they are looking for out of their projector.
So, do in-depth research before locking on your favorite projector. When you find something pops out from the newer brand, look for the satisfied customers' reviews to ensure that it will be your one dream projector of a lifetime.
2. Reasons to get the projector for
It is simple; either it is going to serve you for home theater, gaming, business, or cinema.
That is the first step forward to deciding why you need the projector and deciding upon it before locking on it.
3. Screen sizes
By default (in most cases), the projectors' screen eventually rises from 50 inches to well over 300 inches and takes up the range of different aspect ratios from 4:3, 16:9, and 2.4:1.
4. DLP or LCD?
Not the technology that most people would care about when purchasing the projector but hey! Do not drop caring about it as it would come with the advantages that provide excellent results based on the sharpened image quality and the accurate color.
DLPs are;
Significant to stream DVD, Blu-ray, and HDTV content.
Smoothened motion to watch through the fast-action scenes.
Higher color contrast.
Truer and deeper delivery of blacks.
LCDs are;
A bright source of projection that works even best in the well-lit rooms.
Delivers vibrant 3D images without the image ghosting.
Energy-efficient and quieter than DLP.
3LCD technology to process the high-end images with immersive quality.
5. What core projector technologies to look for?
Lamp life: They are prone to last between 3,000 hours to up to 8,000 hours (doubles in the eco mode.)
Laser: No accumulated hours. The longer it would last until the laser lens breaks down and tops in every aspect than lamp ones.
LED: The bulb lasts over 20,000 hours and has been used in most of the advanced projectors.
Brightness with lumen power: Eventually, the projector's brightness is evaluated through the power of lumens. The more lumens the projector adds, the brighter it would be to deliver outstanding graphics even in the brighter atmosphere and well-lit rooms.
So, buy for the gaming purpose, and you need a fair amount of lumens to view through the dull and faded gaming scenes.
Purchasing for business, the projector should equip the brighter output to increase and mingle between white and color to go bright to view through the text-based and graphical presentation to run with the optimum quality.
Getting the best projector for the home theater has the advantage of controlling the brightness to a larger extent, and only we have to deal with the ambient lightning coming out of the windows and other areas.
Not necessarily a challenge though, but you are an avid movie lover who tends to watch without falling the blinds to turn the day look like an entire night; pick one of the projectors that offer higher lumens to get to deal with the increased ambient light.
Contrast ratio: More, more, and more. Look for a more increased contrast ratio to ensure the crisper and brighter image quality to view in a life-like experience.
6. The sort of connectivities
To have it working with the latest devices starting from laptops, computers, Macs, streaming devices, gaming consoles, and more using HDMI, USB, VGA, DisplayPort, MHL, WiFi, and more.
7. Mounting options
And it depends on what you aim to use the projector for.
Whether you have it purchased to utilize for the core home theater experience, mounting it on the roof/wall would be the nicest option.
If you happen to move it in and out the outdoor, you cannot place it as the permanent solution, and the portable ones would be a good option here to get it set over the table for a few hours before taking them inside.
Placing them right on the table could be disastrous; a sudden jerk could let the projector tip over and fall on the floor. So stay cautious for safety as such an event could leave the projector to go out of order.
Check out our other reviews:
Conclusion:
Now that you have all the information regarding the best projectors under 1000 dollars, it's time to decide according to your preferences. We have done our job of providing authentic information to help you make an informed decision, it's up to you to take action now. If you like this article, don't forget to share it with others.