Projector Finder » Blog »
In this era of competitiveness, one looks to have something best for him even when it comes to enjoying his leisure time. To keep pace with the latest happenings, television emerged as an essential source of providing entertainment, information, and education in mass media. While surfing through channels from all over the world, you will truly feel the world has turned into a global village.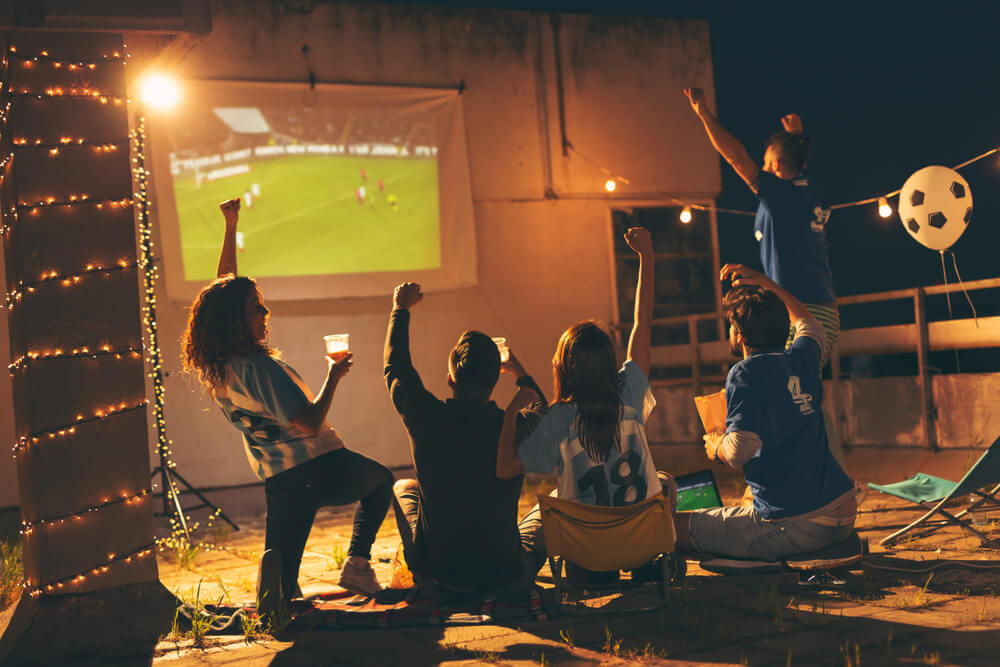 Projectors vs TVs: Which One is Best For You?
The realm of television contains different categories ranging from current affairs to reality shows and educational programming. Thanks to news channels like CNN, BBC, and Al-Jazeerah that keep us informed of the latest happenings around the globe. Apart from giving us virtual awareness, there are reality shows and soap operas that keep us glued to our couches.
We flock to living rooms for watching our favorite shows. Even Psychologists claim that watching our favorite shows fills the need of having a social connection. Since it is the age of information, therefore, channels such as National Geographic, Discovery, and that of History serve as an array of interesting concepts, facts, and figures to us. Besides news and documentaries, it serves as a major source of creativity through DIY projects on various platforms.
Not to forget that there are some health benefits of television as well. Yes, don't get confused because comedy programs can relieve us from stress and in this pretext television surely provides us with the best medicine, i.e. laughter.
Recently, there has been a paradigm shift in the number of ways for accessing these modes of information and entertainment. Projectors were, at first, used as commercial or business devices. Now, they have replaced the need for building an elaborate home theatre system.
Moreover, the digital revolution has made it possible to receive streaming content wirelessly with the help of projectors. The short-throw type projector has this remarkable feature of measuring diagonal thus filling up a larger size screen just like a typical wide-angle lens.
Here's a quick review to help you compare the two technologies.
1: Screen Size
When it comes to picture quality, a projector will give you a clear and crisp picture like the TV. You can watch a movie in HD quality or even show off those holiday photos by supersizing your screen. This double, triple or quadruple size of the projected image will serve as a cherry on the top. You will be able to immerse yourself in enjoying even the tiniest details.
2: Resolution
If size is not your primary concern then probably most projectors and televisions satisfy the need for better image quality. The change from 720p/1080p to 4k does not appeal that much to the normal person. Some even think that there is only a slight difference between an SD and an HD image.
Doing a quick product search, you will find that 4k and even 8k projectors exist in the market. So even on the resolution side projectors are giving a tough competition to Plasma screens.
See also: Top Rated Best Projectors Under 500 for 2021
3: Portability
Now, you can enjoy your favorite game or show in an HD image without getting into the trouble of moving those huge-sized Plasma screens. Projectors are lightweight and easy to carry. This gives them an edge over fragile yet bulky flat screens. If you're inviting friends over to watch a movie, a projector ensures that everyone enjoys the action as clearly as those sitting front and center.
With a compact projector sitting on the coffee table just a few meters from the wall, there's nothing to get in the way between you and the screen. Hence, they are far better traveling companions for work and recreation than TVs.
4: Shipping & Transportation
Due to their compact size and less weight, projectors are cheaper to transport. Surprisingly, some even come with the choice of a free home delivery service. Whereas, the delicate nature and bulkiness of TVs make them an expensive option for shipping to the desired destination.
5: Installation
Setting up a projector does not require professional skills. This user-friendly feature will enable you to even re-locate it without any nuisance. Moreover, the startup cost is a small amount of some other huge screen 3D Vision arrangement. Flat screens on the other hand require professionals for their installation and moving them from one place to another seems a cumbersome task.
6: Product Life-Span
Something that is worthy enough to take into consideration is that projectors often use a bulb as the light source. They can burn out over time. The downside is these bulbs often cover more than half the costs of the projector. Whereas, a TV will seldom "go out" unless there is some unexpected hardware failure. These LED projectors claim to have tons of hour life spans, respectively. In contrast, the half-life of TVs is about 100,000 hours.
Point to ponder: This bulb-life reality may push you away from investing in used projectors.
7: 3D view
The feature of projecting a bigger image enables you to notice even the minute details. This will give you a more immersive 3D experience. TVs have good 3D quality, but the limited size of the screen does not let us enjoy the most realistic 3D images.
8: Cost
Envision the expression on your friends and closed ones when they see the magnificent 120-inch HD show in your lounge room and acknowledge they paid the same amount of, if not more for their weak 65-inch level screen television.
In this context, Projectors are more cost-effective than HD TVs. Buying a 146 inch TV would indeed exhaust all your savings, but getting the same screen size with equivalent picture quality could save you a fortune. When it comes to spending money, everybody wants to spend less and get the best for himself.
9: Brightness
For projectors, though, the brightness is the determining factor for having the expected contrast ratio. The placement you want–in a darkroom vs. in a well-lit room– that will give your desired level of brightness. A quick survey of the mid-range projector market reveals that the 2500-3000 lumen range is typical.
Unfortunately, projectors come with the drawback of poor picture quality in ambient conditions. Inappropriate light conditions can reduce the quality of the image. Flat screens, in this case, are free from such limitation and they don't have wash-out issues. As a result, their picture quality remains the same.
Tip: Make sure that your projector has got the optimum brightness for your environment.
10: Sound
Who does not want to enjoy an HD image quality with perfect sound? Although TVs and some projectors have built-in speakers. But, these do not justify the double or triple-sized screens. Therefore, for the huge screens, you have to invest in a good home cinema audio system.
11: Noise
If you think that noise can be an issue for you, do not invest in the cheaper models of projectors. Since during operation, heat is generated by them. The inbuilt fans cool them down, and some models can be rather noisy.HD TVs report fewer problems in this regard.
12: Ease of Use
Before buying a projector, you must keep in mind the purpose of your investment. If the sole purpose is to watch movies or play video games, you have got a problem. The input/output (I/O) options on a projector are located at the projector. Game consoles, cable boxes, etc. will need to be located near the projector. Comparatively, these options are pretty streamlined on a TV, but they can get more complicated on a projector.
By using advanced cable management or wireless transmitting hardware, it would be as easy to use as a Television.
13: Physical Placement
The position of physically placing the projector is one of its limitations. Your projector can be mounted on a ceiling, or it could even adjust itself to a coffee table. But, it will need power so this can be a bit complicated. HD TVs secures top-notch spot when it comes to adjusting it to its appropriate place
Tip: Rely on the surrounding of your space and explore the opportunities so that your connected devices and projector go hand in hand.
14: Space
The projector being compact is space-saving. But cramming an oversized screen into a small room will make it hard to view the details of the content. So, what requires space is that you must have enough distance from the screen to enjoy the perfect image quality. Televisions do occupy space, but the distance of the screen does not matter.
Also read: How to Choose a Projector? The Ultimate Guide
Conclusion:
Projectors vs TV, both are good. Both projectors and televisions have their pros and cons. It entirely depends upon your interest, but you'll need to keep in view all the considerations ranging from resolution to ease of use. If the jaw-dropping size of a projector's screen appeals to you and you want to be cost-effective as well. Then investing in a good model of the projector isn't a bad option. In contrast, if you don't want to get into the hassle of maintenance, then opt for purchasing a plasma screen.
The ball is in your court now to decide which gadget suits your needs.