Projector Finder » Projectors by Brand »
Today, we are about to make a comprehensive comparison of the two outstanding projector models BenQ TH671ST vs HT2150ST, the vast majority of the projector-lovers have liked them.
Well, it is NOT going to be just a versus comparison between these two models. Still, it would enlighten you with the most reliable and suitable way to enjoy the better viewing experience to add to your home, office, or whatnot?
Find out the valuable differences they both got between each other to reveal which one beats the counterpart.
So, stay with us and find the perfect and unbiased comparison of both models and pick which wins your heart!
If you do NOT get it by now, both models belong to the reputable projectors' manufacturing brand, namely BenQ. 🙂
BenQ TH671ST vs HT2150ST Features Chart
| Comparison | BenQ TH671ST | BenQ HT2150ST |
| --- | --- | --- |
| Weight | 5.9 pounds | 7.93 pounds |
| Size | 11.65 x 4.60 x 9.50 inches | 4.79 x 14.98 x 10.91 inches |
| Mounting | Ceiling, Tripod, Table | Ceiling, Tripod, Table |
| Color Reproduction | 1.07 billion | 1.07 billion |
| Brightness (Lumens) | 3,000 | 2,200 ANSI |
| Resolution | 1920 x 1080 FHD | 1920 x 1080 FHD |
| Contrast Ratio | 10,000:1 | 15,000:1 |
| Aspect Ratio | 16:9 | 16:9 |
| Projection Type | DLP | DLP |
| Throw Range Ratio | 0.69:1 - 0.83:1 | 0.69:1 - 0.83:1 |
| Integrated Speakers | Yes | Yes |
| Speaker Power | 5W | 10 |
| Sound Type | Mono | Stereo |
| Lamp Life (Normal Mode) | 4,000 hours | 3,500 hours |
| Lamp Life (Eco Mode) | 15,000 hours | 6,000 hours |
| Zoom Ratio | 1.2x | 1.2x |
| 3D-Supported | No | Yes |
| Screen Size | 30" ~ 300" | 30" ~ 300" |
| Noise Level | 33/29 dBa | 29/27 dBa |
| Power Consumption | 355W | 353W |
| Remote Control | Yes, included | Yes, included |
| HDR-Supported | No | No |
| Wireless-Supported | Yes | No |
| Lens Focal Length | 10.2 - 12.24 | 10.2 - 12.24 |
| Lens Shift | Vertical +/- 40 | Vertical */- 20 |
| F-Number | 2.6 - 2.78 | 2.6 - 2.78 |
| Operating Temperature Minimum | 0C or 32F | 0C or 32F |
| Operating Temperature Maximum | 40C or 104F | 40C or 104F |
| Connectivities | TH671ST | HT2150ST |
| --- | --- | --- |
| HDMI | 2 | 2 |
| VGA | 1 | 1 |
| RCA | 0 | 0 |
| Audio Input (RCA) | 0 | 0 |
| Audio Input 3.5mm | 1 | 1 |
| SPDIF | 0 | 0 |
| Ethernet RJ45 | 0 | 0 |
| Audio Output 3.5mm | 1 | 1 |
| MHL | Yes | No |
| RS-232 | 1 | 1 |
| 12V Trigger | 0 | 1 |
| USB | 1 | 1 |
BenQ TH671ST – Best 1080p Short Throw Gaming Projector
Higher brightness and the accurate colours, BenQ TH671ST, unveils the best reproduction of the colours to ensure they deliver the real-life images (with not just true colours BUT accurate ones.)
Known for delivering the unparalleled and unmatched picture quality as it comes with native and defaults F.H.D. (full H.D.) 1080p resolution with over 92 percent Rec.709 colour accuracy that ensures the images (and the motion content) throws out the real-life colours making you perceive you are seated into the middle of the scene.
Perfected with 3,000 lumens power and providing the powerfully-viewable higher native contrast ratio of 10,000:1 that NOT just gives the high-end delivery of the cinematic experience but boosts the avid gamers LOVE playing the games on selecting the highest of its graphical settings without blinking the eyes for long.
It does not matter to stream in the content with the best quality if it is DAY or NIGHT with that powerful lumens. Keep the blinds open or closed; you would not experience the degraded viewability at all.
Best crafted to enjoy the ultimate gaming experience and that too on the bigger-than-ever screen that is hard to have the level of enjoyment on the plain LED/LCD T.V. of any size.
As with the connectivity options, it got countless of them to expand and connect over multiple supported and the latest/modern devices without an alternation starting with HDMI, USB, VGA, Audio output (3.5mm), MHL, RS-232, and USB (service.)
So, hook either the latest available gaming consoles like Xbox 360, PS4s, Nintendo Switch, Google Stadia, and other such devices, including media players, P.C.s, Macs, and the smartphones to stream in your best content whenever you find the time to tune into watching with real-life experience.
Enough supportive refresh rate that enables this GAME-centric projector BenQ TH671ST does the best job in reducing the lag through its ultra-fast low input of over 16ms engineered to distribute the ultra-smooth gaming experience where it would bring NO motion blur, which is the killer of the creativeness and the enthusiasm to drop your interest into playing the game by matching with the maximum output offered by Xbox One X and PS4 Pro.
Backed by an extensive 3-years extended warranty that includes the replacement of parts and the labor coverage that associates with repairing and visiting your home is already covered. So, being based in the U.S.A., the service team would be on your doorstep in an instant.
Go from projecting the image as much as 300" with the help of 1.2x zoom level, so to make it better, you understand the whole of its scenario as it would just take 5 to 6 feet to project over the content to gain over 100".
It is all about the throw distances to set through to gain your optimum level of screen size given the fact you have been in the mode of turning your little room into a cinema OR got an outdoor gathering having over 50 to 100 folks excited to watch the favourite T.V. shows or just want to add in the music night into the party; gain the right throw distance, and it would take you to project over 300" of the screen (like we said earlier.)
Comes with the especially-crafted LampSaveMode, which helps to extend its lamp life to live up 15,000 hours if you have been running it on for four hours on average every single day which would easily last up to 10 years, offering you to save more in terms of money, time and of course, the environment.
Pros
Powerful 3,000 lumens.
Ensures more extensive lamp life than its counterpart.
16ms to address the lag and sluggishness for the smooth gaming experience.
Low in price.
Cons
Consumes power way more than its counterpart.
Not too bright.
What makes you buy BenQ TH671ST?
High lumens ensuring higher brightness and extended lumens life not to have to purchase any other projector for a long time
BenQ HT2150ST – Low Input Lag For Gaming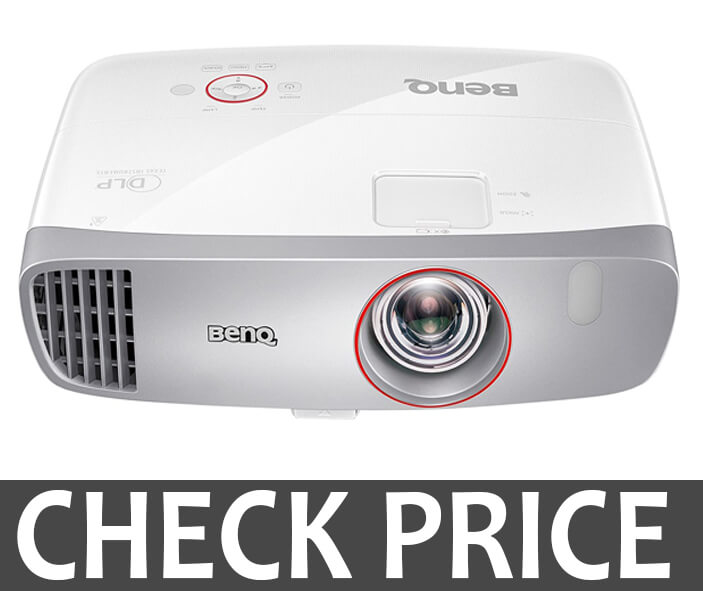 Within this extensive comparison between BenQ TH671ST vs HT2150ST, you might be surprised earlier HT2150ST would be coming off from a different brand, BUT NO, this one comes right from BenQ with the pieces of equipment that make it somewhat different in features from BenQ TH671ST.
Starting with that, it does come with the native F.H.D. (full H.D. to be exact) 1080p that streams the finest quality of content through its 2,200 ANSI-Lumens, yes a lot different than its counterpart projector; we picked up and took part of this comparison to give more accurate colours and the results backed by 96 percent Rec.709 with a contrast ratio of over 15,000:1 and 6x RGBRGB colour wheel for the perfect combination of rich colours along with crisp (and crunchy) details best calibrated for the movies as well as gaming with the best shot.
Being full H.D. means you can good to view whatever you got AND play the graphic-intensive games at their max of the configuration and that too, on the widest of the screen, hitting the resolution to over 1920 x 1280 witches shows everything in its clearest details covering the wide-angle to look more on the sides (crucial for the gaming purpose to cover a whole lot of area in one go.)
Highest wattage power it gains over 353W while the light source wattage to power this projector up with having 240W that combines to deliver the outstanding results (the best BenQ HT21502ST can bring up) by selecting the highest of the configurations that actually generates extensive heat and the power required to run with the maximum power output.
Take no offence, but if you consider converting the power off your energy bill, this BenQ HT2150ST is no for you. The best results are only made possible to emit with the power output running on its extreme, and there is no way around!
We demand (as the viewer) to release the content with the accurate colours, which is what BenQ HT2150ST does.
Engineered to support watching your favourite movies and T.V. shows and playing up the best games on the bigger screen as it got integrated with the highest responsiveness made possible with 16ms of the lowest input lag and synced up with microsecond D.M.D. response time, which definitely does NOT cause your games to hit lag or turn blur due to dropping F.P.S. (frames per second) that ultimately ruins the whole gaming experience forcing the gamer to switch to the lowest graphic settings.
Pre-set with the Game Mode that fine-tunes the images while intensely enhancing the shadowy scenes all automatically seeps in the clarity and the precision to visualize the best of the scenes without restraining the eyes (and, of course, that would not leave you surprised by instantly jumping out before you!)
Certified by ISFccc that assures this projector is useful to customize the colour and the image performance to support any space — dark or light, day or night, indoor and outdoor and all you gonna view is the equitably the greatest content no matter it got the static or the motion ones.
Integrated with built-in chamber-styled dual speakers with the power of 10W does not force you to purchase the full-fledged external speakers to hook them up as they are quite compatible with emitting the level of sound to accommodate a good gathering.
Seamlessly connects with different types of devices using USB, Audio in, Audio out, RS-232, DV 12V trigger, I.R. receiver, HDMI, and more and is compatible to connect up the variety of gaming consoles, media players, P.C.s, Macs, and what more you can bring in.
Install with enough flexibility as it comes with vertical keystone correction and one 1.2x zoom to match with your best screen projection in no time with effing of calling in the professional to mount it up and gain the right setting.
Pros
Increased brightness.
Powerful integrated dual speakers.
Supports 3D.
Why opt for buying BenQ HT2150ST?
Best for the gamers as it comes with delivering the accurate colour and the integrated Game Mode that resolves much of the graphics problems all on its own.
Core features to decide the winner out of BenQ TH671ST vs HT2150ST.
And we would not dilute into much of the details to cover which one fits well per your requirements (and not the wallet) to have you to make up the mind to decide you got your *dream* projector in hand by answering the simpler and frequent questions arises before deciding to purchase one!
Which one is best for gaming?
BenQ HT2150ST.
Increased brightness and the dedicated Game Mode that automatically resolves the dim and dull scenes to emit out the greater clarity to see through the screens without restraining your eyes.
Read our recommendation for the best gaming projectors.
What got the portability?
Both!
Which got the better lumen power?
BenQ TH671ST with 3,000 of it.
What is a brighter projector in here?
BenQ TH671ST, due to be having 3,000 lumens (non-ANSI)
Which got the best sound quality (with integrated speakers)?
BenQ HT2150ST. Got 10W dual stereo speakers.
Our winner out of BenQ TH671ST vs HT2150ST
BenQ TH671ST.
Compact
Higher lumens
Brighter
Affordable
Reasons for picking BenQ TH671ST
Not everyone is a gamer, and the projectors are often purchased for the streaming in the movies and watching T.V. on the bigger screen.
So, that is the one core reason for picking BenQ TH671ST out of many as the core winner here. 🙂
Conclusion!
And that finally concludes our extensive comparison of BenQ TH671ST vs HT2150ST with having to opt for the winner AND that goes BenQ TH671ST marginally.
Equipped with the comparison list comprising too specific details of both BenQ models, we kept our own way of making the comparison simplified to determine what good these both BenQ models of projectors come along for the benefit of its customers.
So, BenQ TH671ST has been awarded as the winner down here. Let's grab it AND have fun watching your favourite content with the whole gang (family)! 🙂