Projector Finder »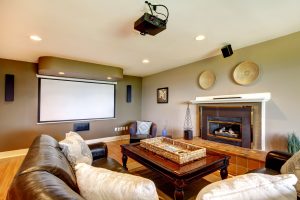 For most people, the big screen is still relatable to the cinemas. The older ones carry memories of huge curtains, enormous acoustic halls, fancy vintage chairs, a Saturday night out with the guys or the girlfriend. The theatres these days are home theatres. While the cinemas are starting to recuperate from the pandemic that nearly shut them down completely, the big screens are now waiting for you back home, offering the next level of video experience. But a good screen is nothing if accompanied by a great projector. In fact, most of the picture quality depends on the Projector. When we went to the theatres, we never paid attention to the Projector. Now, when the theater is in our home – we put a lot of effort, time, and money, into purchasing the best Projector we can. Image quality, sound, resolution, lighting, brightness, and so much more details and specifics that complete the big picture – what is the right Projector for you!
Here, I gathered some recommendations of well-worthy projectors, most updated models from top brands, diving into higher resolutions, specs, and prices, delivering you a comprehensive guide. I hope it will help you choose the right Projector and have an amazing experience in your living room.
The best home projectors on the market today
How to Choose a Home Theatre Projector [Buyer's Guide]
Planning to buy a new home theater system for your house or want to upgrade the old one?
Great attention must be given while choosing the home theater system. The main component in the system is the projector so to get a clear and good quality view choosing the correct projector seems to hold prime importance in the whole system.
But most people don't have a clear idea about what factors to consider while choosing the best home theatre projector.
This article will guide you through the properties and factors you must keep in mind and consider and how to choose a home theatre projector that will suit best for your needs.
So the following are some tips and factors that must be considered before you choose a home theatre projector.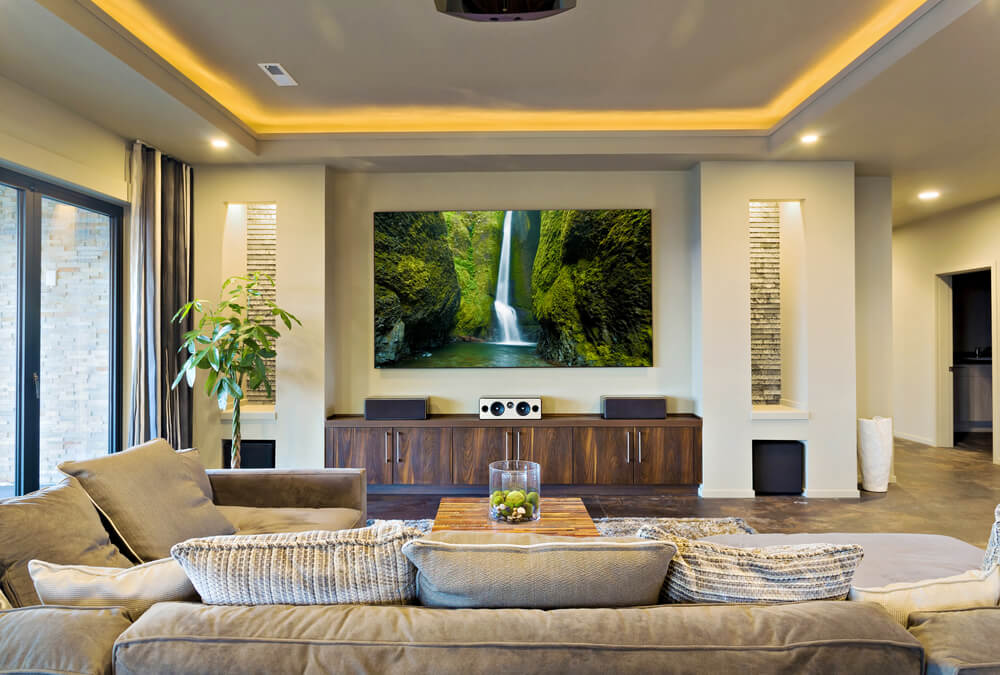 Brightness Level:
While choosing a home theatre projector you must look out for the brightness level of the projector. Usually, projectors have brightness in the range of 800-3000 lumens. The luminous intensity depends also on the factors that how big the room is in which you are placing the projector or the screen size plus the ambient light in the room.
For a small screen and darkroom projectors having 100 lumens brightness will suit perfectly but if you are using a projector for a big screen or in a room where there are windows and doors due to which the room is not perfectly dark then you will have to choose projector having high brightness for good quality images.
Projectors in the range of 2000-3000 lumens work perfectly for very large screens and can deliver better quality image even if the room is not dark enough but they are higher on the cost for a normal-sized screen and medium dark room getting a projector of the range 1000 -2000 lumens will suit perfectly and won't be a burden on the pocket. Check out the BenQ TK850 that provides 3,000 lumens brightness.
Room Size and Throw Distance:
An important point to keep in mind while choosing a home theatre projector is to look for the size of the room where the projector has to be placed and the throw distance and angle between the projector and the screen.
On the product description, you can see the throw ratio of the projector and choose accordingly. For rooms that are small and cozy, the throw distance of the projector is small and in the large rooms, you get a larger throw distance.
So while choosing a projector to see for this distance and then the throw distance of the projector and at which throw distance it will be able to project how much big of a screen.
A classification of a projector on the basis of the throw distance and projection size is done as long throw and short throw projectors. So if you have a room that has a sitting arrangement of about 2 to 3 rows then you can go for long-throw projectors that can project a good size screen.
But in places where the distance is less and you need a big projection too then the choice to go for is short-throw projectors.
The short-throw projectors are expensive compared to the long throw ones and deliver bigger projection and quality even with short throw distance.
Resolution:
The image quality is directly proportional to the resolution of the projector. By resolution, we mean how many pixels the image is divided into for a size of screen defined. The larger the pixel number the smaller the pixel size, and the smaller the pixel size the sharper and clearer the image would be. So while choosing a projector it is one of the key factors to look for.
Usually, in cameras or cell phones, it is given great importance that pixel numbers are greater as they can be because that affects the image quality.
If you choose a projector of low resolution the image on the screen will appear as blurred or colors will be of low intensity. So for higher definition images resolution of the projector must be high for bigger screens.
The affordable and commonly used pixel density or resolution is 1280 x 720 which is used mostly for systems to play 720pHDtv videos. If you want a higher definition one then you can go for 1920 x 1080 resolution but that would be a bit costly.
Aspect Ratio and Installation Position:
While you choose a home theater projector to keep in mind the installation position you want the projector to be installed in the movie room of your house or the lounge. The installation position must be where there is no obstacle in between the viewer and the screen and the screen faces no direct light source such as windows or doors and is least disturbed by the movement of people between the screen and projector. Also, the aspect ratio of the viewing screen is important too.
What is the Aspect Ratio?
Aspect ratio is the rectangular ratio of the viewing area and the projector must be chosen according to that so as to deliver good image quality. The commonly used aspect ratios are 4:3 and 16:9 for television screens.
For home theatre systems with medium room size and screen, the aspect ratio of 16:9 will be able to deliver a good quality viewing experience and is able to display high definition images.
If you don't choose the home theater projector properly according to the installation position and aspect ratio of the projector then the view of the screen will not be satisfying and you may not be able to enjoy a high-quality cinema experience even after spending a big chunk on your home theatre system.
Technology Used for Projection:
Another important property of the projector you must pay attention to while selecting it for your home theatre system is that you look out for the technology which is deployed for the projection of the screen.
According to the projection technology, there are two major types of projectors i.e. Direct Light Processing (DLP) projectors and Liquid Crystalline Display (LCD) projectors. The DLP projectors use mirrors for their projection and produce smooth and highly accurate image projection without any shadows in it.
These kinds of projectors deliver a high-quality contrast ratio and are affordable so that can be bought easily for home theater systems without being a burden on the budget.
While the LCD projectors use the technology of LCD chips to produce the images. These projectors deliver high color saturation and are very compact. The LCD projectors deliver more brightness as compared to the DLP projectors but may be expensive as compared to them.
The DLP projectors have a limited pixel number and may cause a rainbow effect on the screen while the LCD ones have high pixel numbers and their image quality is lost over time. The DLP projectors have better image uniformity than the LCD ones.
So for an affordable and good quality projector for a small size room DLP are the one you must go for. And in case of the medium to bigger size rooms or the place where the projector to be installed is small or it is roof-mounted then going for an LCD projector will prove to be a better choice.
The projection technology must be chosen accordingly to your needs and budget and you must choose wisely among both the technologies.
In the market, there is a possibility you may find only one of them available along with other considerations for your system so then you may not have much choice in that case but while you get to have an option the go for the most suitable one after all the other specifications are being met.
So these are some of the important points you must consider before going to buy a new home theater projector to make a better and more suitable choice that delivers the good quality experience of cinema for your stay-at-home parties with friends and families.
Choosing the best projector considering all the factors stated above will not only save you from the frustration of bad quality image or the less bright screen but will also make you able to save a lot of money you may have wasted on buying bigger or expensive projectors without any need.
So carefully assess the room brightness level, its size, installation position, and the sitting arrangements you wish to have before you choose a projector.
15 Best Home Theater Projectors – 2022 Reviews
1. BenQ TK800M – Best Overall Home Theater Projector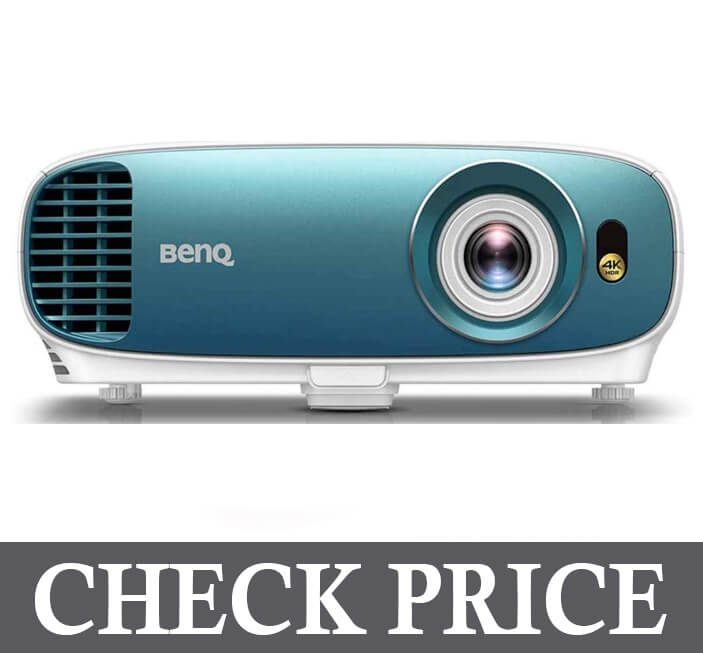 The BenQ Tk800M is almost the same as the TK800 but with minor upgrades. Zooming Pixel Performance and Adjustable Sounds are its best features. Just like the other one, it produces impressive 4K images on the screen. The colors are vivid, bright, and sharp, ensuring excellent on-screen quality even in well-lit ambient rooms.
Features:
Just like the above, this BenQ TK800M features unique 4K projection Technology that works to deliver about 8.3 million pixels for awe-inspiring and jaw-dropping 4K UHD performances.
You can witness un-matched clarity and crispy voice quality that let you get the best of the details so you won't miss any beat ever.
The BenQ TK800M delivers just as it claims, and with its DLP Technology, it ensures an image resolution that lets precision be your best buddy during the game.
The best thing is, you can now play your favorite games in 4K without missing any beat. The ultra-sharp screen quality, razor-sharp images, and glitch-free performance will give you the overall best experience.
Adding on, it features a high-contrast ratio that produces the sharpest image quality along with the richest black that puts you in an owe situation.
Although black is the richest, the total brightness is still outstanding. It features the brightest images at whooping 3000 Lumens, which means it will be working efficiently even in brightly lit rooms and outdoors.
Pros
Brightest display and decent contrast ratio
Very reasonably priced
Better images
Football and Sports Mode
Cons
Black levels could be better
Price isn't for everyone
2:  YABER Y31 Projector – Best Budget Home Projector for Under $300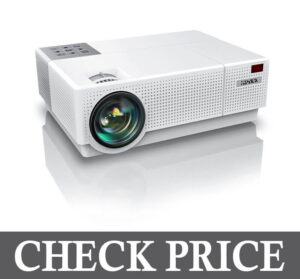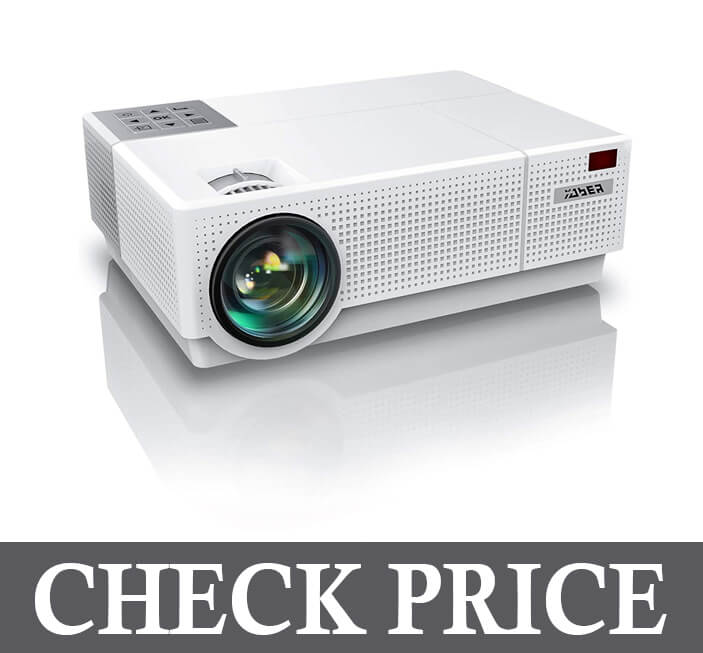 When it comes to the value for money, nothing comes to mind other than YABER Y31 Native 1920x 1080P Projector because this Projector is equipped with almost every feature that can be found in premium projectors.
The price is accessible enough that almost every individual can easily experience the High-end features without breaking a bank.
It might have loosened some points from the design perspective, but it has the quality to amaze you as far as the performance is concerned.
1080p is the resolution, reflecting the Full HD visuals on the screen for a better viewing experience. Either it is a family-movie time or a business presentation, the visuals that the Projector will throw on the net will be detailed and crystal clear.
The best part is that no required to adjustment is required of any setting for better quality visuals.
Thanks to the keystone correction, you can easily project completely aligned images with ease
However, the resolution is not performing solely. The contrast ratio of 10000:1 and the higher brightness ability contribute to making it a versatile screening projector.
On the other hand, the Projector does not even burden the users with the maintenance cost as the Projector's lamp life is around ten years. You can use it for years without confronting any issue.
Moreover, to enhance the versatility of the Projector, manufacturers have also equipped it with 2 HDMI ports, where one is for the audio, and the other one is to connect the laptop, smartphone, or any other gadget with the Projector.
Pros
German LED light source
High-quality materials
Keystone correction
Auto Vertical Correction
Built-in dual stereo speakers
One-Click Restore Function
3. Optoma GT1090HDR – Best Short Throw Home Projector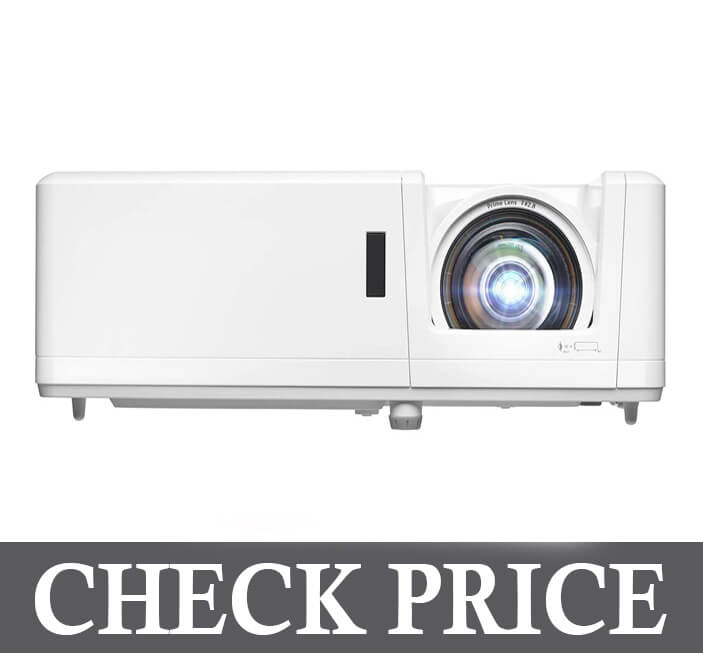 You may have seen many past projectors and present ones that do stunningly well in delivering the unmatched viewing experience.
You might find us numb if we offer you the actual lamp-free Projector; would you accept that?
It seems impossible, but it has no lamp installed inside it, yet it still emits the high-quality light to project on the screen where you cannot detect the blurred or faded images even though you try it hard.
It comes with a dependable last light source that is hard to spot with the projectors. Still, only the high-ended ones go with the DuraCore laser, which eliminates the need for the lamp and the filter replacement that lasts pretty longer than anything.
The rated life of the DuraCore laser has been guaranteed to live up to 30,000 hours. Resulting in going low-cost and almost maintenance-free to operate for decades to come; thankfully, the IPX6-rating induced with Optoma GT1090HDR makes it the dust-resistant optical engine, increasing its durability to go beyond the mark of expectation. Let it either be used in open or closed places, and the performance would never downgrade even for one percent.
Known for its short throw lens, it lets you experience the full-wide and more significant 120″ of the screen to project your favorite content. Placing the Projector at just 4 feet and 4 inches from the screen source enables it to put way too close to the screen that gets fitted into the smaller spaces without the issue and tends not to cause any problem during the installation.
The Optoma GT1090HDR is equipped with the 4K HDR input using HDR10 and HLG technologies, which projects the brighter whites and the deeper black levels to enhance your viewing experience for the images and the videos to go beyond the expectation.
As with bearing the incredibly high-powered 4,200 lumens of the best and extravagant brightness, there is no need to worry about turning the lights off or waiting for the evening to prevail. That's an excellent fit for projecting your favorite content, even from smaller rooms to outdoor spaces like camping, backyards, and tailgating during the piercing daylight.
The Optoma GT1090HDR Comes with the picture quality to match, becoming the pure home cinematic projector. The full HD 1080p with the maximum resolution of 1920 x 1080 along with 4K input and hitting the contrast ratio to 300,000:1 that is way beyond the imagination to experience viewing the content with its utmost clarity that enhances the HD experience without downscaling or compressing the size to make it to work.
Hook up with anything you got from gaming consoles to big screens and the dongles provided with 4K UHD HDMI from Fire TV, Apple TV, Google Chromecast, and more.
Set up is done in a few minutes; the auto keystone with the four corner correction simply provides the image adjustment done itself, so you do not need to call in the professional to get the installation done for you.
Pros
4K Ultra HD display
Powerful lumen brightness
Works great even in broad daylight
Cons
A bit louder when operating
4. Sony VPL-HW45ES – Best Long Throw Home Projector
Immerse yourself with the surreal Sony Home Theater Projector VPL-HW45ES with its high definition resolution and textures. Feel the remarkable cinematic experience with brighter highlights and motion flow technology placing you at the heart of your favorite movie or videogame. With a zoom ratio of 1.6 and a wide-angle shift range, the Sony Home Theater Projector provides flexibility for installation regardless of the space.
The Home Theater comes with compatible RF 3D glasses that synchronize with the built-in transmitter. Feel every scene with the dynamic technology of the lamp syncing with the 3D glasses to get the natural cinema effect on your movies. The Projector makes full use of its advanced SXRD panel to deliver crisp images with a rated brightness of 1800 lumens and a power of 215 watts. Say goodbye to the higher running costs as the Projector comes with 6000 hours rated operating life expectancy with low maintenance.
For better airflow, the fan is placed at the very front of the Projector, hence overlooking the wall clearance. Another remarkable feature of the home theater is the noiseless fan, which emits about only 22dB. The ability to connect the TV or Gaming console with just one cable makes the system less intimidating for the user as it is equipped with an HDMI cable.
Sony is a recognized name in the field of electronics. Sony VPL-HW45ES is an excellent choice for home theater entertainment with its sharp color uniformity and out-of-the-box picture quality. It comes with a box containing a lens cap, AC power cord, remote control, and relevant instructions. Stay ahead with the newest features and firmware updates via the USB port and enjoy the exceptional home entertainment with Sony.
Pros
Powerful picture calibrations.
Superfast response rate.
Cons
The screen is sold separately.
5. Epson 2150 – Best Wireless 1080p Home Projector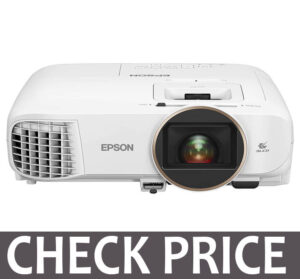 Picture quality is extraordinary once you remove it from the crate. We use film mode inside, and I don't want to modify it by any means. I turn it on and lose all sense of direction in the true-to-life experience. For extra focuses, substitution bulbs cost just $ 50 from Epson.
For the cost – it's one of the most flexible. It has excellent differentiation and adequate dark levels for indoor use in low light, yet brilliant enough for open-air use. The long-range focal point and vertical move mean its position isn't as essential, similar to different projectors.
I painted my divider in a pale white shading, and it fell on the uncovered divider, and the photograph was astounding. It resembles having a 125-inch level screen, and it truly gives the stage feel I was seeking after. It's not extremely noisy, but instead, I strongly suggest getting yourself a speaker. I am utilizing Amazon Fire Stick with this, and it works impeccably. I was doubtful about purchasing a projector since I didn't think a lot about them and pondered the projectors utilized in primary school. Accepting the image won't be fresh and clear, this monitor was a significant stun.
While the UHD 60's substance had further darker and more elegant colors, the distinction was negligible, seen more than 7 feet. However, I checked it to think about how extraordinary the shading, differentiation, and picture quality are when playing 4K content. I secured half of the focal point on each monitor to see the yield of both simultaneously. I have perused an assortment of 4K content.
I was genuinely intrigued by the picture nature of the Epson 2150 simply fresh. Rich, striking colors and overly quick change. So, following a month, I considered changing to a 4K monitor in the wake of viewing YouTube recordings for 1080p versus 4K shows. After doing a ton of examination, I have seen the Optoma UHD60 as the best 4K monitor for under $ 2,000, dependent on specs and audits.
A couple of focuses to note
The left 50% of the picture is from Epson and the correct half from Optoma.
Both are shown on the exposed divider
Both utilize 4K fire sticks. Expectation this wipes out Dilemma 1080p over 4k spending plan for some of you
Another significant contrast is that Keystone remedy and 3D support are available in Epson yet ailing in this Optoma model. Epson is likewise about a large portion of the size of Optoma, so now and again, it will be simpler to utilize outside. In general, I think the Epson 2150 isn't simply the best monitor in this value run. However, compared with compact 4K value projectors, the distinction in picture quality seen with the unaided eye is negligible.
For me, the distinction in shading and detail/sharpness was negligible to such an extent that it was so difficult to see except if everything you do is attempt to analyze. Another distinction I noticed is that Epson can show a somewhat bigger picture at a similar separation contrasted with Optoma in any place when both help 1.6x amplification.
Pros
It has an impressive dynamic contrast
Wireless Connection
Easy set up with built-in speakers
Lens Shift
Provides bright and colorful image
Cons
It is fairly noisy
It has average black levels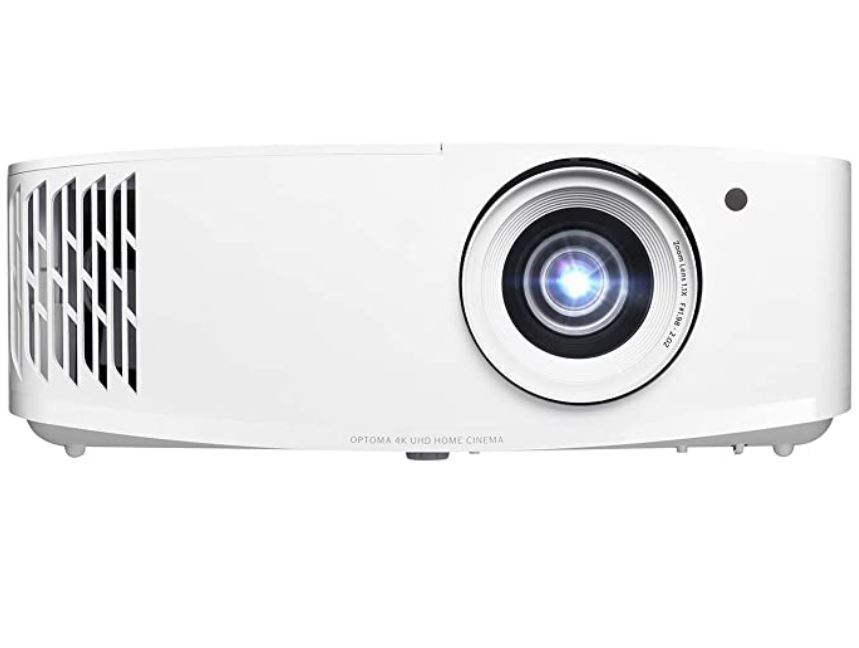 Display Technology: DLP
Refresh Rates:

240Hz

Resolution:

4K ULTRA HD

Brightness:

4,000 Lumens

Contrast Ratio:

1,000,000:1

Input Lag (Response Rate):

4.2ms at 1080p
This one is a gamer's Cadillac. The Optoma UHD38 4K UHD offers truly lag-free gaming, with a 4.2ms input lag, a 240Hz refresh rate at 1080p, and the lowest lag of any 4K projector on this list. Allowing for 4K ULTRA HD, this DLP projector provides crisp, smooth images and vivid colors – with a rich 1,000,000:1 contrast ratio and a 4,000-lumen brightness for daytime viewing. It connects to Microsoft's Xbox Series X/S consoles and the latest Sony consoles, and the Projector's fan runs very quietly.
Optoma UHD38 is that the refresh rate drops down to 60Hz when switching to 4K, and a slightly higher input lag at 4K. Also, replacement lamps are not easy to come by.
Pros
LAG-FREE GAMING
4K ULTRA HD resolution
Daytime viewing: 4,000 lumens brightness
1,000,000:1 contrast ratio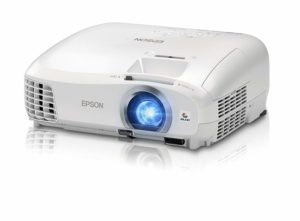 Home Cinema 2040 projector having a large screen, delivers HD 1080p entertainment. This portable Projector delivers up to 35,000: dynamic contrast ratio and advanced image processing.
It offers 2200 lumens of white brightness and 2200 lumens of color brightness. You can enjoy games, movies, and more with two HDMI ports and MHL.
You can easily connect your gaming console, Blu-ray Disc player, or streaming device and project it up to 300″ virtually anywhere. It also provides a built-in speaker and easy setup tools that means you can enjoy 1080P HD content out of the box.
Epson 2040 has the same performance as it was in Epson 2030. However, there are many new updates available in Epson 2040. Many features in the recent developments were only available on Epson high-end units, including frame interpolation and detail enhancement.
You should be surprised at what the updates could be. It includes on/off contrast due to an iris that looks more responsive.
Home Cinema 2040 includes four image modes. The first one is the dynamic mode, which comes automatically at the start of the Projector. It looks a little bit greenish but still great if you need a maximum light output.
The Dynamic mode's overall image balance isn't reduced even if it has high brightness. However, the color accuracy is standard as compared to the dynamic calibrations of most projectors.
It also provides the 3LCD technology, which allows you to watch movies without any rainbow effect and supports MHL-enabled devices, including Roku Streaming Stick, Chromecast, and more.
If you set this Projector to full lamp power, you will get around 1520 lumens and the best color accuracy without any calibration.
The most important key feature of the image in the Home Cinema 2040 is the balance. Each image modes of the Projector provide the same color balance. This feature makes this Projector a good choice for TV viewing and movie.
Pros
Bright, Full HD 1080p Widescreen Performance
Innovative 3LCD technology
Built-In Speaker and Easy Setup
2 HDMI Ports
2 Years Limited Warranty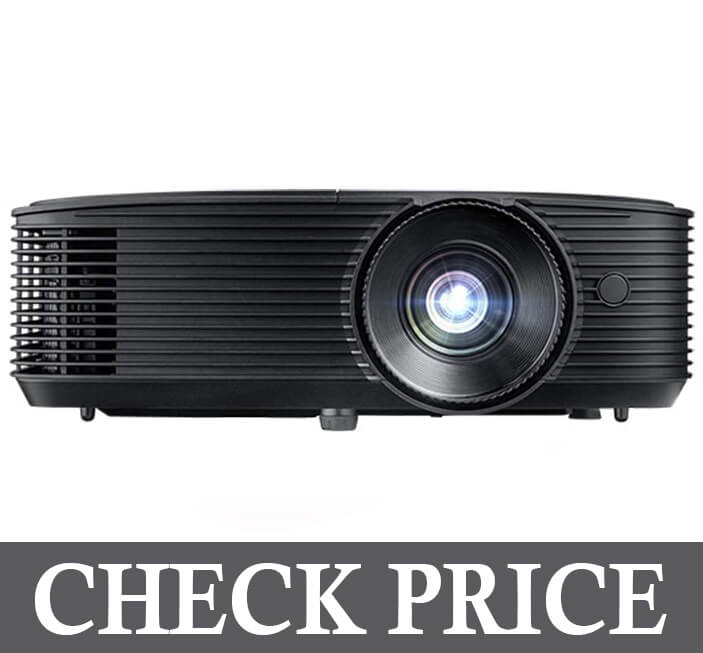 Features
Brand: Optoma
Model name: HD243X
Hardware interface: USB
Mounting Type: Universal ceiling mount
Luminous Flux: 3300 Lumen
Item weight: 75 pounds
Lamp life: 12,000 hour
Let us take you to the optima store for the first stunning product in our list of best projectors for small rooms; here you go with Optoma HD243X projector, ideal for movies and gaming with long lamp life and easy setup adjustments.
Make your home theatre experience more valuable with Optoma HD243X 1080p Home Theatre Projector, with phenomenal picture quality and lively colors. A single 0.47" DMD DLP chip by Texas Instruments is installed, which sets out high-resolution HD displays. In addition to this, it offers a 24,000:1 contrast ratio, while Reference display mode ensures accurate REC.709 color support, making it a perfect companion for movie time. Wait, there's more, no need to turn off the lights. You can even watch your favorite movies while the lights are on.
Apart from watching videos, it is strongly recommended for gaming. It provides a big screen of 300", pair it with the latest gaming device or high-performance PC and experience fast gaming with a 1080p input response at 16ms. Another fantastic feature of the Optoma HD243X projector is that it can display true 3D content from any 3D source. Not only this, a pair of HDMI inputs and USB power enables your Projector to connect easily to any HD video streaming device and gaming console.
How can we deteriorate the elegant, compact look and portability of our Projector? Enjoy your movies in any room and take your lightweight cinema anywhere you like. Further, Install Optoma HD243X projector easily with vertical keystone jacks, 1.1×zoom, and an excellent throw ratio of 1.47-1.62: 1. Enjoy all these exceptional features in a single product at a pretty reasonable price.
Pros
Customizable screen size
Supreme quality, sharp HD images
Lightweight, portable
Effortless installation and easy connectivity
Also for gaming
Cons
Need to be connected to an audio system for better sound quality
9. Optoma UHD52ALV – Best Projector for a Bright Room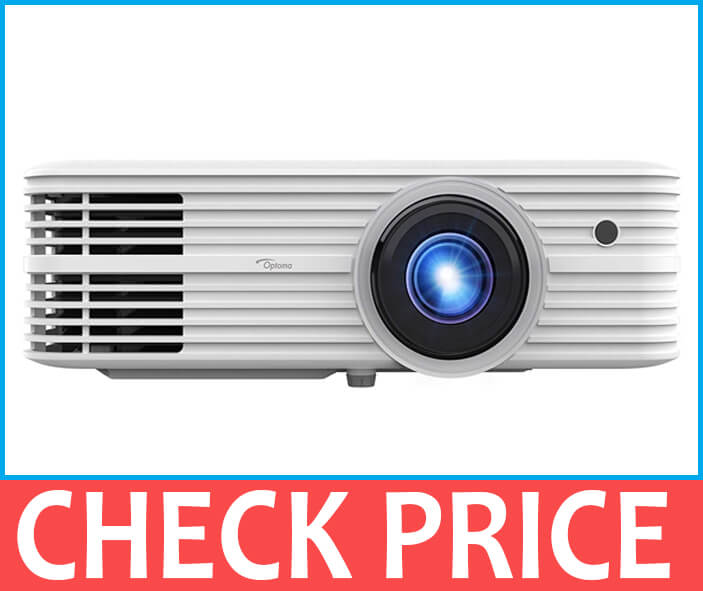 Perfected for the white screen, Optoma UHD52ALV is the real 4K UHD smart projector that delivers the truest to the real-life experience of viewing what you are seeing and giving you the perception of being present in the scene.
Ensured brighter results, the power of 3,500 lumens is known to provide the super-bright deliverability of the content projecting right on the screen even when the lights-on in any room right from your home and getting placed to enjoy the backyard parties celebrated outdoors.
The UltraDetail technology delivers the enhanced sharpness double the higher frame rate for the outstanding crystal-clear pictures to wow the quality.
True to the details, the True 4K UHD DLP chipset resolution features the high-end deliverability of the static and motion content and experience up to 8.3 million distinct on-screen pixels, not all of the projectors supported by projecting over 140″ and even higher than that.
Compatible with HDR10 and HLG plus with broader color gamut increased the darker black levels and the whites to make the perfect color depth never to compromise any bits of the color details.
Longer lamp life of over 15,000 hours guarantees to live for 10+ years with an averagely using around 4 hours of viewing every day, never to lose the trust obtained by the quality and the performance to enjoy the years' long of viewing the fantastic content.
It is backed by Optoma Smart+ technology, adding compatibility with the Amazon Echo-based devices and the Google Home. That transforms the Projector to answer the voice commands, adjust the volume, power the Projector on and off, change the inputs, and control with USB media playback — All done with your voice.
It seamlessly supports IFTTT, making it hook up with thousands of other smart devices without an issue.
Multiple inputs get it to connect with many media and gaming consoles, PCs, mobile devices, and MACs using dual HDMI 2.0 and HDCP 2.2, USB, RJ-45, RS-232C, VGA, and a couple of more.
Pros
Supports HDR10 and HLG
Compatible with IFTTT
Ensures super brightness to enjoy
Cons
Do not project more than 120″ of the screen
10. Optoma Cinemax P2 – Best Premium Short-Throw Home Projector
The best premium option for those who are going to build a house theater. Without any fuss like traditional projectors, it presents an outstanding image.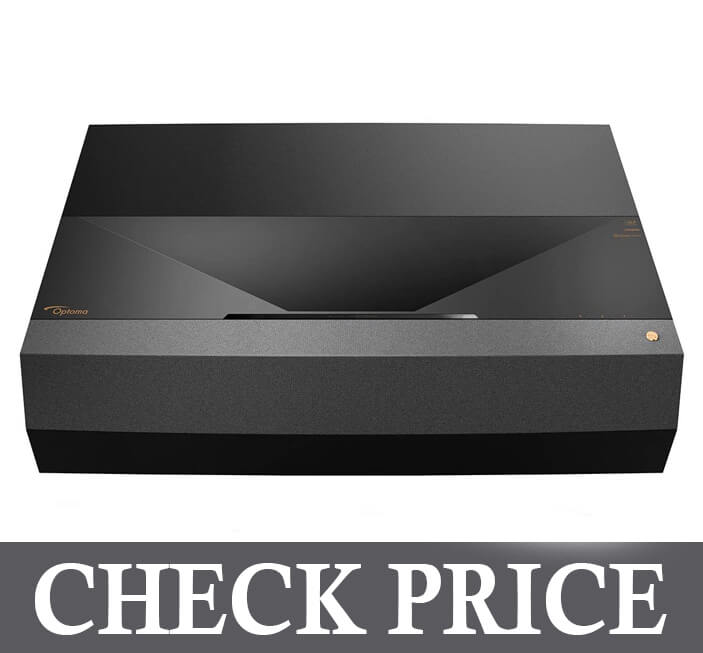 Design
The Projector is made in such a way that gives you a premium feel. It comes with super sleek black and gold color contrast which gives some classy royal touch to the home theater. Its remote is easy to navigate. That's a good thing.
It might be bigger because of its 22.1 x 5.1 x 15 inches size. If you are a movie admirer and planning for a motion picture at night with friends, then what's better than this.
Speakers are placed in front of the Projector and are covered with grey fabric. At the side, there are vents for fans, which stop the Projector from heat. On the right side, 2.0 HDMI and USP ports are available. At the top, you will get an angled or opening laser projector.
If we check it on the back, there are multiple ports available for better convenience. If you don't want to use WIFI, you can use an Ethernet port available in it. Ports are also available for audio aux and PDIF/S. It has a total of three ports, one for USB and the other two for 2.0 HDMI.
Like other projector remotes, its remote is far less complicated and designed very well. It has a selection button in the center and a circulation direction pad that controls software and volume.
Instead of having the option to squeeze fastens for specific capacities, you'll need to explore through programming menus to get to the vast majority of the settings and highlights.
Set up
When you buy this Projector, you have to set it up. Unfortunately, there is no picture guidance available. You will have to elevate it up manually after the initial setup by connecting with WIFI. You can also organize it by creating an Optoma account (optional).
There are a couple of things to note about setting up the picture of the Projector. Utilizing short-toss projectors like this can be interesting with projection screens, so you should consider either ensuring you have a level white divider or purchasing a specific tight projector screen like the ALR101 screen that Optoma sells. That is a direct result of the way that standard projector screens that you mount to the roof and pull down, for the most part, aren't completely straight – and those blemishes are enhanced by a projector that is so near the screen.
Software
If we talk about software, so it may not fulfill our desires. With its built-in software, we can correct image color/contrast, etc., or make minor adjustments.  If you think it comes with high-end software by which you can stream your favorite services and apps, you might be wrong. It doesn't possess heavy software. Moreover, it lacks some major streaming like Disney+, so you have to give up on NETFLIX and Amazon prime only.
Performance
The most important thing about any product is its performance. The Optoma Cinemax P2 isn't the greatest invention in the projector series, but it's still pricey. This Projector comes with a built-in XPR DLP for a better contrast ratio.  It uses pixel shift technology which results in the 4k image.
With HDR technology, the image quality becomes outstanding. White and black colors are excellent, and other colors are vivid and deep. You will get many modes of images like bright, standard, detail, and film. This Projector won't support Dolby vision and HDR+, and it only supports HDR 10. Overall its picture is pretty good.
Optoma Cinemax P2 offers 3000 lumens which are the highest in short-throw projectors. It's not as good in this price range.
Sound
Overall, the sound quality is better. Due to its advanced technology, it produces filtered sound. Moreover, you can set up its base and pitch.
Pros
Sturdy and sleek design
Pretty good image quality
Better sound system
Smart+ technology with Alexa and Google action
Cons
Pricy
Limitation to HD streaming
11. BenQ HT3550 – Best 4K Home Projector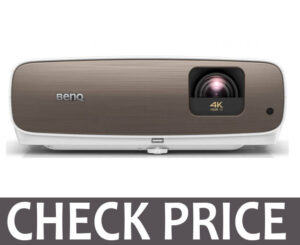 An ideal projector gives you a quality display without stuttering, and so does the BenQ HT3550. It's a superb projector that offers you all qualities of an elite home projector.
Design
The redesign from the Epson 3010 that I purchased numerous years back is new and has served me well. So, with regards to image quality, the BenQ HT3550 is out of the world!
Design is elegant, and as compared to the previous models, it is more stylish. I would not like to rest the last evening or work today. I needed to secure myself in the media room. I don't figure you can locate an excellent showcase at the cost of this gadget. This is my first Projector, and after taking a look at all the various choices, I found that it was the correct alternative.
I had the chance to associate it with a 180-inch 4K screen and leave! I took a look at the new BenQ models; however, I was not dazzled by a portion of the things they learned or added to them.
Picture Quality
The picture quality is static and awesome. I just utilized the inside speakers and even the ones that looked incredible. I introduced and discharged it to ensure it worked. Everything works fine, the arrangement was simple, and it seems completely astonishing. The picture quality is highly genuine, and the colors are lovely.
At last, I read an exceptionally definite audit of the following BenQ HT3550 which made it very cool. It had the details I needed, and it was valid in my value to go, so I bounced in and requested one. It took around three weeks to show up; however, I finally got it on Friday.
Preset Picture Modes
The HT3550 is preset with numerous preset picture modes so clients can pick the one appropriate for various applications. For example, watching motion pictures in home performance center with D. film mode to imitate exact colors for 4K motion pictures and change to Film mode for watching recordings in the room with the somewhat surrounding light.
Mode: Bright, Vivid TV, Cinema, D. Kinema, ISF Night, ISF Day, Silence, 3D, HDR 10, and HLG. I used to hold tight to 4k projectors and thought that it would be perpetual before I was prepared to spend enough cash on one. I possessed the HT2050 until the HDMI ports detonated with a thunderclap and adored it.
The dynamic iris controls the measure of light through the optical framework for ideal complexity. Dynamic Black breaks down the splendor levels of the scene to improve the light yield and the differentiation. BenQ HT3550 offers a noteworthy difference to natural dark shading, astounding picture profundity, detail, and lucidity.
Utilizing uncommon gaming and programming, the HT3550 is tried and altered for exact D65 shading temperature, gamma, dark level, white, dim, RGB CMY shading following, tint, immersion, brilliance, and yield different interfaces dependent on ITU-T Rec. 709/DCI-P3.
Zoom
The HT3550 offers a vertical focal point to move to entirely fit any life with a powerful scope of review separations and elevations. The massive 1.3X zoom provides a wide scope of projection separations to expand establishment adaptability significantly. Same projection separation as the 1080p W1070 and HT2050 projectors, so clients can undoubtedly change from a Full HD projector to a 4K projector without moving the roof mount.
BenQ Cinematic Color innovation accomplishes 95% DCI-P3 shading space in American film by improving ideal colors for the same image quality, covering a lot bigger visual range than Rec. 709. With DCI-P3, the HT3550 duplicates the first cinematographic quality with complete and exact shading exactness like the first plan of the chiefs.
HDR Innovation
As a selective HDR innovation advanced for the BenQ show, HDR-PRO accompanies HDR10 and HLG support with Auto HDR Color Rendition and improved BenQ film innovation. That gives improved brilliance, differentiation, and image in One stage, featuring everything about 4K Video content for true-to-life delight.
With a 4K UHD 3840×2160 goal of up to 8.3 million pixels for every image, the HT3550 utilizes progressive 0.47-inch DLD DLP innovation to decrease the smooth and minimized showcase profile for present-day ways of life. At multiple times the goal of 1080p Full HD, the improved 4K focal point lessens pixel obscure for stunning clearness and fine detail.
The Ben35 HT3550 4K 8.3 million pixel projector can play out a wide scope of colors DCI-P3 It is planned for film buffs who welcome the distinction that unrivaled shading execution makes by decisively transmitting the chief's vision.
Get an excellent 100-inch image from simply 8.2 feet with the shorter projection focal point of the HT3550 and introduce it in the light scene.
| Specifications | BenQ HT3550 |
| --- | --- |
| Image Brightness | 2000 lumen |
| Image Contrast Ratio | 30,000: 1 |
| Dimensions | 14*5*10 inch |
| Weight | 9.2 lbs. |
| Resolution | 4K |
| Zoom Ratio | 1.3X |
Pros
Incredible image quality
HQ 1080p Resolution is eye-catching
It has a USB power port
Flawless performance in both light and dark
Works  impeccable
Cons
The fan inside is a bit noisy
Price is heavy
12. Epson 2045 Full HD 1080p – Home Theater Projector with Wireless Streaming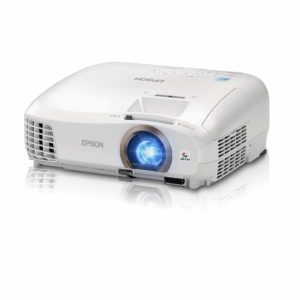 When it comes to Epson 2045, it produces an excellent image for the best budget projector. The most important factor of any home projector is the actual performance of its modes. The cinema mode is closest to its color temperature.
While the Natural Mode is closest to its color points. Meanwhile, both provide relevant light output and gamma.
The Home Cinema 2045 wireless Projector is for your home entertainment hub, delivering Full HD 1080P Results from various devices.
In terms of colors, you can improve the accuracy and brightness of all the color points by changing the saturation/hue controls quickly. It can also be noted that after performing color settings, the skin tones start appearing less accurate with a little more red color.
It provides the same 2200 lumens color brightness and 2200 lumens white brightness in Epson 2040. You can wirelessly stream content via Miracast and Intel WiDi.
It has almost all the features that Epson 2040 contains, but the main part of this Projector is the availability of wireless feature that wasn't available in 2040. There is also a slight difference in prices between both of these projectors.
The availability of wireless features makes Epson 2045 a good choice for movies, games, and more.
Pros
Wireless Feature
Built-In Speakers provided
Full HD 1080P Resolution
3LCD Technology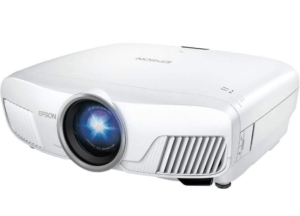 The first thing about Epson 5040UB is that it provides color-rich performance with immersive images. This Projector delivers a ground-breaking combination of color, resolution, and contrast for the ultimate entertainment experience. Every detail comes with 4K Enhancement Technology, which accepts 4K UHD content and upsurges non-4K content.
An advanced, 3-Chip, 3LCD design means no color cycle, rainbow effect, or white division. With L*a*b* Ultra-wide color gamut and HDR10, movies look extraordinary.
Epson 5040UB comes with 100% balanced color brightness, including 2500 lumens equal color/white brightness. It provides the highest quality UltraBlack contrast ratio up to 1,000,000:1.
Home Cinema 5040UB Equipped with horizontal and vertical lens shift.
The features haven't ended yet, it also provides:
3-Axis Precision Motorized E-Series Lens
State-of-the-art glass elements optimized for 4K content; with powered focus, 2.1x zoom, up to ± 96% vertical and up to ± 47% horizontal lens shift, and ten preset positions.
Delta Color Accuracy
Low Delta E for extremely best color reproduction.
Smooth Images
With Image Enhancement and Frame Interpolation.
Complete HDR Compatible
Relish HDR content with an extensive range of brightness levels.
Expansive Color Gamut
Get brilliant, color-rich performance that displays the entire sRGB color palette, plus DCI in Digital Cinema Mode.
Epson Home Cinema 5040UB Review Table:
| Specifications | Epson 5040UB |
| --- | --- |
| Color Brightness | 2500 Lumens |
| White Brightness | 2500 Lumens |
| Contrast Ratio | 1,000,000:1 |
| Resolution | Full HD 1080p with 4K Enhancement |
| Projection Technology | 3LCD (3 Chip) |
| 4K Enhancement Technology | Yes |
| High Dynamic Range (HDR) | Yes |
| Wireless Included | -- |
| Lens Shift | Horizontal and Vertical (Powered) |
| 'No Rainbow Effect' Technology | Yes |
What's In The Box For Home Cinema 5040UB:
Home Cinema 5040UB Projector
Power cord
Two HDMI cable clamps
Remote control with AA batteries
CD ROM with user guide link
Quick Setup Guide
Pros
4K Enhancement Technology
High Ultra Black Contrast
Balanced Color Brightness
Lab Ultra Wide Color Gamut
3LCD – 3 Chip Technology
Cons
It doesn't come with 3D Glasses, and you have to buy them separately
14. Epson 4010 – Home Cinema Projector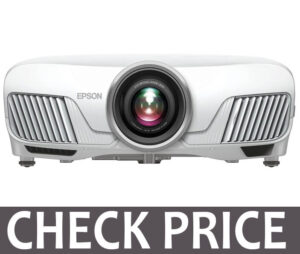 From an image quality point of view, we can't generally say that this 4010 isn't correct 4K. The picture is acceptable, and as regular, the light brightness diminishes as you use it. Additionally, it will show all DCI color space when I set the color mode to advanced film mode.
Strikingly, upgraded HD shows aren't generally 4K. They are fooled into changing over 1080p to look like 4k. Essentially, it has 4.15 million pixels rather than 8.3 million pixels for a genuine 4K show. In any case, screens usually start at around 4K, estimated at $ 5,000, offering a compromise and great incentive for cash.
I discover the Projector disposes of a great deal of hot air. Hot air releases in the front of the Projector. Depending upon the light mode: economy mode – 283 watts and high mode – 373 watts, you will require ventilation If you need to be decent in a similar room. I think this is the situation for the meeting with regards to projectors.
You can interface the Projector to your LAN (Ethernet) with the goal that you can send it from your PC or cell phone. They have both versatile and work area applications calling Epson iProjection that permit you to do this. There are other 3D includes that require separate dynamic 3D glasses. I didn't have these, so I was unable to check the usefulness of the 3D Projector.
There are four projection modes: front rooftop, front and back rooftop, and back rooftop. That covers all projector arrangement/establishment alternatives. Epson 4010 is a classy model that suits everyone. It is user-friendly as well and produces quality results with HD resolution.
A larger-than-average controller with giant buttons can be turned on. There are far-off sensors on the front and back of the Projector, which are helpful whether your arrangement has the Projector in front or behind. Perhaps you need to pick another screen If you need to have a superior gaming experience given by a 60p/60Hz screen. A bit of caution here. DESPITE EVERYTHING, the HDMI attachments have all the earmarks of being the old 1.4a norm, as they do boost HDCP 2.2 and hence can't boost higher edge rates for the more current variant 2.0. It is secured at 24p/24Hz when utilizing 4K HDR.
You should pay significantly more and move to the following level if you need something increasingly exact, differentiating, and brilliant. Be that as it may, it offers the best image quality and the best features you will discover today in this value classification.
At last, the Epson home performance center 4010 is an extraordinary incentive for cash for those searching for a home projector equipped for tolerating 4K UHD sources.
Pros
Epson 4010  supports 1080p 3D
Optional Wi-Fi Dongle for connectivity
Free from any rainbow artifacts
High-quality 15-element glass lens
Ten different lens memory positions
Cons
The input lag of 28.4ms might affect gamers who prefer fast gaming
No support for 4K
15. Optoma UHD30 – Best Projector For Sports Viewing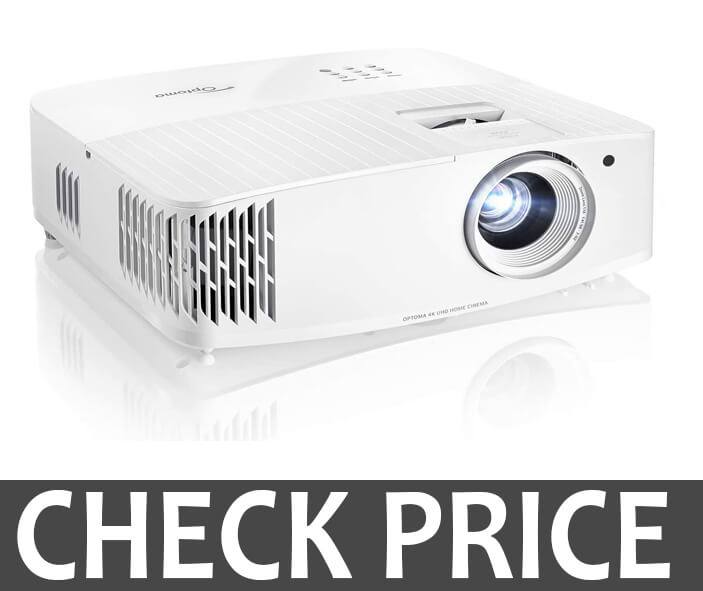 A lookout for one of the best projectors for sports viewing that own all the high-end features starting with the screen resolution and the technology backed to deliver the never-experienced viewing experience, Optoma UHD30 tops the list by the right margin.
Backed with truer 4K Ultra HD (4K UHD) that pushes the viewing experience for unmatched quality, this screen technology has over 8.3 million unfaded on-screen pixels covering the whole screen, delivering outstanding quality images.
Being an exclusive sports viewing projector, Optoma UHD30 comes pre-programmed with a lag-free experience to enjoy watching even on the highest graphics settings. As it is seated with an ultra-fast 240Hz refresh rate, it changes the scenes within a wink's time, delivering you with blur-free visuals with unparalleled smoothness.
Combine with Enhanced Gaming Mode, which sets to produce 16ms of response time or over 26ms when running it without enabling the Enhanced Gaming Mode and 4K UHD to cause the lowest input lag running on the highest setting.
Compatible with HDR and HLG, it brings the brighter whites with the deeper black levels that eventually increase and enhance the viewing experience of all sorts of content, including images and videos, by switching onto HDR10 and HLG methodologies.
The crisp, sharp, and realistically colorful picture is set to be delivered as it comes with an RGBWRGBW 8-segment color wheel to further increase the color ratio to upscale the cinematic images using the richer and vivid picture quality.
Having the highest contrast ratio of more than 500,000:1 (unbelievably the best) ensures the brighter screens appear clearer even when the dark scenes are emitting out so that anything is spotted most clearly out of the darkness.
Ultra-bright backed by 3,400 lumens to fill in your entire room to see through the best content so that you are only focused on overplaying your best game of the day even though the place is well-lit or is left in the total dark without straining your eyes.
Super simple to set up, mount it over the ceiling, get it placed on the table, have the projector match the correct throw distance by adjusting 1.1 zooms with ±40° keystone correction to turn it on in mere minutes.
Pros
Truer 4K UHD display
Great for lag-free gaming
Compatible with HDR & HLG
Cons
Onboard speakers do not perform well
Conclusion:
Hopefully, this article proves to be helpful for you to understand how to choose a home theater projector properly and effectively and you get to enjoy the best cinema-like experience at your home without any glitch in the design.