Projector Finder »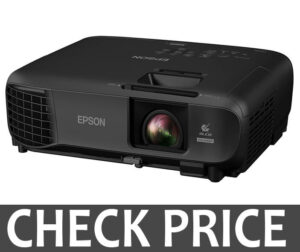 Projectors help view on a large screen to interact with more people around you conveniently. Are you still confused and couldn't decide which projector you should buy? You have probably decided to go for the Epson Pro EX9220 but want to know more about it before making the final decision.
If so, you've just clicked right.
This article will honestly explain every little detail, spec, and feature of Epson Pro EX9220 so you can decide knowingly. Before proceeding with in-depth insight, here are the basics of this Epson Pro EX9220 Review.
Key Features:
Bright, Vivid, and Luminous Screen Quality.
Works well even in well-lit bright rooms.
1920 x 1200p Resolution to showcase clearer content.
Supports wireless screen mirror imaging.
Wireless projection from smartphones, laptop, or PC.
Amazingly convenient portability to be used anywhere.
Pros
Displays Crystal clear texts.
No text fussing at all.
Images are blur-free and Ghost-free.
Portable enough to be carried around.
Lamps are bright even in a lightened room.
Full HD display to mesmerize the viewers.
Cons
Fan running is noisy.
Image quality is impressive but not Cinematic (Fair for the price tag).
Epson Pro EX9220 Review – Feature Analysis:
There are many features a portable projector is expected to have. Let's see which features this Epson Pro has and how far it goes on the scale of exceptionality.
Image Quality:
The fundamental thing for any projector is how it projects the images on the screen. This Epson Pro comes at an affordable price and yet features an above-average image quality comparatively.
As this projector projects images at 1920 x 1200p resolution, you can enjoy widescreen movies in HD on your screens.
It's also portable and makes an excellent choice for living room movie, friend's campsite parties, and business presentations.
Presentation Quality:
Although it showcases HD images and movies, for us, sheets and slides are the domains where this Epson Pro shines bright. It makes the best choice for meeting rooms as it can display graphs, images, spreadsheets, slides, and videos even when the rooms are brightly lit.
The text it delivers to the skin is legible and vivid. Epson Pro's contrast ratio is brilliant and suitable for displaying professional data that includes Excel and Powerpoint.
This presentation quality makes Epson Pro the legit option as a business machine.
Video Quality:
Epson EX9220's video quality is kind of subpar compared to its other family members. As it is a bright and vivid projector that projects even by cutting through the bright room lights, it struggles to display dark scenes as dark, and as a result, the black appears kind of washed out on screen.
To some extent, the projector also red-tints the skin shade a little bit that may also be a dragging point if you were solely purchasing this for your home theatre. As it's a 16:10 projector supporting office use, it struggles to display movie media that's meant to be displayed at a 16:9 aspect ratio.
You don't need to be sad; Epson Pro displays images in full high definition and that kind of masks it's a bit of poor color handling. Long story cut short, the video quality is bright and clear but isn't any cinematic.
The Convenience of Use:
The EX9220 is featuring a wireless and portable design. It's obvious it offers a convenient use that lets you start the show anytime, anywhere. It performs well, and it's easy to start up and control.
The only issue with the ease of use is the design of the remote. Although not every user seems to be annoyed, some of them show little disappointment. The remote features smaller buttons (sure to reduce the overall size and enhance the portability) and feels like they are not laid the way they should.
A carry-case is also included in the package for commendable portability. The remote will take only hours to let your hands get used to it. Other than that, the projector is easy to set up and easy to use.
Wireless Connections:
Not every projector in the market offers a wireless connection, and that's the significant edge if you have to use it at different locations occasionally. The connection is also super easy and smooth, just like tick tick tick, and you're ready to display your creativity.
All you have to do is just scan the QR Code on the projector, and you're ready to go. Sadly, making this connection from a PC or a computer is questionable. You'll have to download specific drivers and passwords to get through the process of setting it up with a computer.
Also, the wireless system doesn't support Mac, so you've to be careful if you're a Mac user. If you're using it with a computer or Mac, you'll probably end up using an HDMI cable.
On-Screen Brightness:
The Epson Pro EX9220 is arguably a brighter portable projector under 1000, and it claims to be 3200 lumens. Studies show that it isn't close to 3200 lumens and is relatively low for the reader. Still, despite the discrepancy, the projector works well against bright light-up rooms and even daylight entering the rooms through glass windows.
If you are more likely to present in bright rooms often, this one would be your minion for every coming presentation.
Cooling Fan Noise:
Every electronic appliance needs a cooling fan to help smooth-working of that appliance. The projectors also feature cooling fans, and some models have mufflers to reduce the noise while others are quite noisy and ultimately disturbing.
This projector is exceptionally bright; it throws out more protons and is more prone to heating up. That heating up requires excessive working by cooling fans, and that's where the irritation begins.
The fan ramps up and produces a noticeably high sound. Although it becomes noisy sometimes, it doesn't get too distracting like many other competitors. Even at its worst volume, it will never derail your ongoing presentation.
Value for the Money:
The price tag is high. Yes, you read it right. It's among one of the expensive projectors available in the market. Winning at your presentations and work quality at the expense of some extra bucks is not a big deal.
If impression, portability, convenience, and quality really matter for you, it's a great value for sure. On the other hand, if you're not an office person and just want to have some fun with friends and family, you may get projectors under 500 from Epson Family.
Our Takeaway:
We have just written a detailed Epson Pro EX9220 Review for you, and keeping in mind all details; it's easy to conclude that Epson Pro is undoubtedly a fair deal for the price. It does well in a brighter room, delivers crisp images and high-pitch audio, displays fuss-free texts and blur-free slides or sheets. It's conveniently portable and connects wirelessly.
Although it doesn't feature the colour richness required for movies, it indeed is an excellent value for the price. If you present to struggle for a win among the audience in different places, you cannot have any better projector than Epson Pro EX9220.