Projector Finder » Projectors by Use »
Technology has completely revolutionized our entertainment priorities, cinemas and theatres are substituted to a greater extent with televisions and home theatres. Indoor entertainment gadgets are the need of the moment, especially during this pandemic. Satisfy your craving for cinemas, without leaving your home comfortable with the best projectors for small rooms.
The best mode of relaxation after a hectic day could be watching your favorite movies, TV shows, and cartoons, or gaming either. What if, you could watch these on big screens without damaging your eyes, nor by burning a hole in your pocket. But how? A projector is the best option for home entertainment with versatile features and advantages.
Top 10 Best Projector for Small Room
Enjoy awesome home theatre dynamics with these best projectors ideal for small rooms with extraordinary features such as; customizable screen size, high-quality big images, lightweight and compact size, portability, and most importantly these projectors are available at quite decent prices as compared to cost per inch televisions.
For your convenience, we have compiled a list of the top ten best projectors for small rooms. Read more to find out the best one for you.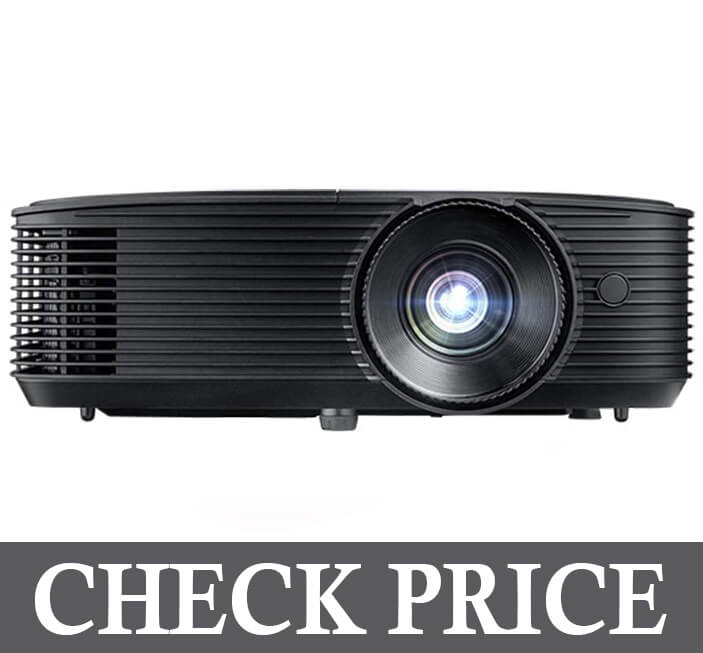 Features
Brand: Optoma
Model name: HD243X
Hardware interface: USB
Mounting Type: Universal ceiling mount
Luminous Flux: 3300 Lumen
Item weight: 6.75 pounds
Lamp life: 12,000 hour
Let us take you to the optima store, for the first stunning product in our list of best projectors for small rooms; here you go with Optoma HD243X projector, ideal for movies and gaming with long lamp life and easy setup adjustments.
Make your home theatre experience more valuable with Optoma HD243X 1080p Home Theatre Projector, with phenomenal picture quality and lively colours. A single 0.47" DMD DLP chip by Texas Instruments is installed in it which sets out high-resolution HD displays. In addition to this, it offers a 24,000:1 contrast ratio, while Reference display mode ensures accurate REC.709 colour support, making it a perfect companion for movie time. Wait, there's more, no need to turn off the lights, you can even watch your favourite movies while the lights are on.
Apart from watching videos, it is strongly recommended for gaming, providing a big screen of 300", just pair it with the latest gaming device or high-performance PC and experience fast gaming with 1080p input response at 16ms. Another amazing feature of the Optoma HD243X projector is that it can display true 3D content from any 3D source. Not only this, a pair of HDMI inputs and USB power enables your projector to connect easily to any HD video streaming device and gaming console.
How can we deteriorate the elegant, compact look and portability of our projector? Enjoy your movies in any room and take your lightweight cinema anywhere you like. Further, Install Optoma HD243X projector easily with vertical keystone jacks, 1.1×zoom, and an excellent throw ratio of 1.47-1.62: 1.Enjoy all these exceptional features in a single product at a quite decent price.
Pros
Customizable screen size.
Supreme quality, sharp HD images.
Lightweight, portable.
Effortless installation and easy connectivity.
Ideal for gaming.
Cons
Need to be connected to an audio system for better sound quality.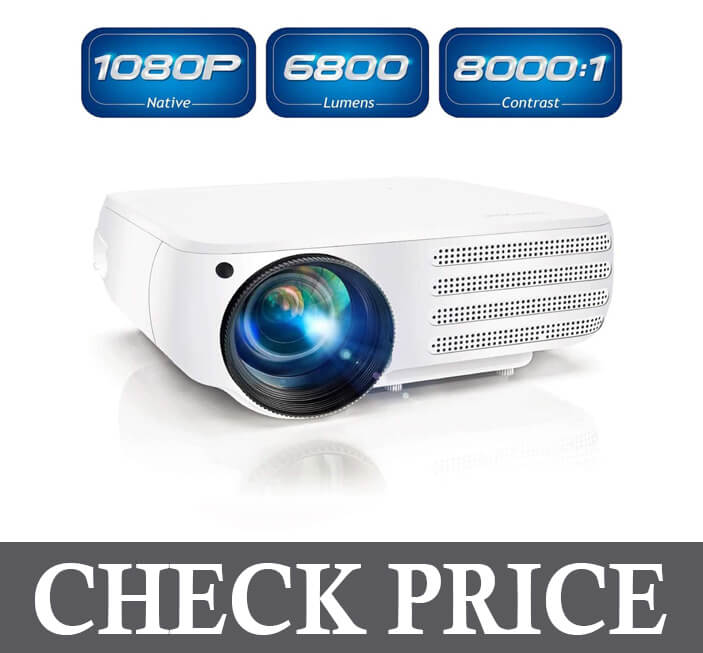 Features
Brand: Poner Saund
Hardware interface: VGA, AV Port, USB, HDMI
Led lamp life: 70,000 Hours
Luminous Flux: 6800 Lumens
Item weight: 8.89 pounds
Contrast ratio: 8000:1
In the world of home entertainment, here comes an amazing sensation, the Poner Saund projector, suitable for use indoors as well as outdoor projections. With the latest technology and exceptional features, it is a must in our list of the top ten best projectors for small rooms.
Bring the cinema home with Poner Saund Native1080p to amaze your friends and family or promote your official presentations with high-resolution videos, fine pixel quality, and incredibly vibrant colours on a huge screen of 300". The latest LCD technology and bright LED lights make it suitable to be used in both day and night time, dark and lowlights conditions. For a better cinematic experience use the mini projector in dark. Moreover, the 6-Layer glass lens promotes sharper images with brighter dynamics.
The next prominent feature of the Poner Saund LED projector is the extensive lifespan of lamplight which can last for about 15 years. Are you crazy about gaming? Then this mini projector is best for you, simply connect it with your smartphone or tablet and you're all set to go.
Hate the annoying sound of regular projectors? Try Poner Saund noiseless projector, customized with a triple sided cooling system to minimize the heat and sound corruptness. Further, the built-in dual speakers guarantee incredible sound quality without connecting to other audio devices.
Pros
Gives a brighter display.
Noiseless.
Extensive lamp life.
Built-in speakers.
Ideal for home and office use.
Cons
Might be expensive for some users.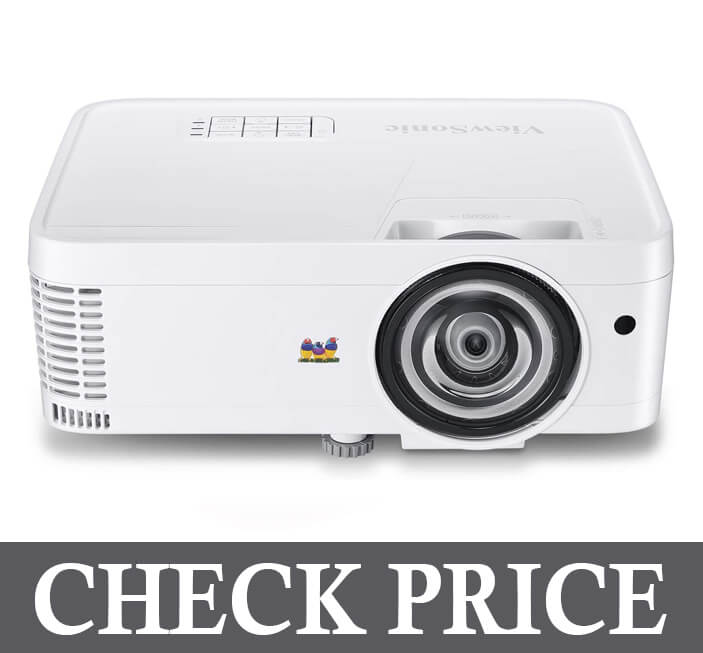 Features
Brand: View Sonic
Model name: PS501W
Hardware interface: VGA, USB, HDMI
Wattage: 260 Watts
Luminous Flux: 3400 Lumens
Weight: 5.73 pounds
Please your eyes with this sleek white, short-throw View Sonic projector, specially designed to assure you the best quality pictures with lively colours. The short-throw lens is ideal for the projection of huge images for small rooms.
The special features of the ViewSonic projector make it compatible to be used for entertainment, educational and business purposes. The most notable feature of this projector is its 3D display, simply connect it to an HDMI-enabled device and enjoy the 3D experience at home.
Enjoy large beautiful images with vivid colours in a small space with ViewSonic mini projector, with long lamp life and easier connectivity to other devices. Moreover, it is compatible with the collaborative whiteboard module, which enables multiple users to interact on a single screen online. The eco-friendly power saving projector claims 3-year limited parts and labour insurance and 1 year of lamp warranty.
Pros
Ensure bright and clear images.
Lightweight and portable.
Easy setup.
Compatible with interactive whiteboard module.
Enables 3D views.
Less power consumption.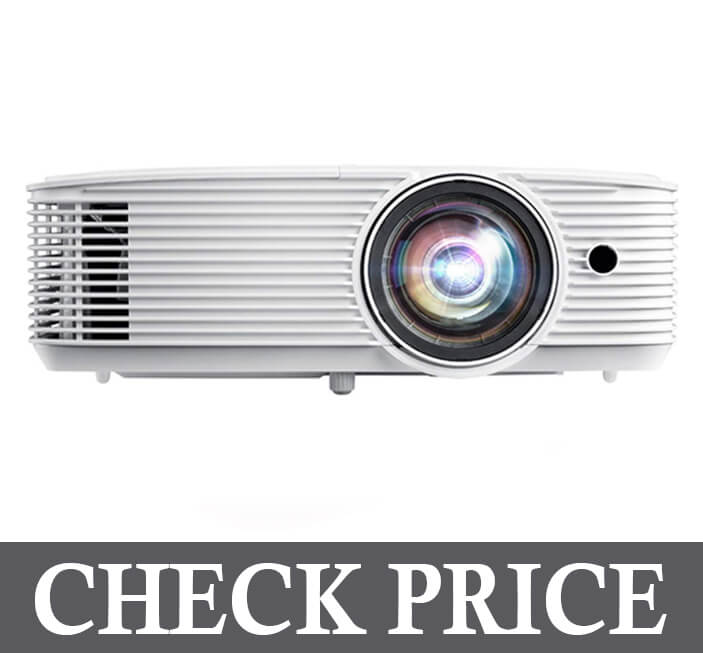 Features
Brand: Optoma
Hardware interface: Lightning
Mounting Type: Ceiling mount, Tabletop
Luminous Flux: 3,800
Wattage: 10 watts
Contrast ratio: 50,000: 1
Weight: 7.7 pounds
Lamp life: 15,000 hours
The leading brand in the projector industry Optoma is all set to amaze us with Optoma GT1080HDR: the ultimate choice of gamers with advanced HDR10 technology that beautifully magnifies colour depths. High resolution, bright images and fast 8.4ms response time take gaming to another level.
Enjoy easy installation and flexible connectivity with Optoma GT1080HDR projector. Convert your family movie time into a sensory event with this small projector, considering the short-throw projections it works best in small rooms. From living rooms to backyards, it fits best in any place, any time. In addition to this, it offers more versatile features like easy image setup, long lamp life, built-in speakers and you can enjoy 3D pictures also.
Pros
Outstanding picture quality.
Short throw projection.
Built-in speakers.
Ideal for gaming.
Affordable.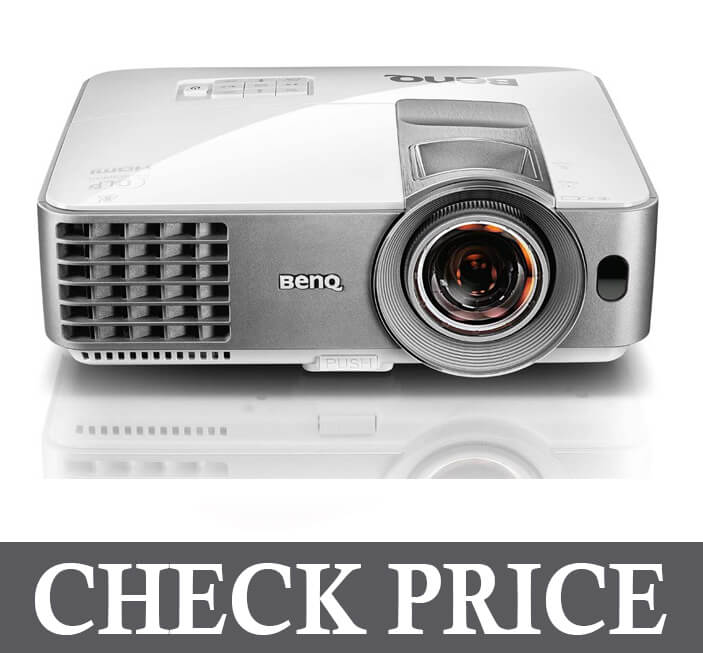 Features
Brand: BenQ
Weight: 5.7 pounds
Hardware interface: HDMI
Display Resolution: 1280×800
Minimum throw distance: 1.3 Feet
Lamp life: 10,000 hours
The BenQ brand has introduced a quality projector, with crystal clear image quality and innumerable advanced features the BenQ MW632ST is a perfect projector for small rooms. Run smooth live streaming videos, online meetings, or watch your favourite TV shows with this elegant wireless projector, which works more efficiently in small rooms. This top-notch, best seller is highly recommended due to its superlative features.
This marvellous quality projector assures high resolution, bright images in any light conditions for the best experience. Further, it offers an extended lamp life which would last for about 10 years. In addition to this, it affords standard connectivity to other devices for the best results.
Pros
Bright crisp images.
Easy to set.
With Smart Eco mode and anti-Dust senor.
Value for money product.
Cons
Not provided with a projector mount.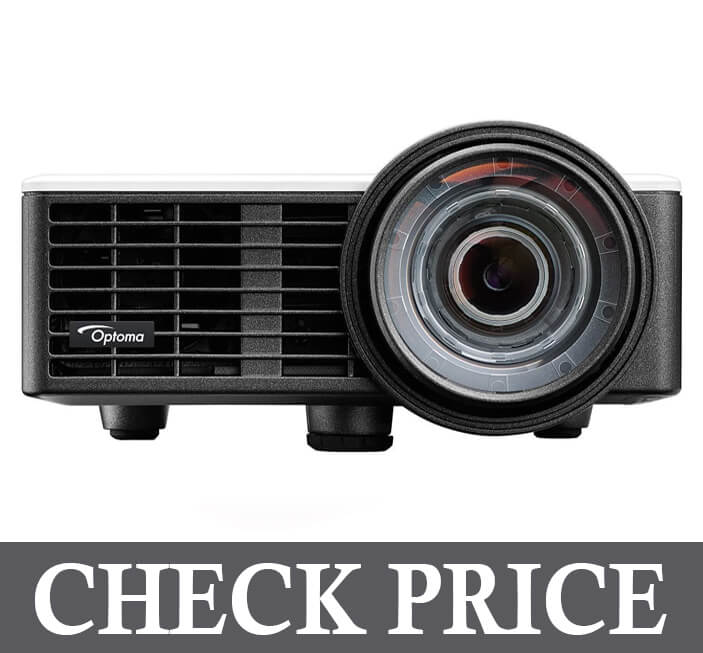 Features
Brand: Optoma
Model Name: Gametime
Hardware Interface: MicroSD, VGA, TransFlash
Wattage: 77 watts
Luminous Flux: 700 Lumen
Weight: 1 pound
Award-winning projector manufacturer brand Optoma is consistently reappearing in the list of top ten best projectors for small rooms. Admire the tremendous features in a compact size, in Optoma GT750ST LED projector.
Leave an everlasting impact with your presentations through Optoma GT750ST short throw projector, which certifies magnificent readability and brighter clear images with accurate colours. Project a 50 diagonal inch image from only 32 inches away with the short throw lens. Further, it provides fast digital video performance with fast response times.
Easy connectivity with MHL and HDMI to other devices, is another captivating feature that permits you to mirror your device screen to the projector for unlimited fun. Besides this, you can transform your tiny gaming screens to a huge 100+ inch display with this tiny projector, highly recommended for gamers.
Pros
Excellent gaming graphics.
Permits mirror screening.
Compact.
Ideal for gaming.
No need for replacing the LED lamp.
Affordable.
Cons
A little bit of fan noise might disturb some users.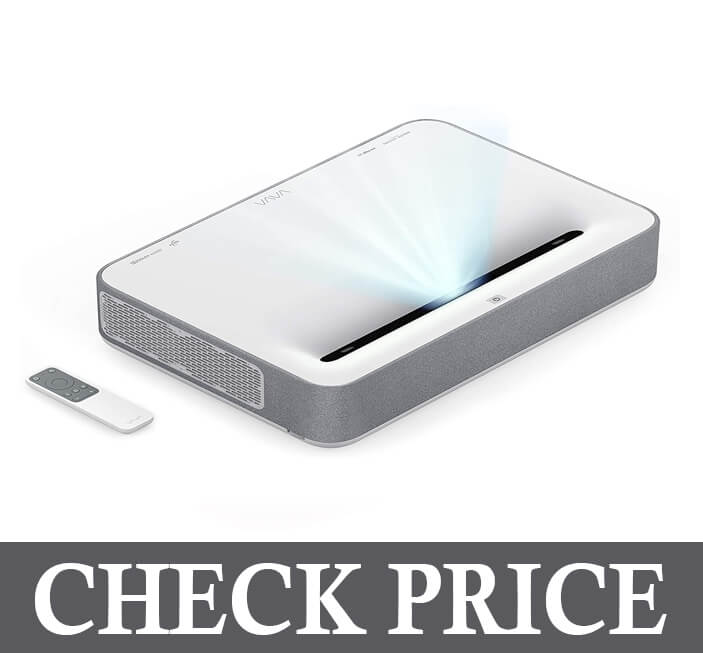 Features
Brand: VAVA
Model name: VAVA 4K
Hardware Interface: HDMI
Mounting type: Tabletop
Wattage: 30 Watts
Luminous Flux: 6000 lumens
Weight: 23.8 pounds
Connectivity technology: Bluetooth,Wi-Fi,USB,Optical,Triple HDMI
Innovate your lifestyle with the advanced technology VAVA 4K Laser projector, specially designed to create a perfect home theater experience in a small space.
Enjoy your favorite shows with brighter images, even in ambient lighting and a massive display of 150" without those tackling wires. Furthermore, the 3000:1 contrast ratio and 4K resolution empower accurate colours and sharper images. You can now access unlimited fun! With easy installation and the ultra-long lifespan of the laser engine. Multimedia ports provide easier connectivity to other devices.
Apart from Visual quality, VAVA 4K Laser projectors offer incredible sound with Integrated Harman Kardon Soundbar for a supreme experience.
Pros
Gorgeous bright images.
Portable.
Wireless.
Ultra-short throw.
Diffused light for eye protection.
Cons
Require additional hardware like a fire stick for streaming.
Heavy.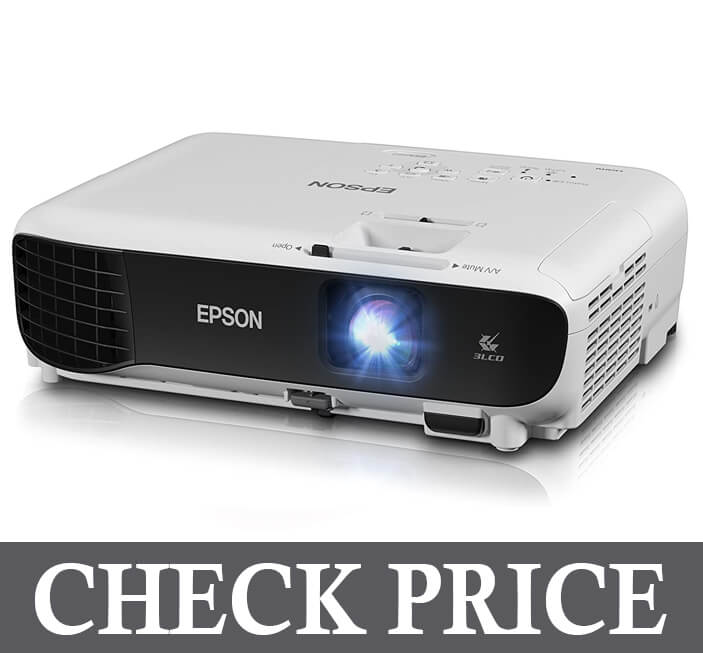 Features
Brand: Epson
Resolution: 800× 600
Weight: 5.5 pounds
Luminous Flux: 3,300
Hardware interface: HDMI
Upgrade your movie nights with an authentic home theater experience with Epson EX3260 portable projector, featuring 3,300 lumens for brighter images. With easy image adjustments, colour brightness, white brightness, and absolute connectivity. Cherish unlimited entertainment at an affordable price.
The sleek and stylish Epson EX3260 projector could be a perfect companion to your business presentations, movie night, or gaming consoles as it works best in small spaces. It is provided with a USB cable and also supports HDMI, which enables it to connect instantly to your devices with just a single cable.
Additionally, the Epson EX3260 LCD projector comes with a soft carrying case, which adds more value to its portability plus the instant power-off feature is truly a time saver.
Pros
Classy look.
Incredible picture quality.
Fast and easy installation.
Carrying case included.
Wi-Fi enabled.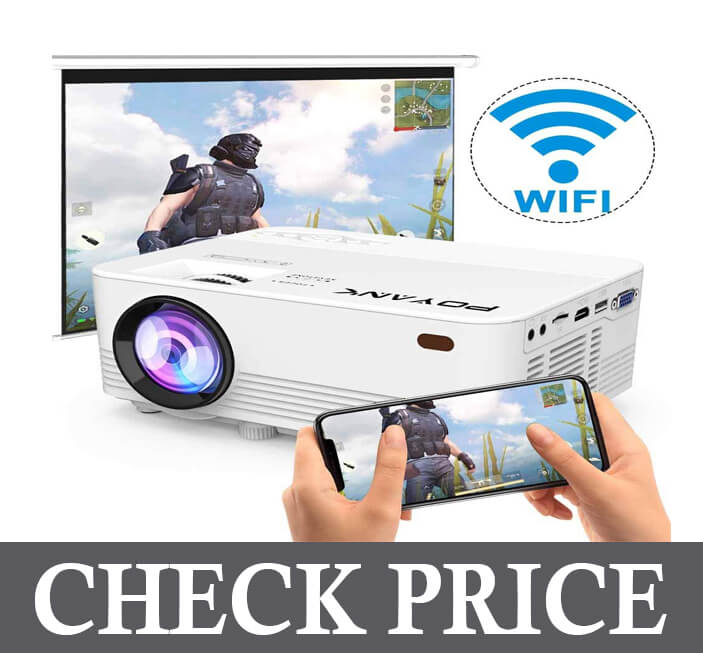 Features
Brand: POYANK
Hardware Interface: VGA, HDMI
Mounting type: Ceiling Mount
Controller Type: Remote Control, Touchpad Control
Display Resolution: Full HD 1080P Supported
Weight: 3.25 pounds
Luminous Flux: 5500
Bring the innovation home with a POYANK upgrade Wi-Fi projector, with extraordinary versatile features and easy connectivity through Wi-Fi. Simply connect your smartphones, laptops, and tablets by Wi-Fi, without combating cables.
The POYANK wireless LED projector is featured with 4500Lux brightness and upgraded native resolution, to convert your movie time into a sensory voyage. For the best picture quality and vivid colours use the projector in dark.
Enjoy unlimited gaming, videos, music, and photos on a massive screen with POYANK short-throw projectors, which works more efficiently in small rooms. Furthermore, it offers less noise dissipation, portability, two built-in stereo speakers, and easy operation, and an IOS device wired connection.
Pros
Stylish.
Wi-Fi enabled.
Easy operation.
Outstanding picture quality.
Instant connectivity.
Cons
Works best with additional hardware like firestick.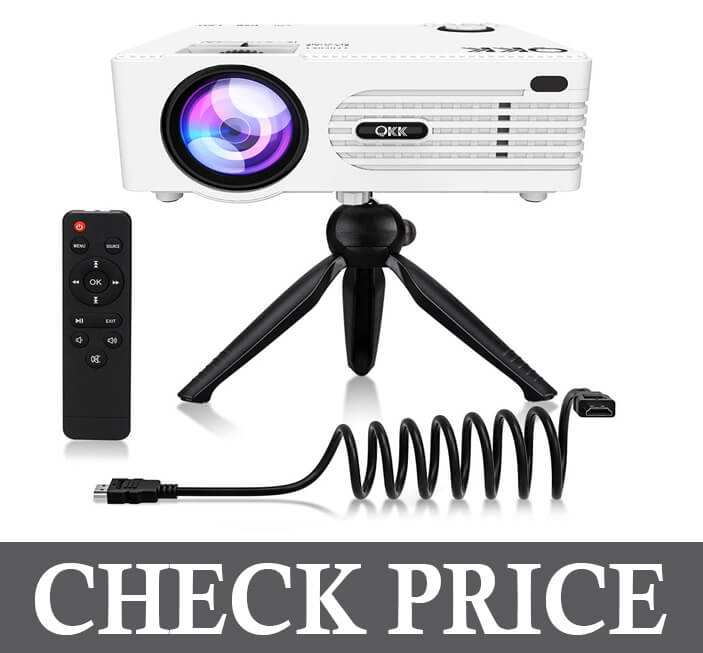 Features
Brand: QKK
Hardware interface: VGA, USB, HDMI
Mounting Type: Tripod mount, Ceiling mount
Wattage: 50.00
Controller type: IR
Weight: 3.09 pounds
Another elegant addition to our list of best projectors for small rooms is QKK LED projector with the best innovative improvements. Relish unlimited screen time without-class picture quality and a larger display of 100", without damaging your eyes with this mini projector.
Besides high-resolution images it is featured with built-in speakers which allow shocking surround sound effects, you can connect other audio input to enhance the audio quality. Moreover, the adapted German cooling system lowers the fan's noise. Easy connectivity to smartphones and other devices, is another appealing feature of the QKK mini projector, with tripod stand. Additionally, it confirms 50,000 hours of LED lamp life.
Pros
Compact and weightless.
Massive display.
Best for small spaces.
Works effectively even in ambient lights.
Less fan noise.
Portable tripod.
Cons
Not recommended for big rooms or large spaces.
A fuss-free buying guide to own the best projector for small room
You probably have gone through all the books and crannies of the sensational Amazon featured best projectors for small rooms, but here comes the confusion! Amongst all that crazy portable digital stuff, what short through projector could best fit your small home, office, dorms, or theatre rooms? Or which mini video projector could efficiently serve your indoor and outdoor needs? Well, no need for further brainstorming as this classic buying guide will assist you thoroughly in making the right pick for your ever wanted best mini projector.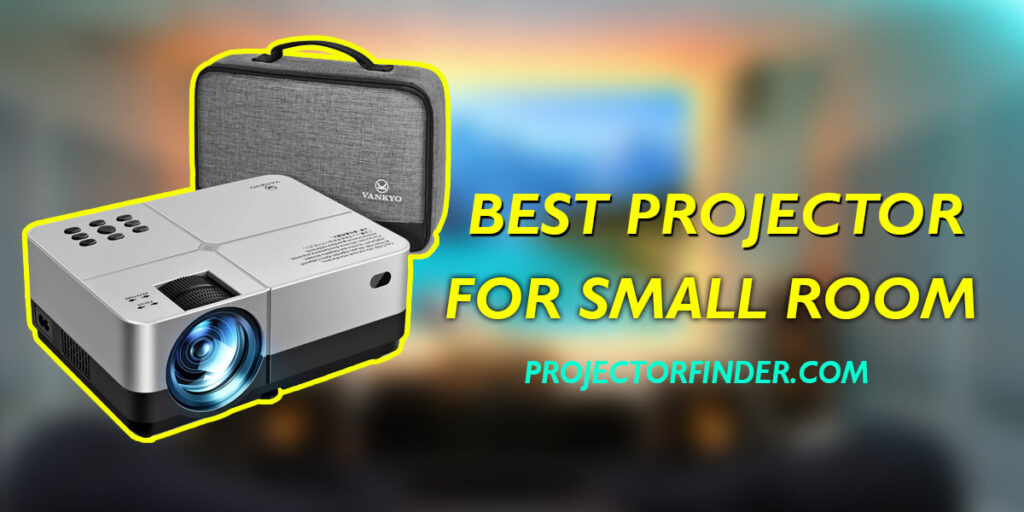 High Picture Resolution:
When it comes to screen display you always hear the term picture resolution goes along. Here's what you need to know! The number of pixels that fit on the display screen at each shot, together with their flow determines the quality of a picture you're going to watch. Remember this picture resolution can even make or break your movie, gaming, and other visual experiences.
Do you know that the projector's picture resolutions are fixed? You have probably noted in the descriptions above as XGA, SVGA, WXGA, HD, and 4K. Projectors that feature Picture resolutions such as WXGA, HD, and 4K are better if you want a higher picture resolution and a great cinematic experience.
First look at the multimedia devices such as laptops, pc, games consoles, etc., inquire about their picture resolution type and find a compatible option from the range of the mini projector. This is one of the factors that can assure you of great picture quality. Further, consider the purpose which you want these projectors to welcome you such as for business presentations what could go better than a JEEMAK mini video projector (1080p native resolution) or a VAVA 4K UHD laser is highly recommended to make your weekend movie nights special.
Portability:
Do you make your video projector your best travel companion? Then a compact and portable video projector is the ultimate solution to your preference. Our best projectors for small rooms gather this exciting feature but you've to be careful in making the right choice that could rightly serve you your desired purpose.
Well, you need to consider the prerequisites when owning such equipment. A good portable projector is one that is lightweight, easy to handle with no fuss or more plug-ins needed, carries good high luxurious and contrast features to get adjusted in unpredictable light conditions, and comes in a sturdy case to support protection with these delicate digital electronic video projectors.
Stop moving with the wrong perception more expensive and the more specs involved won't let you have a good outdoor visualizing experience. Rather you'll be amazed to know that even cheaper video projectors options like one we got Optoma GT short-gaming projector which is small enough to get well fitted on your hand palm and further BenQ MW632ST and QKK mini projector could be an ideal pick for a situation like yours.
Noise cancellation:
Imagine if annoying fan sounds start coming out of your projector! What then? That worthy piece of equipment you just bought, could certainly turn into a disastrous one.
Now, what causes this noise is the cooling fans these video projectors are equipped with. The more the projector works the higher be the temperature inside, thus the more often these fan blades rotate creating noise more or less.
More disruptive sounds mean a poor ventilation system is installed in your video projector. What you need to consider before buying is to watch for the best specs for a perfect cooling unit. Your checklist to ensure a noise cancellation projector must consist of a set of fans, a sort of opening in the case to function as exhaust, and the optimum fan power to blow in the cool air and to reduce the temperature inside by blowing out the hot air.
Honestly, soft whirring sounds are obvious while using but the sound intensity will increase depending on how you use it and how frequently. If you are a frequent user what our buying guide suggests is to opt for one from our virtuoso range of best projectors for small rooms like we have The Poner Saund projector, POYANK LED projector and QKK update projector for outdoors which will let you enjoy longer-form viewing with its best cooling unit.
Warranty and Repair claims:
Many of you often forget a prime consideration before spending your money on purchasing your ever-wanted digital projector. Yes, these are warranty claims often ignored. But mind it! This is a worthy service everyone must ask or acquire to save on their money over the initial life of your projectors that usually lasts up to 3 years.
We are lucky enough that these Amazon marketed best mini projectors whether LED, Laser, and hybrid ones, welcome any warranty claims for single or multiple years once you start using them.
Different manufacturers offer different warranty facilities for these mini projectors. Amazon's highly advanced and top-of-the-rate best projectors, especially for small rooms from Optoma HD projector to QKK mini projector all, are either facilitated with warranty and repair claims or you have a choice to request for it as well. These claims may vary in length, replacement options, and extended warranties from product to product.
What's further recommended apart from looking for a warranty offered is to inquire upon the cost of maintenance on each projector's components, otherwise, the cost might outweigh the benefits acquired from the equipment in the long run.
Brightness and contrast features:
Brightness and contrast features cannot alone be blamed for the picture quality, whereas it's evenly dependent on the environmental set you opted for them. Before choosing your customized product from our range of best mini projectors for small rooms you must mark the number of lumens and the contrast ratio offered.
Now how these brightness and contrast features can serve you? Well, it depends where you're using it. If you're going to own a projector for a well-lit room or for outdoors a projector with an average lumen and contrast ratio is pretty fine to go with such as the Ben-Q MW projector but when it comes to a non-luminous and dark small room your best choice will be the one with greater proportions such as Poner Sound Projector and Epson EX lumen brightness projector are the best pick for you.
Frequently Asked Questions
Readout yourself and give an end to your worries!
Can you use a projector in a small room?
Thanks to smart technology and Amazon's introduction to the best projectors for small rooms, you can for sure use a projector in a small room. These advanced short throw projectors well fit your small room space and let you have a great visualizing experience.
Ideally, these are placed between 5 to 10 feet away from your screen depending on what picture size you want whereas some of the features of the mini projector a zoom-in option as well to let you ease with these self-made projectors placing adjustments.
Can you put a projector on the floor?
What's best recommended is to mount your projector onto a ceiling but of course, you can place it on the floor as well but it should be ideally 9 to 10 inches away from the screen. However, it may present a smaller screen display at this length probably about 60". If so then increase the distance to 12-14 feet away from the screen.
Here comes a problem when your room is small.
As far as you are using a smart projector with a larger offset a small screen won't be an issue otherwise go for mounting and use a tripod stand instead for small and compact spaced rooms.
Which projector should I buy for home use?
Well, the answer is quite simple! You should opt for such a projector featuring all those specs which your TV ideally cannot serve you. What you ideally desire from a top-notch projector is a good picture resolution with a crispier image, greater lumens along with perfect contrast ratios, good sound quality, and multimedia media plugins to enjoy a great cinematic movie, gaming, fun, or more informational content display experience.
Amongst Amazons best projectors for small rooms includes OPTOMA HD (Native 1080p), PONER SAUND, VIEWSONIC PS501W, BENQ MW632ST, VAVA 4K UHD LASER, EPSON EX 3260, POYANK 5500L, and QQK UPGRADED PROJECTOR, all of them are ideal pick fits for home usage, from gaming, movie to office presentations. These short throw projectors feature smartness along compactness to let everyone fall in love with this worthy equipment.
Conclusion
To bring up a classic experience for movies, or games, any of these small projectors can play the best role. The enlisted products are all quality checked and persuasive in every manner. Hopefully, with this guide, your ideas have formed a definition, and you've found your perfect projector for small rooms.
Before hunting for your choice, let us know which small projector has impressed you the most? And, if you already have any of them, share your amiable experience with us!