Projector Finder » Projectors by Use »
If you are on this page, you must be looking for an excellent long throw projector that serves you with all the necessary features in premium quality but a not-so-premium price. When you enter a market to buy a new projector, there are so many questions that pop into your mind at that moment; moreover, an incredible variety of projector types and a lot of them having different features and purposes makes your mind jumbled up. Hence, knowing what you actually want and doing adequate research before the purchase is essential.
Despite the invention of substantial wide-screen TVs, projectors are still in demand for even better wide-screen resolution at a lesser price than TVs. Back then, projectors were classified based on their weight class; however, they have come a long way and now can be categorized in any meaningful way, such as the place where they will be used (business or educational presentations, gaming, or home theatre), its light source (LED, laser, lamp or hybrid), or the imaging technology it is incorporated with (LCD, LCOS, or DLP), etc.
To make things less hassle for you, we have reviewed the eight best long throw projectors in detail so that you know which one will be the ideal to pick. However, if you are in a hurry and cannot manage to read the entire article, we have done ample research and figured out the top pick for you, i.e., the Epson VS250 SVGA Projector. It is packed with all the great specs that one expects to see in a long throw projector.
List of the Best Long Throw Projector
For a better understanding, here we have compared all of the eight best long throw projectors along with their outstanding vital features and how much they would weigh on your pocket.
| Projectors | Features | Price |
| --- | --- | --- |
| AuKing Mini Projector | Portable, excellent sound quality | Check Price |
| QKK Upgrade Projector | Upgraded native resolution to 720p | Check Price |
| ViewSonic WXGA Projector | Reduced input latency, Blu-ray 3D images | Check Price |
| WiMiUS P28 Projector | 100,000 hours lamp life, supports 4K videos | Check Price |
| Epson VS250 Projector | SVGA resolution (800 x 600), high accuracy | Check Price |
| BenQ MW612 Projector | Crystal clear images, al glass lens | Check Price |
| Optoma X600 Projector | Creston room view support, XGA resolution | Check Price |
| Sony VPL-HW45ES Projector | Comes with 3D glasses, low maintenance | Check Price |
This was all for the short and quick reviews, to know the specs of these products in depth, keep reading.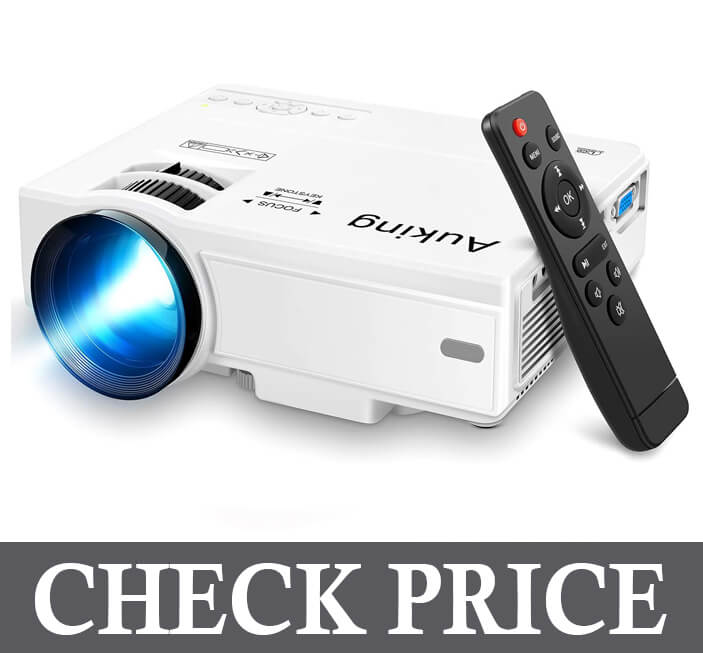 Due to the ongoing global pandemic of COVID-19, public safety, and health authorities have closed cinemas and movie theaters worldwide, but thanks to the more reasonable technology, you can enjoy a cinema experience in your home. That's right; the AuKing Mini Home Theater Movie Projector has got you covered for a proper movie theater experience without having to leave home.
As the name suggests, the AuKing Mini projector's compressed size makes it easy to carry everywhere. Whether it's a home theater living room experience or a trip with friends, its portable design is something you could rely on. It comes with a distinctive 55000 hours long-lasting life, which could be used up to 15 years. The built-in speakers give excellence in sound quality, and they could also be connected to external speakers to satisfy the intensity of the volume. With the innovative cooling fan, the durability of the model upsurges, which also results in noise level reductions.
The mini projector has the right throw ratio of 32-170 inches, covering about 5m projection distance. The projection tech used is LCD, and with a well-appointed contrast ratio of 2001:1, not only does it support 1080p but provides a brighter image as compared to other projectors available in the market. Screen sharing is now easy with multiple portable connections for Laptops, Smartphones, Tablets, and Gaming consoles. The mini projector covers almost every Video, Audio, and Picture format with a luminous flux of 2600 and 50 wattages.
The thing that attracts the buyers is the customer satisfaction of the company. AuKing offers a 2-year warranty on this product and gives its customers priority with a 100% satisfaction guarantee. With complete product quality and a firm commitment to customer satisfaction, AuKing provides complete solutions to your home theater demands.
Pros
Extra-long life lamp.
Big screen experience.
Cons
Not recommended for MS word/business documents.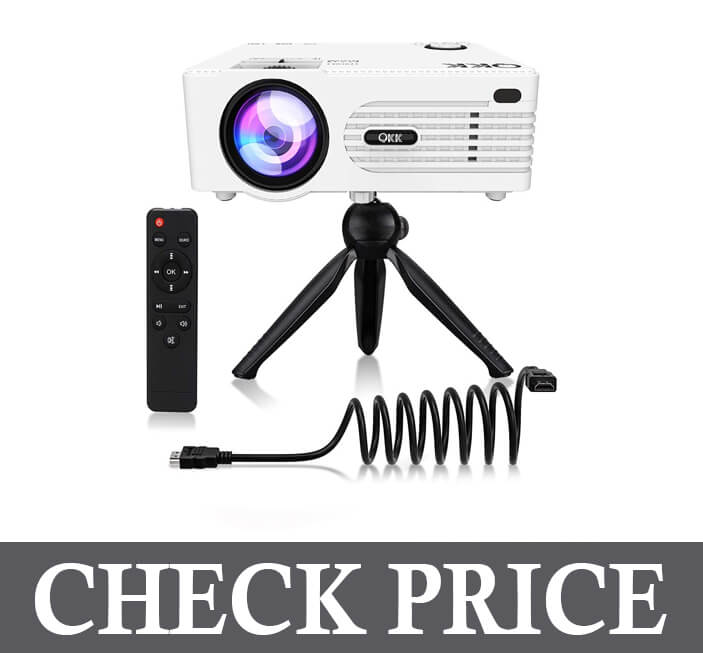 What sounds more exciting than having an outdoor barbeque party with friends or family followed by a movie night? But, you won't shift your indoor LCD TV to the backyard for that, would you? That is why we have reviewed an amazing piece of invention, i.e., the QKK Upgrade Projector exclusively for outdoor movies; however, it can be used indoors as well. The QKK products never fail to fulfil their promises in terms of quality and hence are loved by the majority of the consumers.
The QKK Upgrade Projector currently supports the highest resolution in the entire market, i.e., 1920*1080 resolution. Commonly, the mini projectors are around 480p only, but, notably, the QKK projector has upgraded its native resolution from 480p to 720p. Hence, its upgraded native resolution results in a 20 percent brighter output than any other mini projectors out there. Talking about the LED lamp life of the QKK Upgrade Projector, it has an incredible 50,000 hours long lamp. Also, there is a 5W built-in speaker for enhanced surrounding sound effects; however, if it is insufficient for you, audio input can be used to connect with to connect your home theatre speakers to it conveniently.
Moreover, the QKK video projector has 5 layered LCD. To keep the eyes comfortable even after watching it for several hours, the LED light source is diffused for eye protection. This projector's contrast ratio is 2000:1 that is responsible for sharp video display even if it is played in black or grey.
The screen dimensions are 32-176 inches that can be projected at a distance between 1.5 to 5M. However, the ideal distance suggested is 3.5M with 120 inches display. The projector is compatible with various devices such as TV Stick, ROKU Stick, TV Box, Laptop, Tablet, Chromebook, DVD Player, etc.
Related: The Best Projector for Outdoor Movies
Pros
German WTS 2.0 cooling system.
Sharp, colourful display.
Can connect to smartphones easily.
A tripod stand comes along.
Cons
Not the right choice to run PPT presentations.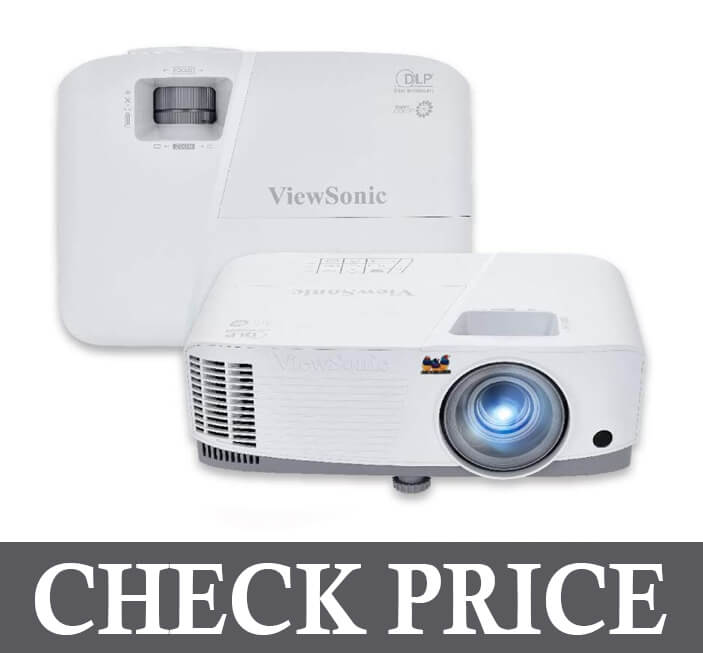 Long-throw projectors are required in business companies and educational institutes as well to run high definition presentations for a better understanding. For this purpose, we have reviewed ViewSonic WXGA Projector, highly suitable for small business and education environments. This projector is ideal for running PPT presentations, Word documents, and videos as well.
The 3600 lumens brightness delivers bright and high contrast output with increased visibility even from a distance. The lamp life of the ViewSonic WXGA Projector is 15,000 hours, which is maintained by the SuperEco mode within the projector that lowers the brightness and enhances battery life by 70 percent. However, the lamp life is expected to vary depending on the usage and some other factors. Moreover, its proprietary technology, i.e., SuperColor, has magnificent control capabilities for dynamic lamps and also incorporates a 6-segment color wheel that delivers stunning images on the screen.
ViewSonic's video projector delivers a big screen projection of 120 inches from a distance of about 1.7M that too in 3600 lumens. Moreover, the wattage at which the projector's lampwork efficiently is 200W. Talking about the aspect ratio, it is 16:10, which results in big yet great quality images. The projector works amazingly with a throw ratio of 1.55~1.70.
Some additional features that the ViewSonic WXGA Projector is packed with include its vertical keystone correction, eliminating the risk of distorted pictures and always showing accurately proportioned images (+/- 40°). A 3D Blu-ray Ready HDMI input is available in the projector to connect HDMI devices and enjoy 3D images powered by a 3D Blu-ray player. Another great thing about this product that attracts potential buyers is its company leading 3-year warranty for labor coverage and limited parts of the device, whereas; a 1-year warranty is for the lamp coverage.
Pros
Flexible connectivity.
Easy setup.
2W built-in speakers.
Smoother images due to reduced input latency.
Cons
Comparatively lesser lamp life.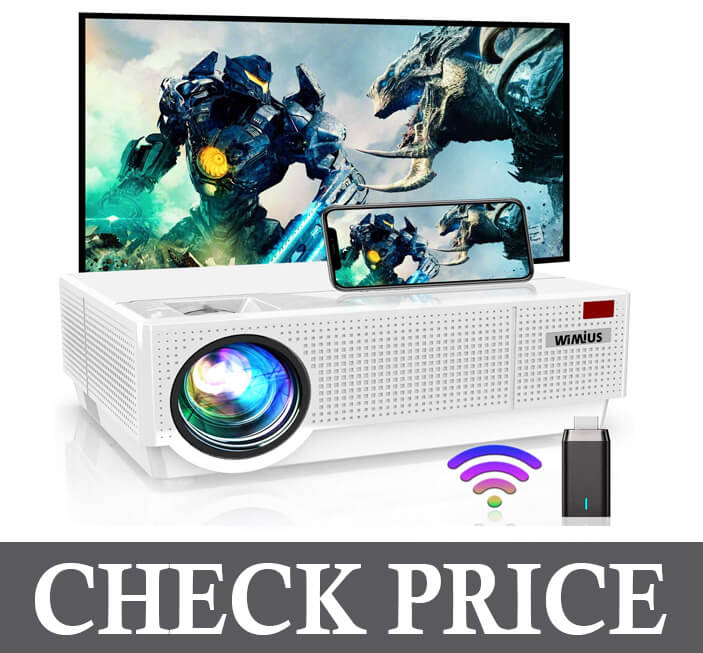 WiMiUS is in the field of projectors for about ten years now and devotedly produce of its kind projectors for consumers. The WiMiUS P28 was released after immense hard work for several months. P28 is a brilliant projector with numerous impressive features that you must be looking for. So, without any further ado, let's see what this projector has for you. To start with, the WiMiUS P28 is a full high-definition projector that supports 4K videos. Yes, you heard it right; it supports 4K videos even if you connect the projector to your mobile phone or computer.
This projector also has a native resolution of 1920*1080 and plays videos with 1080p without a single lag – Moreover, the brightness of the output is improved by a significant 20 percent. One of the features that stands this product out from any other projector is its one-key image brightening feature. This little function helps to improve the brightness of WiMiUS P28 by 500 lumens.
Its incredible 10000:1 contrast ratio is something that cannot be left unappreciated since it brings a vast colour gamut and displays more vivid images. By now, you must be concerned about this product's lamp life, well, it is something that will amaze you as well. The average lamp life of P28 is unbelievable 100,000 hours that accounts for a minimum of 10 years.
The additional features that the WiMiUS P28 Projector is packed with include an enhanced cooling system to keep the device going for hours without getting heated up, +/-50° smart 4D keystone correction for perfectly proportioned images. Also, you won't be disrupted by its fan noise while watching movies since it is 50dB. However, it is suggested to sit at least 1 meter away from the projector to ignore the fan noise completely.
Pros
Dual hi-fi speakers 10W.
Wi-Fi mirroring.
Rich colour range.
Cons
Not suitable for teaching purpose.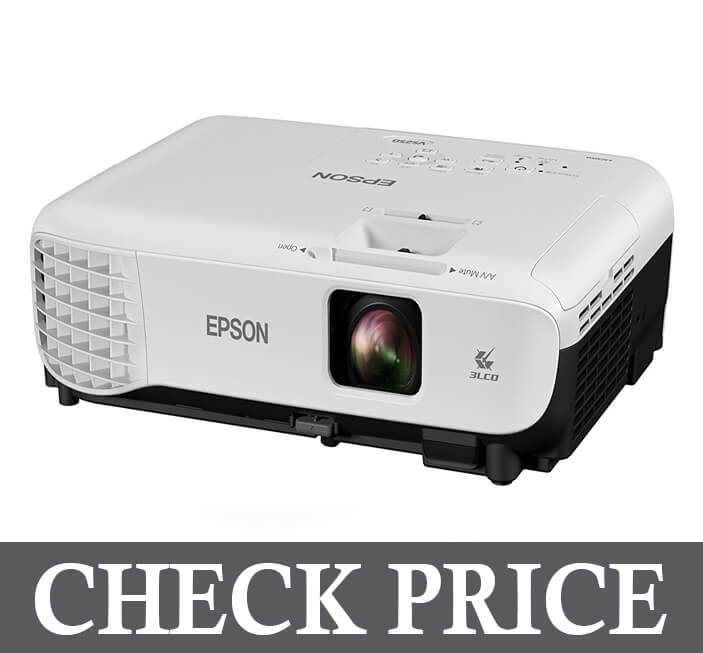 Here we have our top-picked projector that features the remarkable specs required in a projector. The Epson VS250 SVGA Projector has a lasting reputation and a marvellous impression among the consumers. Now you can enjoy bright, colourful, and vibrant images with the Epson VS250 that also has a long list of features to please its beloved customers. Imagine the contrast ratio of 15000:1 and 3200 lumens of brightness. Sounds exemplary, no? Well, this video projector from Epson has the ability to deliver output at this aforementioned contrast and brightness. Hence, it is praised for the high quality, vivid and sharp images it displays.
The huge display SVGA resolution of the projector, i.e., 800 x 600, makes the text and images super clear on the screen even from a considerable distance. The Epson VS250 projector's fantastic features make it an ideal product to run everyday projection. VS250 is recommended as the best choice for a business environment. The distance projected for this video projector is 0.88 to 10.44M.
This model was released in September 2007 and is still manufactured by the company because of the high-end specs it holds and the quality of output it delivers. This business projector can connect easily with all the latest gadgets as well, including PC, MacBook, other latest laptops and media players. Moreover, it has an iProjection application that connects wirelessly with iPhone, iPod Touch, iPad, or AndroidTM mobile phones.
Epson VS250 SBGA Projector efficiently runs at 296 wattages while on normal mode whereas, when it is switched to the ECO mode, the total power consumption reduces to 211 wattages only. In the case of the fan noise, it is 37dB during normal mode and falls to 28dB while in ECO mode. With all these impressive features within a single projector, we call it a real deal that shall not be ignored.
Pros
Supports HDMI.
Enhanced accuracy.
Fast and easy setup.
Cons
Cannot be mounted on a tripod.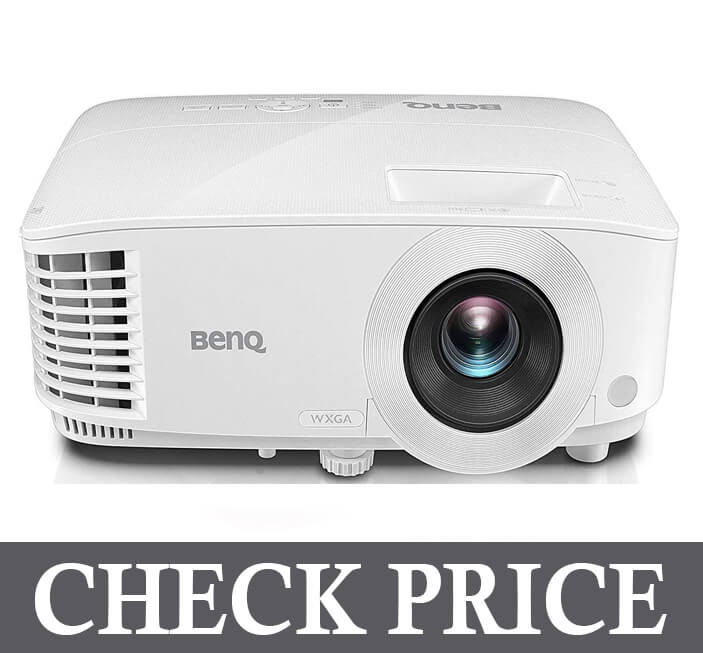 Another exquisite piece of invention that encompasses top-notch specifications making the projector ideal for business and educational purposes. BenQ MW16 has an intuitive design, exquisite texture, and an extremely lightweight device, weighing about 5.5 pounds. Moreover, its ceiling mount capability helps with better connectivity since you won't have to carry it all the way to the meeting room, connect the wires, struggle with the perfect positioning and start it all over. Once it is mounted on the ceiling, all you need to do is turn it on with its remote and start playing your presentation via a connected device.
The BenQ MW612 projector promises high image quality because of the WXGA resolution, i.e., 1280 x 800, and incredible contrast ratio, i.e., 20000:1. These specs also contribute to reduced eye strain while watching the screen for a longer time. The big screen shows projections of about 120 inches from 4M distance that too at 4000 ANSI lumens. The light source wattage for this device is only 240.
Since the projector will be mounted on the ceiling, it also offers wireless connectivity for faster control. A few optional wireless dongles are present in the projector, including QCast and QCast Mirror HDMI Wireless Dongle. Talking about the lens of this BenQ business projector, it is made out of the finest glass material since the company only works with high-quality glass lenses for the long-term quality of the images with maximum clarity. With the BenQ projector, you will experience crystal clear images on the screen with even pure figures without fuzziness.
Either you want to view graphical presentations of colourful infographics, the vivid colours, emphasized clarity, and sharp contrast will all aid simultaneously. With all these features bound together within a single projector, the BenQ MW612 is undoubtedly a great device to get your hands on.
Pros
Compatible connectivity with HDMI.
3-year labor coverage and limited parts warranty.
1-year or 2000 hours' warranty for lamp life.
Instant-on.
Cons
Not suitable for home theatre.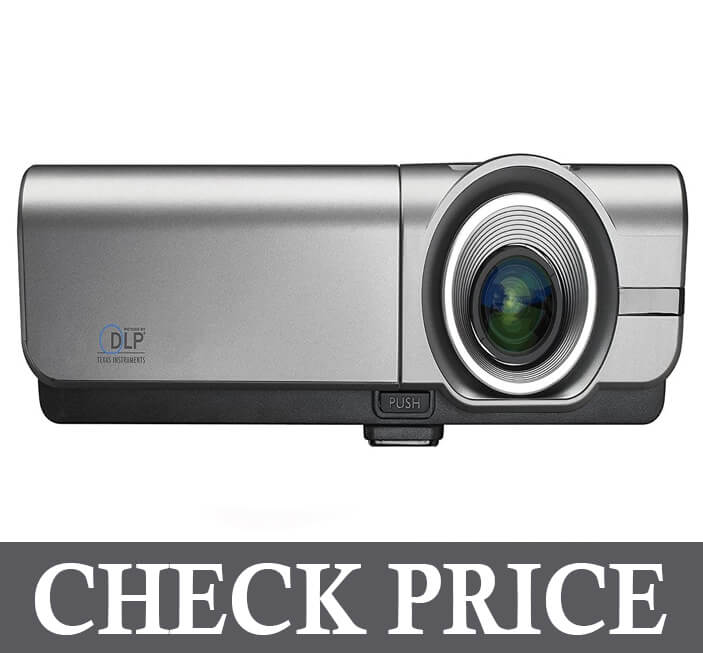 The Optoma X600 is another great business projector that we have reviewed for you. What else could be better than a razor-sharp and crystal clear image quality for educational lectures and business presentations? Optoma X600 is the answer! You will get a great deal that too at a reasonable price for your academic or business purpose. The projector displays extremely high definition images with a contrast ratio of 10000:1 and 6000 lumens of brightness, and together these both specs result in vibrant, sharp, and clear images, text, and graphics.
Moreover, it also has XGA resolutions, i.e., 1024 x 768, that contribute to the sharp and clear graphics, texts, and videos as well.
The brightness level provided by this projector is ample enough for the rooms having ambient lights, for example, classrooms, conference halls, lecture halls, and meeting rooms. The image is projected at 120 inches from a projection distance of about 4.78M. also, the HDTV colour gamut is wide, and the quality is supreme.
Shedding some light on the lamp life of the Optoma X600 projector, it is expected to live about 3500 hours efficiently. This business projector also has vertical keystone correction +/-15° allowing the projector to stay off-centre instead of lifting it to project the output on the screen. This feature makes the image projection super easy and fast.
This super business projector also allows the users to display full 3-dimensional images from any 3D source they like, such as 3D broadcasting, 3D Blu-ray players, or the latest gaming consoles. The projector also supports a 144 Hz rapid-refresh rate that is responsible for the highly smooth images that too without any flickering. However, 3D glasses are required and don't come along with the projector.
Related: Best Daylight Projector Reviews in 2022
Pros
10W built-in speaker.
Support for Creston room view.
Easy setup.
Great connectivity options.
Cons
Efficient for business and educational purpose only.
Comparatively heavier i.e., 8.50 pounds.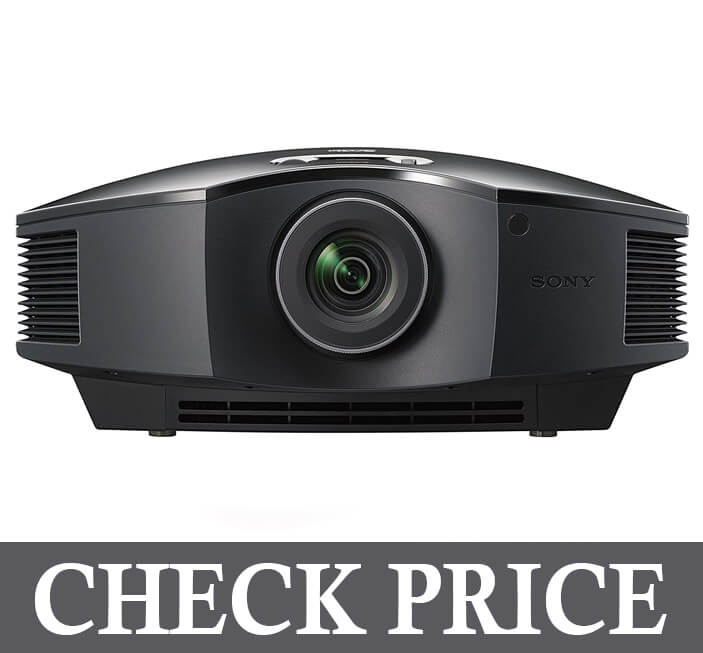 Immerse yourself with the surreal Sony Home Theater Projector VPL-HW45ES with its high definition resolution and textures. Feel the remarkable cinematic experience with brighter highlights and motion flow technology placing you at the heart of your favourite movie or videogame. With a zoom ratio of 1.6 and a wide-angle shift range, the Sony Home Theater Projector provides flexibility for installation regardless of the space.
The Home Theater comes with compatible RF 3D glasses that synchronizes with the built-in transmitter. Feel every scene with the dynamic technology of the lamp syncing with the 3D glasses to get the real cinema effect on your movies. The projector makes full use of its advanced SXRD panel to deliver crisp images with a rated brightness of 1800 lumens and a power of 215 watts. Say goodbye to the more significant running costs as the projector comes with 6000 hours rated operating life expectancy with low maintenance.
For a better flow of air, the fan is placed at the very front of the projector hence overlook the wall clearance. Another remarkable feature of the home theater is the noiseless fan, which emits about only 22dB. The ability to connect the TV or Gaming console with just one cable makes the system less intimidating for the user as it is equipped with an HDMI cable.
Sony is a recognized name in the field of electronics. With its sharp colour uniformity and out-of-the-box picture quality, Sony VPL-HW45ES is an excellent choice for home theater entertainment and comes with a box containing a lens cap, AC power cord, remote control, and all the relevant instructions. Stay ahead with the newest features and firmware updates via the USB port and enjoy the exceptional home entertainment with Sony.
Pros
Powerful picture calibrations.
Superfast response rate.
Cons
The screen has to be bought separately.
Buying Guide for The Best Long Throw Projectors
Now that the eight best long throw projectors' reviews are done, it's time for the buying guide. Our buying guide will enlighten you about the foremost things to look for in a projector before purchasing it. Furthermore, this guide will also enlighten you about the most important factors you need to consider while looking for a projector.
Also Read: The Best Projector for Bright Rooms for This Year
Making a hefty investment is something that is not done every day; it is a one-time investment that should be done after adequate research so that you don't regret your decision later. So, let's move forward to the buying guide we have compiled here for you:
The ideal resolution for a projector
There are various types of resolutions for different kinds of projectors for example,
SVGA (800×600 pixels, 4:3 aspect ratio) – lower resolution, suitable for simple videos and charts, more affordable.
XGA (1024×768 pixels, 4:3 aspect ratio) – most commonly used, used in personal computers mostly, pairing of computers to XGA projectors are recommended
WXGA (1280×800 pixels, 16:10 aspect ratio)–wider version of XGA providing 20 per cent extra resolution with the same vertical resolution
WUXGA (1920×1200 pixels, 16:10 aspect ratio) – used for large environments, provides a brighter display in HD
720p (1280×720 pixels, 16:9 aspect ratio) – mostly used on an economic scale i.e., cinemas
1080p (1920×1080 pixels, 16:9 aspect ratio) – ideal for home theatre setups
The brightness of a projector
Also referred to as light intensity and measured in ANSI lumens, a projector's brightness depends upon the environment where it will be used. In simpler words, the brightness of ambient light in a room and that of a projector in that room go hand in hand. If the ambient light in a room is pretty bright, the projector must also be at the same brightness.
Noise level of a projector
Projectors do make noise, which can sometimes be disrupting and sometimes completely ignorable as it depends on the environment where the projector is working. Usually, the larger the projector in size, the lesser the noise its fan makes. A projector's noise within a home theatre or a small room should not be louder than 30dB. Unfortunately, small, portable projectors make noise between 32 and 38dB. In contrast, the projectors in cinemas have quieter fans, i.e., under 30dB.
Frequently Asked Questions
What is a long throw projector?
The distance that the image is thrown is termed as the projector's throw distance. A long-throw projector usually gives a pretty large image, often mounted on the centre of the ceiling of a big room
What is the difference between short and long-throw projectors?
As per the name, short-throw projectors refer to a comparatively small image with a distance of 3 to 8 feet away from the screen to the projector; meanwhile, long-throw projectors refers to large images with projectors mostly in the center of the room.
How far can a projector throw?
It varies from your model of the projector, but typically projectors can cover a throw distance ranging from 1.5-3.0.
Where do you place a projector?
Projectors are most preferably installed on a ceiling or wall. The standard point is that it should be higher than the screen by (0.21 x Screen Height) with the centre of the lens 8 inches above the screen's top edge.
What is the throw distance for a projector?
The distance from the tip of the lens to the available screen is throw distance of a projector. The width of the image relative to the throw distance is described as the Throw Ratio.
Also Read: 6 Best Projectors for Gaming
Conclusion
Hence it is foremost that complete research is done before buying a projector. As discussed above in detail, with all the specs and a short review of our top picks, you must be quite aware of the things to look for while buying the best long throw projector by now. Since all of the aforementioned projectors are brilliant in performance, look for their specs, check our comparison chart, find your answers in the FAQs, go through the buying guide and get your hands on the one that meets all of your requirements.