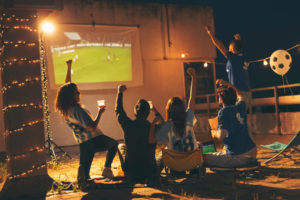 Create a Perfect Watching Experience.
Easily Find a Projector & Accessories.
Buying projectors may seem quite difficult because we all want to get the best of what we are buying.
Projectorfinder's guides will provide you the relevant information for purchasing a projector.
---
How to Choose a Projector – The Complete Guide
---
Indoor Projectors Reviews and Buying Guides
If you are looking to buy an indoor projector, this is the right place for you.
Read Projectorfinder's latest guides and find your perfect indoor projector.
For home theater, office, church, and more.
Best projectors for outdoors
Watching a movie in daylight is possible! In camping, backyard, balcony, and more.
Read our latest guides and find your perfect outdoor projector.
How to Make a Projector Work in Daylight?
Read our most popular reviews on outdoor projectors:

Find a Projector by Projector Uses
Want to watch a Football / NBA?
If you're an artist, a teacher, or anything else, there are lots of uses for projectors.
Read our latest guides and find your perfect projector.
Best Budget Projectors
Looking to get a higher value for your money?
We reviewed some affordable projectors.
See all reviews or Read our most popular ones:

Projection Screens Reviews
Have you already find your projector? Let's find the right projection screen for it.
How to Calculate Projector Screen Size
Read our most popular reviews:

Projectors Brands – Reviews and Comparisons
There are a lot of brands that sell projectors. Epson, Optoma, BenQ, and much more.
Which brand or model you should buy?
We live in a world where technology is continuously changing and improving. The same is the case with projectors. Every day a new projector is released in the market and makes it difficult for us to choose from. However, we are able to cut down to two most capable and extraordinary projectors: Epson 1060 vs … Read more

0 comments

Nowadays, the demand of projectors is at its peak. The most ideal route is to utilize a stepping stool and spot the projector on it to perceive what the image will resemble. An ideal projector gives you quality display without stuttering and so is BenQ HT3550. It's a superb projector that gives you all qualities … Read more

0 comments