Projector Finder » Blog »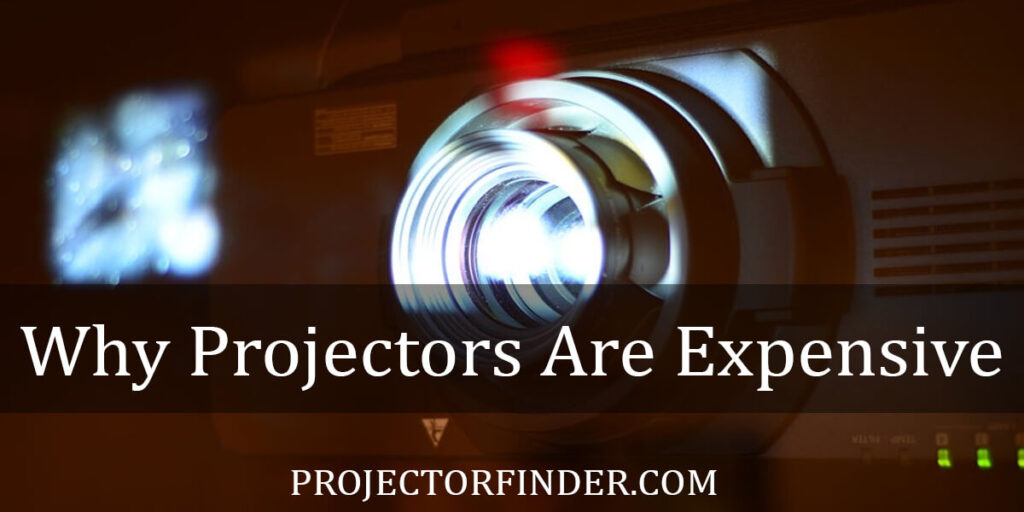 Before starting the article, it is important to know what is a projector and what it is used for.
A projector is an optical device that is used to display or project the image onto the big screen. If you want to experience a true cinema-like experience at your home then a projector is a great option to go for.
A projector is a useful piece of equipment that every classroom, office meeting room, a conference should have. It displays a wider view and easy viewing pictures and videos that can be seen by students or employees even at the back.
Besides, it comes with a lot of other useful features that make it worth buying.
Including cathode ray tube (CRT), digital light processing (DLP), liquid crystal display there are three types of the projector. Each type has its specification and use.
Why Projectors Are Expensive – Ultimate Guide
In this article, we will cover the following points so you will better understand the worth of projectors.
What are projectors used for?
Are projectors better than TV screens?
What are the advantages of a projector?
Frequently asked questions
What are the uses of a projector?
The use of projectors largely depends on what type of projector you are using. It can be used for many purposes. They are commonly used by teachers in the classroom, in conferences, business meetings, or business presentations, etc.
There are certain types of projectors that are used for a specific purpose. For instance, a home theatre projector is used for displaying movies to give you a theatre-like feel at home and for projecting HD screen.
Professional theatre projectors are used for wider, bigger, and clearer picture or video streaming results. They deliver better thermal performance than other projectors.
You can also use projectors for sporting events with friends and family as they deliver the best quality picture and video quality results.
Why a projector is better than a TV?
Besides, projectors deliver better brightness and portray the images or videos with the perfect resolution than most TVs.
When it comes to eyesight, projectors give more comfort to your eye than a TV screen. A projector gives you less pressure on your eye as it portrays a larger picture than a TV.
As compared to television, projectors are lightweight. They weigh between 2 to 20 lbs. On the other hand, if you buy a large size TV it will weigh around 30 lbs, which is more difficult to move and set.
A great quality projector delivers a way better contrast and image quality than an expensive TV screen.
If we talk about the cost, a good quality projector costs around $1000. On the other hand, if you buy a 50 inches best quality TV screen then it will cost $1500 or above.
Another reason why a projector is better than a TV is that you can place a projector on anything or surface. Even if go to the seaside you can place your projector on a van to enjoy movies with the sea view.
One of the greatest benefits of a projector is that it can use for presentation and to convey a message for a large gathering. On the other hand, you cannot use a TV screen for presentation purposes or in an office meeting.
Benefits of having a projector
A projector offers great value for your money. Nowadays projectors are getting common including in offices and homes. There are many advantages of a projector. Some of them are explained below:
A projector offers an improved quality picture and video with perfect resolution. One of the best parts about a projector is that it shows a full 180 degree wider view with great quality.
If you are having a projector for your home use then it is a good idea. Watching movies on a projector gives you a feeling of theatre. It makes watching TV shows or movies more exciting and entertaining.
One of the advantages of having a projector is that it is user-friendly. The installation of a projector is simple and quick. It does not take effort and much time.
A projector offers three times brighter colors than an ordinary TV screen.
It can be set up and on any surface area and is compatible with almost every smart device.
Projectors are usually lightweight and can be moved easily from one place to another. If you want to set your screen for an outdoor view, you can easily move it.
Frequently Asked Questions:
Are projectors better than TV?
The answer to this question mainly depends on your needs. If you love to watch movies, series, or any sports event on a big screen with great resolution then projectors are the best. Also, they provide better picture quality.
For more differences between projectors and TVs, you can have a look at our ultimate guide.
Does a projector consume more electricity than a television?
Yes, a projector consumes more power than a television. But, some projectors use less or equal electricity than a TV.
How long do projectors stay? Are they reliable?
Yes, projectors are worth buying. You can use projectors from 4 to 8 hours on a single go. The life span of a projector is usually 2,000 to 5,000 hours.
Does a projector affect your eyesight more than a TV?
As a projector display a larger picture with enough brightness, it affects your eye sights less than a TV. Projectors are better for your eyes than a TV screen.
Wrapping up the article!
I hope this article answered your question and cleared your thoughts about why projectors are expensive. First of all, projectors can be used for several purposes and deliver you the best quality result.
One of the main reasons why projectors are expensive than other digital display screens is that, unlike television, projectors use DLP, liquid crystal display, and SXRD/LCoS to display the screen.