Projector Finder » Projectors by Brand »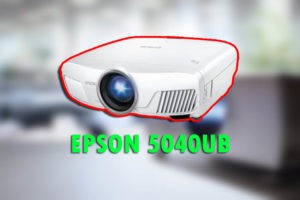 Interested in buying Epson 5040UB 3LCD Home Theater 4K Projector? But you don't have enough reasons to make the best purchase; Don't worry, you're at the right place.
The Epson Home Cinema 5040UB is currently the best performer at this price range on the market.
Don't forget to check: Comparison of Epson 2040 Vs 2045
In this article, I am going to review Epson Home Cinema 5040UB which will include its all features with pros and cons to help you for making your purchase, the best one.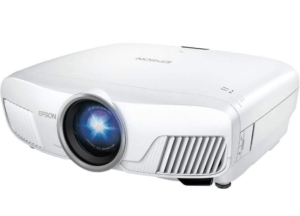 The first thing about Epson 5040UB is that it provides color-rich performance with immersive images. This projector delivers a ground-breaking combination of color, resolution, and contrast for the ultimate entertainment experience. Every detail comes with 4K Enhancement Technology, which accepts 4K UHD content and upsurges non-4K content.
An advanced, 3-Chip, 3LCD design means no color cycle, rainbow effect, or white division. With L*a*b* Ultra-wide color gamut and HDR10, movies look extraordinary.
Epson 5040UB comes with 100% balanced color brightness including 2500 lumens equal color/white brightness. It provides the highest quality UltraBlack contrast ratio up to 1,000,000:1.
Home Cinema 5040UB Equipped with horizontal and vertical lens shift.
The features haven't ended yet, it also provides:
3-Axis Precision Motorized E-Series Lens — state-of-the-art glass elements optimized for 4K content; with powered focus, 2.1x zoom, up to ± 96% vertical and up to ± 47% horizontal lens shift, and 10 preset positions.
Delta Color Accuracy — Low Delta E, for extremely best color reproduction.
Smooth Images — with Image Enhancement and Frame Interpolation.
Full HDR Compatible — Relish HDR content, with an extremely wide range of brightness levels.
Expansive Color Gamut — Get brilliant, color-rich performance that displays the entire sRGB color palette, plus DCI in Digital Cinema Mode.
Epson Home Cinema 5040UB Review Table:
| Specifications | Epson 5040UB |
| --- | --- |
| Color Brightness | 2500 Lumens |
| White Brightness | 2500 Lumens |
| Contrast Ratio | 1,000,000:1 |
| Resolution | Full HD 1080p with 4K Enhancement |
| Projection Technology | 3LCD (3 Chip) |
| 4K Enhancement Technology | Yes |
| High Dynamic Range (HDR) | Yes |
| Wireless Included | -- |
| Lens Shift | Horizontal and Vertical (Powered) |
| 'No Rainbow Effect' Technology | Yes |
What's In The Box For Home Cinema 5040UB:
Home Cinema 5040UB Projector
Power cord
Two HDMI cable clamps
Remote control with AA batteries
CD ROM with user guide link
Quick Setup Guide
Pros
4K Enhancement Technology.
High Ultra Black Contrast.
Balanced Color Brightness.
Lab Ultra Wide Color Gamut.
3LCD – 3 Chip Technology.
Cons
Doesn't come with 3D Glasses, have to buy separately.

Epson Home Theater 5040UB Picture Settings:
Not enough information above? See more below;
| Features: | Epson 5040UB |
| --- | --- |
| Projection Method | Front / Rear / Ceiling mount |
| Driving Method | Poly-silicon TFT Active Matrix, 0.74″-wide panel |
| Aspect Ratio | Native 16:9 widescreen (4:3 resize) compatible with Normal, Full or Zoom Modes. |
| Resize | 16:10, 4:3 |
| Lamp Type | 250 W UHE |
| Lamp Life | Up to 5,000 hours (ECO Mode); up to 4,000 hours (Medium Mode); up to 3,500 hours (High Mode) |
| Keystone Correction | Vertical: ±30 degrees (Manual) |
| Contrast Ratio | Up to 1,000,000:1 |
| Color Processing | Full 10-bit (partial 12-bit) |
| Color Reproduction | Full-color (up to 1.07 billion colors) |
| Projected Output | HD, 2D, 3D, 1080p, 4K x 2K |
Home Cinema 5040UB Video Review on 115 Screen:
Conclusion:
I have reviewed Epson 5040UB Projector and I've done my best to provide you with 100% accurate & updated information about Epson Home Cinema 5040UB. Now I wish you all the best with your setup. I would suggest you buy this projector and you'll never regret it. Please feel free to share this article with your loved ones if you really enjoyed it.