Projector Finder » Projectors by Brand »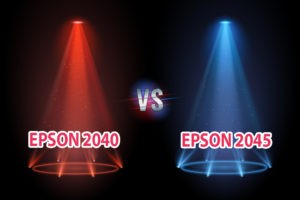 When you're looking to buy a projector, you may never miss a chance to look for Epson Projectors. Seiko Epson Corporation, which is formerly known as Epson, is a Japanese company serving the market since 1942. They are the world's largest manufacturers of computer printers, projectors, and information and imaging-related equipment.
Also read: How To Choose a Projector? Ultimate Guide
The Epson 2045 and Epson 2040 projectors have almost everything the same and the only main difference is the price for the purchase of the projectors.
Epson Home Cinema 2040 and 2045 offers lots of major features and performance upgrades as compared to the older 2000 projector series.
In this article, I am going to make a comparison in Epson 2040 vs 2045. Read each and everything to know the best features in both of these Epson Projectors and choose which could be the more beneficial to you.
The key is to pick the right projector for your needs. I'll be weighing the features, pros, and cons of Epson 2040 and 2045.
Don't forget to read: Coolest Projectors Under 100 Dollars
If you are a complete newbie to all this and even don't know how to choose a projector? This article will guide you to each and everything that you will feel like a Pro.
Epson 2040 vs 2045 – Detailed Review:
| Specifications: | EPSON 2040 | EPSON 2045 |
| --- | --- | --- |
| 3-Chip, 3LCD Technology | ✓ | ✓ |
| Contrast | 35,000:1 | 35,000:1 |
| Wireless | - | ✓ |
| Color Brightness | 2200 | 2200 |
| White Brightness | 2200 | 2200 |
| Native Resolution | Full HD 1080p | Full HD 1080p |
| HDMI | 2 Ports | 2 Ports |
| Vertical Keystone | Auto | Auto |
| Speakers | 5W | 5W |
| MHL | ✓ | ✓ |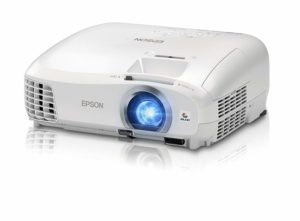 Home Cinema 2040 projector having a large screen, delivers HD 1080p entertainment. This portable projector delivers up to 35,000: dynamic contrast ratio and advanced image processing.
It offers 2200 lumens of white brightness and 2200 lumens of color brightness. You can enjoy games, movies, and more with two HDMI ports and MHL.
You can easily connect your gaming console, Blu-ray Disc player, or streaming device, and project it up to 300″ virtually anywhere. It also provides a built-in speaker and easy setup tools that means you can enjoy 1080P HD content out of the box.
Epson 2040 has the same performance as it was in Epson 2030. However, there are many new updates available in Epson 2040. There are many features in the recent developments that were only available on Epson high-end units including frame interpolation and detail enhancement.
You should be surprised that what could be the updates. It includes on/off contrast due to an iris that looks more responsive.
Home Cinema 2040 includes four image modes. The first one is the dynamic mode, which comes automatically at the start of the projector. It looks a little bit greenish but still great if you need a maximum light output.
The Dynamic mode's overall image balance isn't reduced even if it has high brightness. However, the color accuracy is standard as compared to the dynamic calibrations of most projectors.
It also provides the 3LCD technology, which allows you to watch movies without any rainbow effect and supports MHL-enabled devices including Roku Streaming Stick, Chromecast, and more.
If you set this projector to full lamp power, you will get around 1520 lumens and the best color accuracy without any calibration.
The most important key feature of the image in the Home Cinema 2040 is the balance. Each image modes of the projector provide the same color balance. This feature makes this projector a good choice for TV viewing and movie.
Pros
Bright, Full HD 1080p Widescreen Performance.
Innovative 3LCD technology.
Built-In Speaker and Easy Setup.
2 HDMI Ports.
2 Years Limited Warranty.
2: Epson 2045 Full HD 1080p (Home Theater Projector with Wireless Streaming)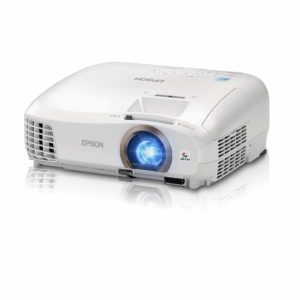 When it comes to Epson 2045, it produces an excellent image for a best budget projector. The most important factor of any home projector is the actual performance of its modes. The cinema mode is closest to its color temperature.
While the Natural Mode is closest to its color points. Meanwhile, both provide relevant light output and gamma.
The Home Cinema 2045 wireless projector is for your home entertainment hub, delivering Full HD 1080P Results from an array of devices.
In terms of colors, you can improve the accuracy and brightness of all the color points by changing the saturation/hue controls quickly. It can also be noted that after performing colour settings the skin tones start appearing less accurate with a little more red color.
It provides the same 2200 lumens color brightness and 2200 lumens white brightness as it was in Epson 2040. You can wirelessly stream content via Miracast and Intel WiDi.
It has almost all the features that Epson 2040 contains but the main feature of this projector is the availability of wireless feature that wasn't available in 2040. There is also a slight difference in prices between both of these projectors.
The availability of wireless features makes Epson 2045 a good choice for movies, games, and more.
Pros
Wireless Feature.
Provides Built-In Speakers.
Full HD 1080P Resolution.
3LCD Technology.
What do I recommend? Epson 2040 vs 2045?
I recommend you to go to Epson 2045 with no worries. You will get the most of your investment. I am suggesting this because it has the latest wireless technology that can be so beneficial for you. A little price difference can make your purchase satisfied.
Now, everyone has his own taste. So, I will not force anyone to stick to Epson 2045.
Both are good. You can go for what your mind says because you should need a complete mind satisfaction before spending your money.
Conclusion:
Hence, now you should be able to decide which one you want to go to. I have completed the review for Epson 2040 vs 2045. I clearly mentioned that there are not so many differences; the only main difference is in price. You can see that Epson 2040 lacks Wireless technology while Epson 2045 has this feature. That's it. If you liked my article, please don't forget to share it with your family and friends. Thank you for reading!