Projector Finder » Blog »
Yes, we agree to a lot extent that laptop companies and brands have improved a lot in previous years, especially in their displays and resolution. However, these companies cannot make a screen that is large enough for a whole conference room to watch and see things on it. If they ever did, they would have to reconsider before calling that piece of equipment with a large screen a laptop.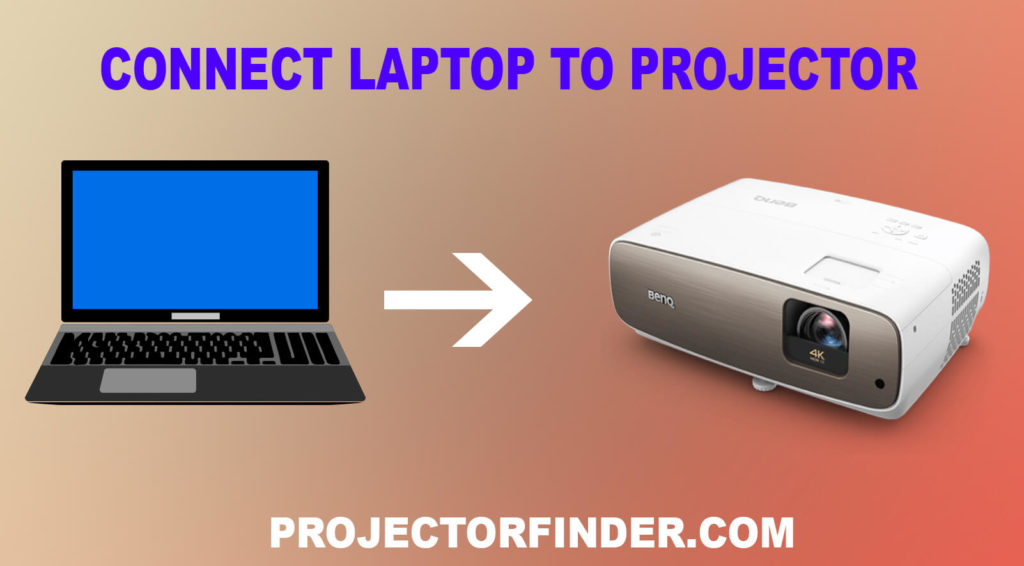 To solve this problem, thinking minds have brought a solution to us. They put forward that a laptop can be connected with a projector which will allow a group of people to watch things on a large screen quite easily without straining their eyes.
Let us talk a little about Projectors:
Modern projectors are just like TVs which provide you with a lot of different ways to watch content. In addition to this, these new era projectors have several ports that allow you to receive and display images and do other useful stuff and these multiple connections are great if you want a projector that is more versatile in nature. But, these types of projectors are trickier to figure out and can be a headache if you have no idea related to printers.
However, a good thing about all the projectors is that they have an HDMI port. You can say that having an HDMI port can be considered a universal law in terms of projectors. These HDMI ports are lifesavers! If you are even worried, then just relax; we will walk you through the procedure of how to connect a laptop to a projector. But let us first study our projector!
The first step: Identifying available connections
This is the foremost step if you are thinking of connecting your desktop with a TV or a projector out there. If you are not aware of the ports, you might mess up things. On the contrary, if you find the right ports and connect rightly, you might be the hero in your meetings! So let us dive deep into different ports of projectors.
HDMI Connection:
This HDMI connection is the most common connection and we are sure that you might have come across this connection and cable before. This HDMI port, connection, and cable are a common feature of projectors and TVs and most PCs and laptops support HDMI cables and connection. If we try to be more precise about this connection, HDMI has become the standard of electronic equipment out there because it carries signals of video and audio in high quality.
VGA Connection:
This name may not sound similar, but VGA connections are mostly used in laptops and computers and they can even be found on a myriad of projectors. The shape of this cable at the connecting point is different from other cables. It has a 15 pin connector on each end of the device.
DVI Connections:
DVI connection was introduced after VGA connection and the reason for this was that these DVI cables provide a sharper image. DVI port is mostly available in new era projectors but may not be available in TVs. Moreover, you will find this port in your PCs to connect your monitors.
Just for knowledge: There are some special cables available that convert DVI to VGA or DVI to HDMI and vice versa.
Composite video and S-video:
These, composite video and S-video, were quite common previously but it is difficult to find them in modern electronics. You might remember them by a bundle of cables colored Yellow, White, and Red. As these are not a common thing nowadays, so you do not have to worry about these connections and ports.
USB Connections:
We, without any doubt, can say that you will surely have knowledge about USB ports and these ports can be seen in a large number of electronics including projectors.
So, you might be wondering that you have now known about numerous connections, but how to use them, right? Well, all of these connections can be used to allow you to display things through a projector and even connect a laptop with a projector (USB port and Composite and S-video connections are an exception). Now, we can discuss the procedure of connecting a laptop to a projector.
How to Connect a Laptop to a Projector?
Procedure to follow:
Follow the given instructions for connecting your laptop to a projector:
Place and set up the projector in such a way that the projection glass is facing the screen where you want to project your presentation or video.
Then plug in the power cord of the projector in the socket and place the laptop next to the projector.
Now, if you are using an HDMI cable, then plug one end of that cable in the respective port of the projector and if you are using other types of cables as mentioned above, then insert the cables in the right ports of the projectors.
Now, simply plug the other end of the cable into your laptops at the desired ports.
Turn on your laptop and later turn on the projector by pushing the power button of the projector.
If it is a lamp projector, then you might have to wait for some minute because the lamp will warm up a bit before projecting and displaying.
To sync your laptop and projector, hold down Fn key (Function key) and press F4, F5, F7, F8, keys to toggle.
This is how you connect a laptop to a projector. However, if the image is not being displayed yet, then go to the following instruction given below.
These instructions are for Windows 7 and 8.
Press and hold the windows button in the keyboard and then press "P" and you will see a bunch of display options.
Keep on holding the windows button and press "p" again to highlight the display options.
Go to the "Duplicate" option and highlight it and the image that appears on your laptop is presented by the projector.
The "Extend" option in that area allows you to use the projector as a second monitor.
When you have selected your desired option, release the windows button.
These following instructions are for Windows 10:
For Windows 10, right-click anywhere on the desktop background and select graphic properties.
GO to the "Display".
Then click on "Resolution" and move the slider resolution according to your choice and lastly, click on "Save Profile".
The following instructions are for Mac Users:
Mac users can be happy because the Mac laptop automatically detects the projector on start-up and sends out the laptop image. However, if this isn't the scenario, then do as the instructions guide you.
Select "Apple" and open the Apple Menu.
Then select "System Preferences".
Then go into the "Hardware" row and click on "Displays".
Now, just click on "Detect Displays"
These guided instructions will surely save your day and you will be able to display images in your laptop through a projector.
In addition to all that, there might be another case as well which does not allow projecting you your project through a projector. Again don't stress out; we are always here to help you out.
Have a look at the projector and select the SOURCE button and use arrow keys to select COMPUTER 1 and then push enter. Or directly, push the COMPUTER 1 button if your projector has it.
This single thing might solve your issue.
Why should you use an HDMI Cable?
We insist on HDMI cables because they can be conveniently available in any electronic store and most of the electronic devices also support them. Also, as it is widely available, you can find a range of styles and cables pretty easily and according to your needs.
Another advantage of HDMI cable is that it allows both Video and Audio to be transferred which in turn cuts the number of cables that can be used to connect for sound and video. Moreover, this cable ensures high-quality because the signals travel in it uncompressed which negates any quality loss. So always choose the right cables!
What about wireless connections?
Although wires can sound a little unorganized, wireless connectivity solely depends on the money you have spent on your projector because wireless projectors are quite expensive. But wireless projectors are available which can work on WIFI or Bluetooth and can be used in a variety of spaces and places.
Why are projectors needed in the first place?
Well, projectors allow any person to connect their personal material and show the desired image and videos to a large group of people. It is widely being used at offices, schools, and even at homes to watch movies. Mostly, projectors aid in your presentations and meeting.
Conclusion:
We hope you are clear with that query. So, now it is time of putting everything in a nutshell. Learning to connect a laptop with a projector is as easy as a pie. You just need to find the right cables and ports and then connect them to the right places. If they are just some ups and downs and some problems, then you can fix them easily and enjoy the experience of having a large screen. We hope that these tips and guidance along with instructions may have helped you to find the right answer to your question.